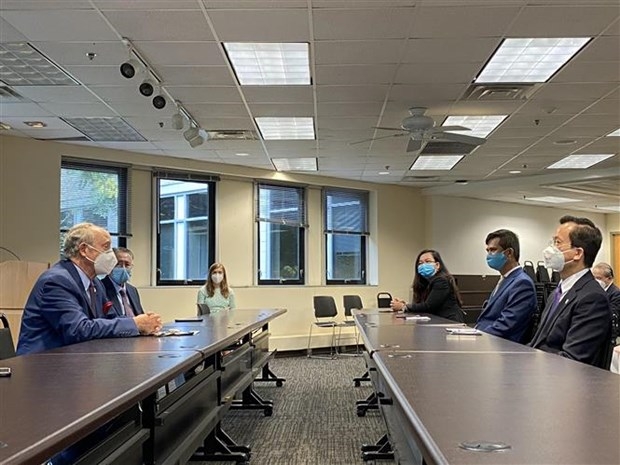 At the meeting. Photo: VNA
At the meeting on August 7, Vietnamese Ambassador to the US Ha Kim Ngoc handed over the gifts to representatives of the Maryland administration, expressing his hope that the face masks will contribute to containing the spread of COVID-19 in Maryland.
He added that the assistance demonstrates the friendship, cooperation and mutual support between the Governments and people of Vietnam and the US, including joint efforts in battling the ravaging pandemic.
The diplomat also thanked the US government for sharing information about epidemic research and providing medical supplies, especially the donation of 100 ventilators for treatment of COVID-19 patients in the Southeast Asian nation.
For his part, Secretary of State of Maryland John Wobensmith affirmed that this was a practical result of the increasingly deep cooperation between the two countries' localities and that the local administration will effectively use the gifts.
Maryland established a twin relationship with Vietnam's southern province of Ninh Thuan in 2011. The two sides inked a memorandum of understanding on trade, education and culture cooperation.
On the occasion, Ngoc and Wobensmith discussed orientations to bolster the bilateral cooperation in the coming time, including trade and investment activities, with the aim of promoting Maryland's strengths in marine mechanics, shipbuilding, high technology and education, among others.
Ngoc also asked Maryland authorities to continue creating optimal conditions for the Vietnamese community of about 30,000 people who are living and studying in the state.
The two sides also thanked Ecom Net, a Vietnamese company that donated the face masks.
In June, the Vietnamese Embassy also presented a haul of 3,500 medical face masks produced by Vietnamese enterprises to Washington DC.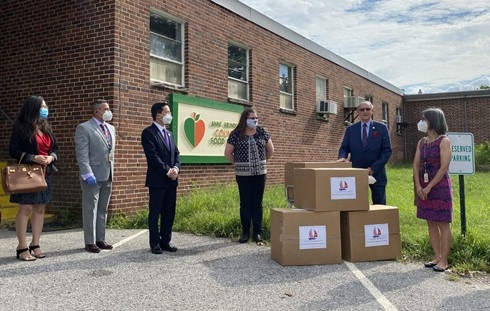 10,000 face masks are delivered to trepresetatives of the Maryland state.
As of August 8, more than 750 new coronavirus cases were reported in Maryland as the total case numbers in the state reached 94,581.
Hospitalizations went down again slightly from 528 to 515, with ICU numbers going down again from 139 to 127.
Eleven more Marylanders have died from the virus since Friday, bringing the total number of deaths to 3,440.
On the other hand, the Vietnam's Ministry of Health reported another 21 coronavirus cases on August 8, bringing the country's tally of COVID-19 infection to 810.
The latest coronavirus outbreak has spread to 15 cities and provinces across three regions of the country. Da Nang topped the list with 246 cases, followed by Quang Nam (67), Ho Chi Minh City (8), Quang Ngai (6), Hanoi and Bac Giang (5 each), Lang Son (4), Dak Lak (3), Quang Tri and Dong Nai (2 each), and Thanh Hoa, Hai Duong, Thai Binh, Ha Nam and Khanh Hoa (1 each).
Ten fatalities have been reported since the outbreak started in Da Nang.
Hannah Nguyen