Mine risk education integrated summer camp in Quang Tri
Project RENEW and Cam Lo District Youth Union (Quang Tri province) recently coorganized the Cam Lo District Children's Summer Camp 2020 event with the slogan: Fun and Safe for You – Educational Experience for All.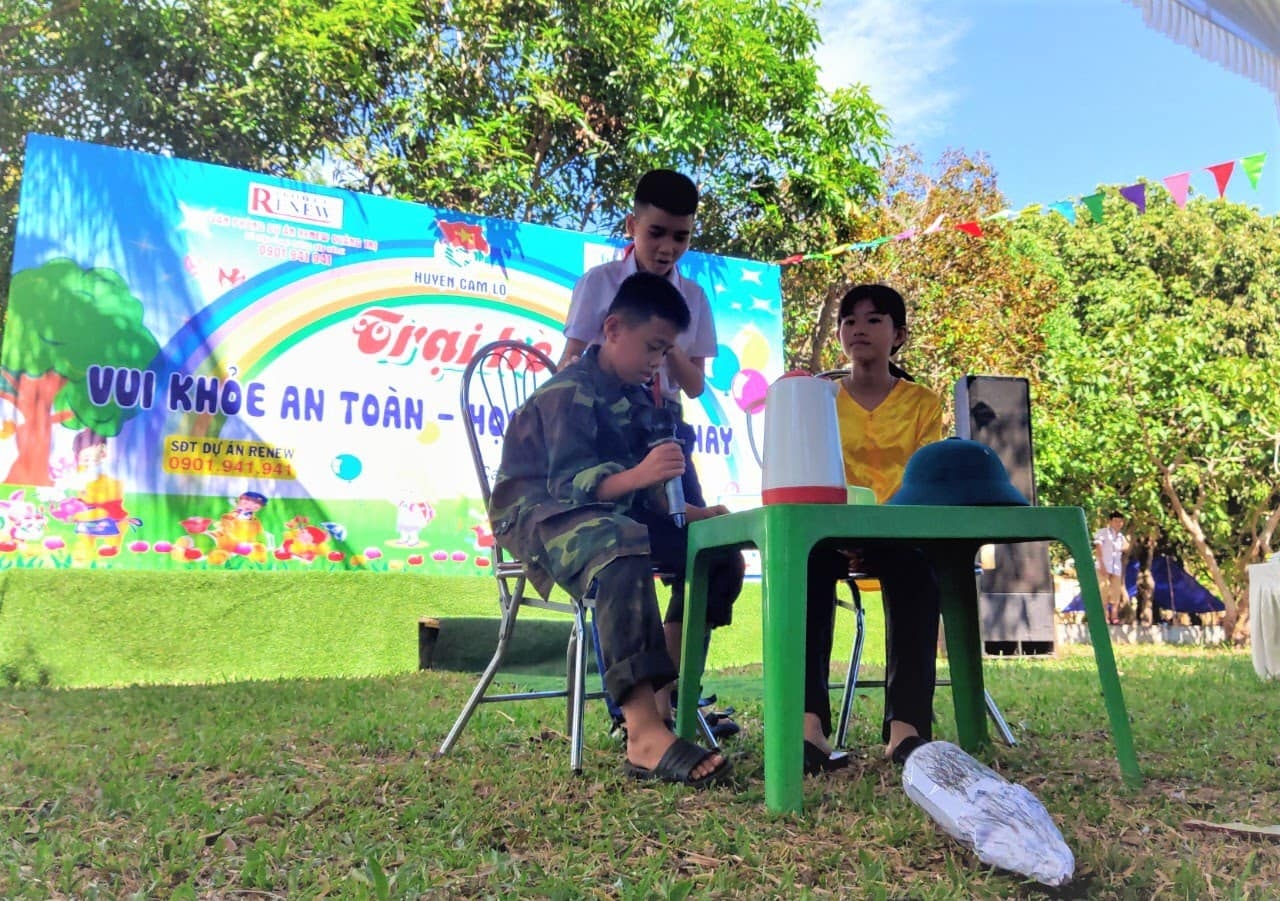 An annual mine risk education summer camp for girls and boys in Quang Tri province, which is run by Project RENEW in partnership with the Youth Union of the province and funded by Irish Aid. Photos by Le Van Huan/Cam Lo Youth Union
Designed as a participant's experience-centered playing ground, the Mine Risk Education integrated camping event was attended by over 200 schoolchildren; teachers and Youth Union officials in the district attended the event.
The camping event also provided an opportunity for local schools and Youth Unions to share and learn from each other's practical initiatives and best practices in Mine Risk Education outreach in Cam Lo in particular and in Quang Tri province in general for more effective implementation in the coming time.
Under the funding of Irish Aid through Irish Embassy in Vietnam, during 2019-2020, Project RENEW and the District Youth Unions have hosted five children's Mine Risk Education integrated camping events in Vinh Linh, Gio Linh, Trieu Phong, and Dong Ha with the participation of over 1,000 boys and girls, teachers and Youth Union officials.
The cleanup of wartime debris will likely continue for years. However, children and adults can be safe if they are educated about unexploded ordnance (UXO) risks and provided with guidance on what to do when they encounter explosive remnants of war around their homes and gardens, roadsides and school yards.
That's where Mine Risk Education plays an integral role – by educating children and adults, who must continue to live with the threat of UXO, about how they can live safely, how they can avoid accident and injury, how they can be part of the day-to-day solution to this problem.
With persistent exposure to EO safety messages, children, as well as adults in Quang Tri, have become the "eyes and ears" of the mobile teams, by providing lifesaving, accurate information about locations of UXO for timely and safe removal.
In 2018 and 2019, there were zero accidents in Quang Tri – the first time since the end of the war.
2019 also marked the initial replication of Project RENEW's Mine Risk Education best practices in Quang Ngai Province in partnership with Quang Ngai Red Cross Association.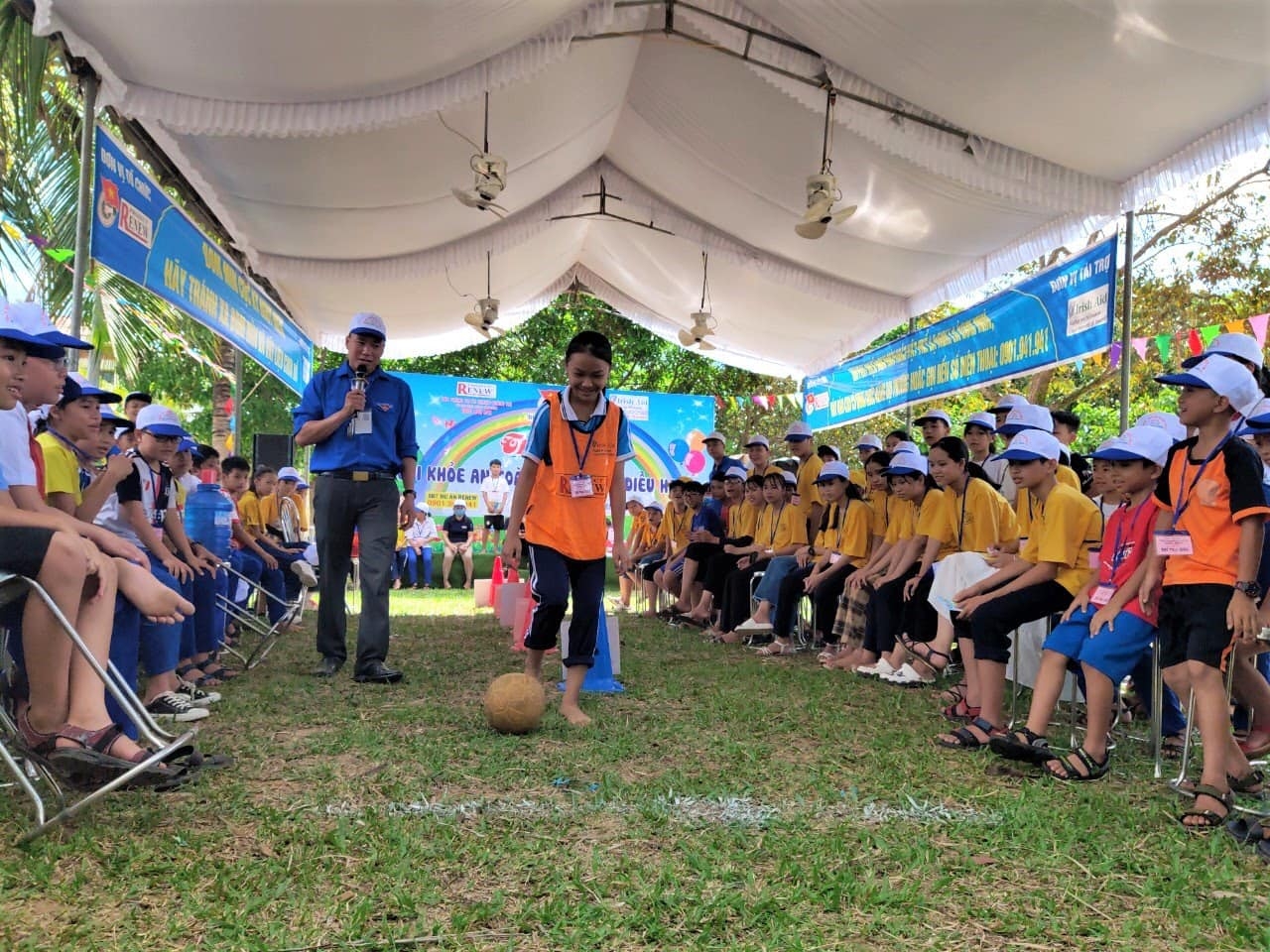 'Play football, do not play with bombs and mines! Do you think that girls can play football?' This is one of the key messages that Project RENEW is conveying to parents and community members through non-competitive football games as part of Irish Aid-funded Mine Risk Education program: to ensure every girl has her right to participate in, to be protected and to grow up in a safe environment.
The main objective of Project RENEW's Mine Risk Education is the risk of explosive remnants of war (ERW) accidents among chilren and adults is reduced and eventually eliminated through education, information, and public awareness in support of Explosive Ordnance Disposal (EOD) quick response team.
The funding of Irish Aid through Irish Embassy in Vietnam since 2015 has enabled RENEW to sustain and develop two important pillars of humanitarian mine action: Mine Risk Education and Victim Assistance/Disability Support, in parallel with UXO Survey and Clearance operations funded by the US Government and UK Department for International Development in partnership with Norwegian People's Aid.
As part of the revised Mine Risk Education program in the post-COVID-19, Project RENEW just handed over five portable washbasins, soaps, and hand sanitizers coupled with UXO risk and COVID-19 related messages for five schools in Dong Ha City last month.
As the result, 32 schools located in the districts of Cam Lo, Trieu Phong, Gio Linh, Vinh Linh, and Dong Ha Cty have directly benefited from this project, thanks to which a total of 15,459 children and school teachers have been exposed to ERW and COVID-19 campaign messages.
In 2020, Project RENEW is planning to install 40 washbasins in coupled with UXO safety messages and COVID-19 precautions at 40 schools in Quang Tri and Quang Ngai – the location of replication of RENEW's Mine Risk Education model in collaboration of the Red Cross Association.
In addition, extra-curricular education activities at the Mine Action Visitor Center, grassroots football games and summer camping events will be organized in the subsequent months./.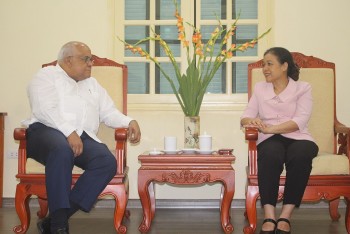 Friendship
Ambassador Nguyen Phuong Nga - President of the Vietnam Union of Friendship Organizations had a meeting and worked with Cuban Ambassador Extraordinary and Plenipotentiary to Vietnam Orlando Nicolas Hernandez Guillen. The two Ambassadors agreed to work closely in organizing solidarity and friendship activities.
Friendship
Colonel Nguyen Duc Hanh, Chairman of the Vietnam - Laos Friendship Association in Thai Binh province, is happy to show the photo of his adopted son Bounpheng Lathamsathith saved on his phone, who is working as a surgeon at Hanoi - Vientiane General Hospital.
June 24, 2022 | 06:58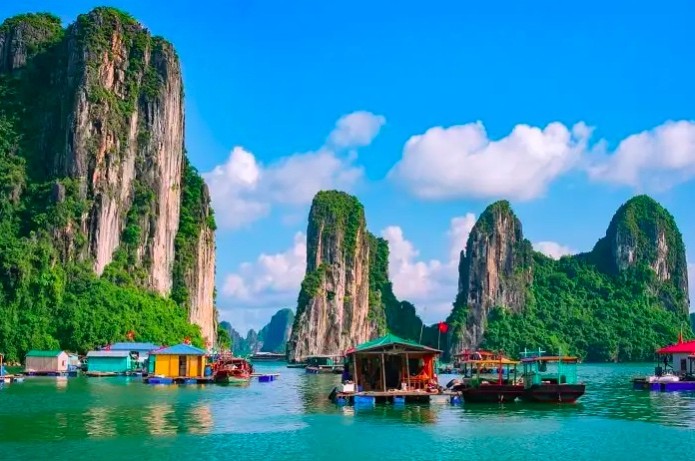 Friendship
In the first five months of 2022, the number of international visitors to Vietnam reached 229,000, an increase of 4.5 times over the same period in 2021; the number of Korean visitors to Vietnam reached 56,500, an increase of 334% over the same period in 2021.
June 23, 2022 | 18:11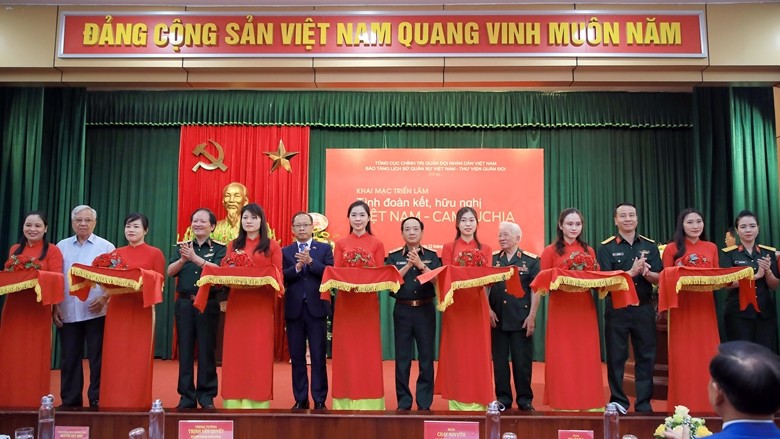 Friendship
The exhibition aims to introduce the world to the victories of two Southeast Asian nations in the fight for protecting peace, independence, unity, and territorial integrity.
June 23, 2022 | 18:06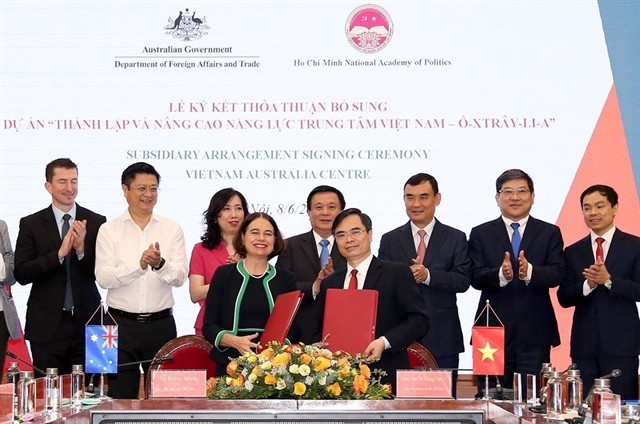 Friendship
The Vietnam Australia Centre (VAC), located in Hanoi, is intended to help Vietnam access Australia's knowledge, skills and expertise, experience in training and scientific research.
June 23, 2022 | 07:39