Is the human workforce doomed with the rise of robot after Covid-19?
Robots have been used more in restaurants over the world to ensure safety for customers after Covid-19, which may raise concerns about human workforce in future.
Many restaurants in South Korea have introduced service robots to improve COVID-19 pandemic control.
Restaurants use robots to bring food to customers. Some robots have position tracking and ranging. Robots can also make noodles, coffee and even fry chicken - in less than seven minutes.
From January to March, the revenues of 80 percent of South Korean catering enterprises fell by over half year-on-year. In March alone, more than 3,700 restaurants in Seoul closed. Due to the sluggish domestic demand and the coronavirus pandemic, the South Korean government decided to invest 103 million U.S. dollars to promote AI, robots and unmanned services in the catering industry.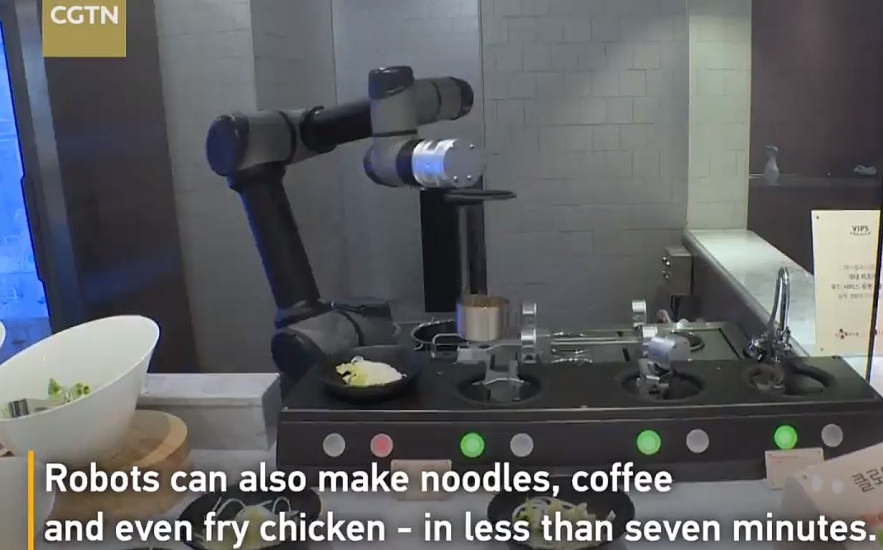 Noodles cooked by robot in a Korea restaurant. Photo: CGTN
After over two months of staying at home, Dutch restaurant customers will be greeted by some of the cutest robots of the coronavirus pandemic.
The Netherlands has slowly begun reopening after closing in mid-March because of COVID-19. Bars and restaurants were allowed to open on June 1, as long as they had no more than 30 customers and maintained social distancing. Movie theaters and museums also reopened, with schools to follow.
As in other areas of the world, some creative business owners have thought about ways to minimize risks as they reopen. For fusion restaurant Dadawan, that meant using robot servers across the restaurant.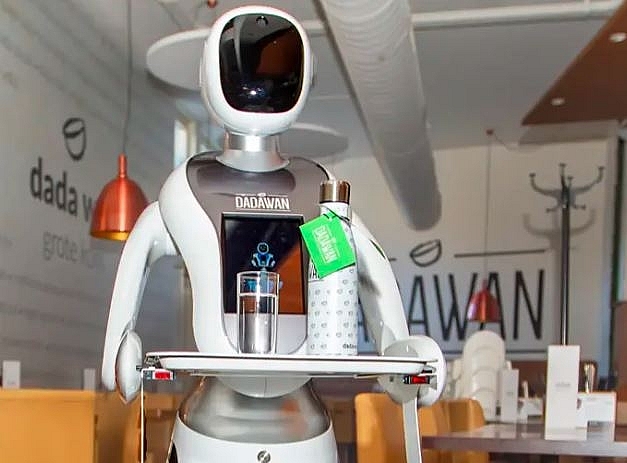 Robots in a Dutch restaurant . Photo by Frank Kerbusch/BSR Agency/Getty Images
A Chinese business claiming to be the world's first "robot restaurant complex" officially opened early July in the southern Guangdong province.
The label "robot restaurant complex" speaks to the restaurant's scale, range of cooking robots, and synchronicity of its system: The facility has a seating capacity of nearly 600 diners and accommodates over 40 robots capable of cooking some 200 dishes from three basic categories: Chinese (including Shunde specialities), hot pot, and fast food. Qianxi Group's other automated restaurants, though similar, don't serve such a wide range of cuisines under one roof.
Xiao Ran, deputy general manager at Qianxi Group, told Sixth Tone that robot cafeterias are more efficient in terms of both space used and required cooking time than their human-operated counterparts. The robot restaurant complex's noodle-making robot, for example, takes up 4 square meters of floor space and can churn out 120 dishes per hour if needed. They're also safer, he said, thanks to a standardized cooking process and the absence of human-to-human contact.
"A complete scientific control system and the widespread use of smart equipment reduce the risk of (coronavirus) infection," said Xiao. "This makes it safer and more hygenic."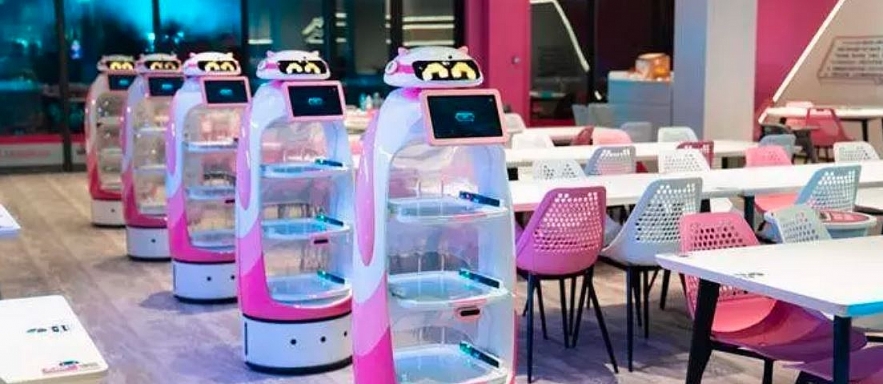 Robotics is a multi billion dollar industry in China. Photo: Chinanews