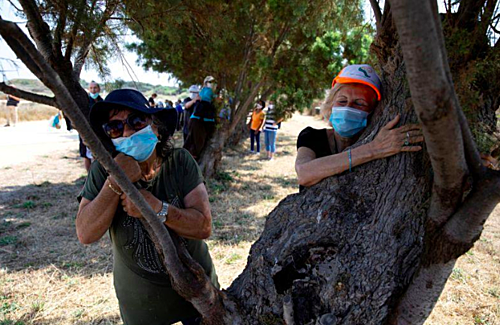 Two people hugging trees at Apollonia National Park (Photo: Reuters)
"We encourage you to go out and indulge in nature, take a deep breath, hug the trees to give love and take back the love", Orit Steinfeld, the director of the marketing agency at Israeli Nature Reserve and Park said.
At Apollonia National Park, about 15 km north of Tel Aviv, Barbara Grant takes part in a tree-hugging tour organized by Israel's Nature and Parks Authority.
"The most basic human need is for connection, for touching, for hugging", Barbara said. As a medical practitioner, she could not hug her grandchildren for fear of spreading the disease to them.
Moshe Hazan, another tree huggers said "As we cannot hug our children those days, we could turn to trees instead. What a wonderful thing!".
Israel mandates all citizens to wear face masks while going out and to limit contact with elder people as the number of coronavirus cases are increasing day by day.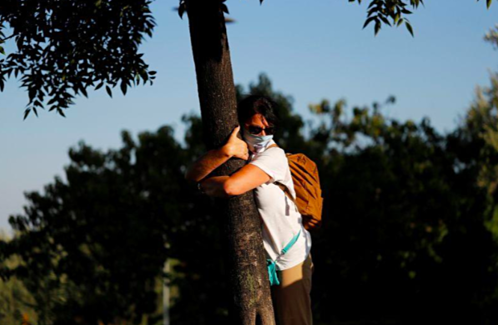 A female tree-hugger in Jerusalem (Photo: Reuters)
Earlier in April, Iceland also held a tree-hugging campaign. "When hugging a tree, you will feel relaxed from your toes, calves to the chest and head," said the representative of Hallormsstadhur National Forest Park, Eastern Iceland.
A study in 2019 by Exeter Medical University (UK) also shows that spending two hours a week in nature would help people become healthier and happier.
Jasmine Le