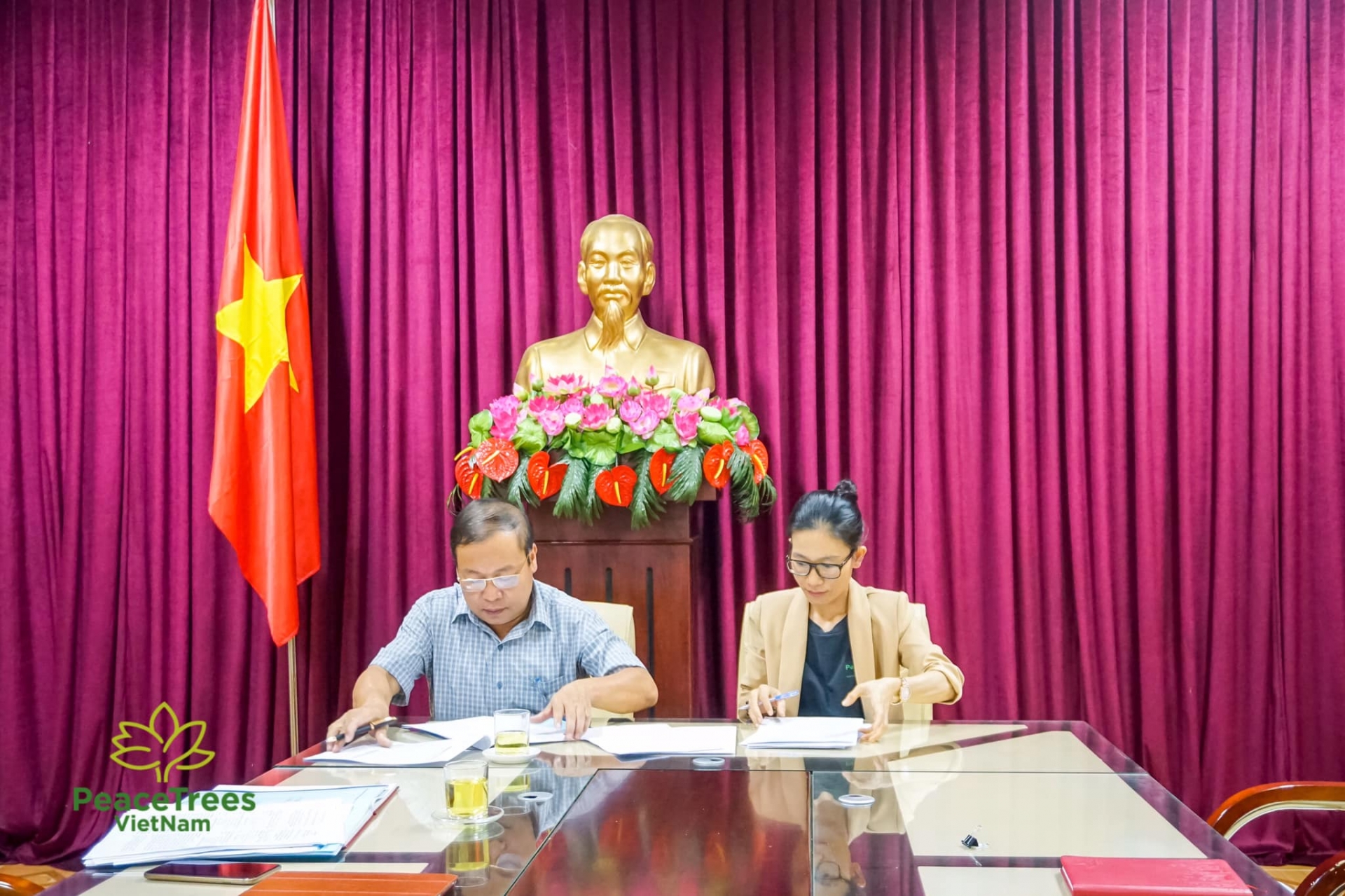 At the signing ceremony. Photo: PeaceTrees Vietnam
In the morning of June 4, PeaceTrees Vietnam and the People's Committee of Minh Hoa district in the central province of Quang Binh signed a Memorandum of Understanding on funding the project of a kindergarten in Ooc village, Dan Hoa commune, Minh Hoa district.
According to information released in their Facebook page, Ooc kindergarten will be a learning place for 29 ethnic minority children in this area. Also, the children will receive nutritious daily lunch through PeaceTrees' Healthy Meal program, helping them to develop comprehensively.
This is the 19th kindergarten funded by PeaceTrees Vietnam and also the second kindergarten implemented in Quang Binh. The first one is the Ban Ke Kindergarten in Lam Hoa commune which was completed in 2012.
In 1995, PeaceTrees Vietnam was the first international non-governmental organization coming to the province to help address post-war consequences through demining and mine risk education, victim assistance, community building projects and citizen diplomacy in partnership with the people of Quang Tri province.
This January, PeaceTrees Vietnam marked 25 years of cooperation with the US Embassy and Quang Tri province to mitigate unexploded ordnance (UXO) leftover from the war.
This year, the NGO will be opening three new kindergartens (two in Quang Tri and one in Quang Binh) which will begin to educate an additional 118 children at the beginning of the 2020-2021 school year.
Last month, a groundbreaking ceremony has taken place for the 18th kindergarten at Cua village, Huong Tan commune, Huong Hoa district, Quang Tri province./.
Hannah Nguyen