Japanese Government credits 4 Vietnamese constructors for outstanding performance
The Japanese government last week credited 4 Vietnamese construction workers and one Myanmar with their outstanding performance at the workplace.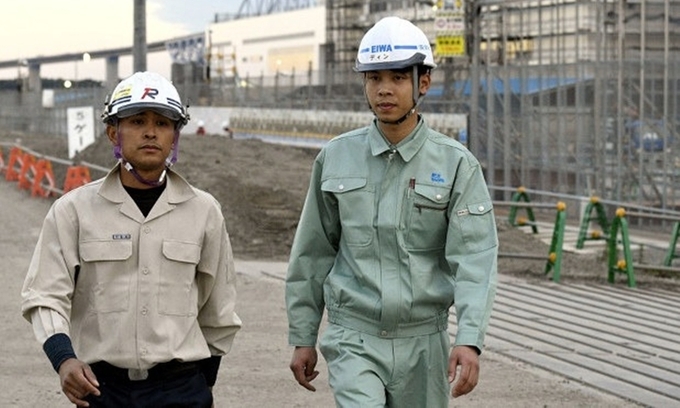 Dinh Van Duyet (R) and another Vietnamese worker in Japan (Photo: Mainichi)
Accordingly, the Ministry of Land, Infrastructure, Transport, and Tourism of Japan (MLIT) announced the list "Excellent Foreign Workers in Construction Industry" where 4 Vietnamese nationals made it to the top 5. They are Than Van Hoang, Hoang Manh Hung, Dang Van Kien, Nguyen Manh Duong, along with one overseas Myanmar named Moon Aung. All have made great efforts to horn their skills and better work outcomes.
The top 5 have been shortlisted from the 40 applications by the Shibaura Institute of Technology. The awards ceremony was held on March 23 at the Tokyo Metropolitan Government Building.
This is not the first time Vietnamese nationals got high credit from the Japanese authorities. In 2020, three Vietnamese workers and two Chinese were also crowned such a title.
Statistics released in October 2019 by the Japanese Ministry of Health, Labor and Welfare, around 93,200 foreign workers working in the construction industry, accounting for 5.6 percent of the total foreign workforce in the country. China and Vietnam are the two countries with the largest number of employees in Japan, with over 418,000 and 401,000 respectively.
Earlier in November 2020, Associate Professor, Dr. Tran Son, 82, former head of the Japanese language faculty under the Foreign Trade University (FTU), has been presented Japan's Order of the Rising Sun.
Son had worked as head of the FTU's Japanese language faculty for 26 years, from 1971-1997. He conducted many research studies on the Japanese language and culture and wrote numerous Japanese books and dictionaries.
Also presented at the ceremony, Associate Professor, Dr. Bui Anh Tuan, FTU President, said Son and other lecturers at the faculty have remarkably contributed to building and developing relations between the university and Japanese organizations and businesses, thus helping to promote the Vietnam-Japan relations.
Son was among three Vietnamese recognized by the Japanese government in this year's spring decorations.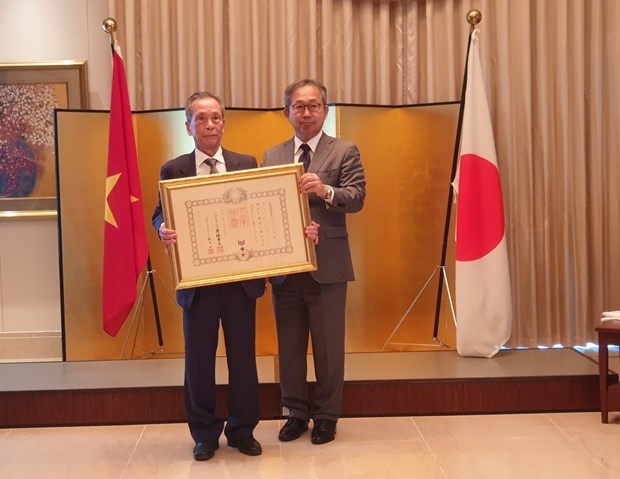 Associate Professor, Dr. Tran Son (left) has been awarded Japan's Order of the Rising Sun, Golden Rays. Photo: VNA
Ha Hung Cuong, 66, Former Minister of Justice of Vietnam, was bestowed with the Order of the Rising Sun, Gold and Silver Star, for his contributions in strengthening the legal and judicial cooperation between Vietnam and Japan.
Meanwhile, Professor, Dr Duong Phu Hiep, 81, Former Director of Japan Research Center (now Institute for Northeast Asian Studies) under the Vietnam Academy of Social Sciences, received the Order of the Rising Sun, Gold Rays with Neck Ribbon, for his long-time dedication to promoting exchange, academic exchanges and deepening mutual understanding between Vietnam and Japan.
Vietnamese engineers get a high evaluation from Japanese enterprises
In March, Vietnamese engineers are touted by Japanese employers for their good working attitude, decent skills, and great contribution to Japan's labor market so far.
Mr. Iri Kazuaki, Director of Dentsu Company, told VNA that Vietnamese engineers have made significant contributions to the enterprise's operations over the past time.
Mr. Iri Kazuaki, Director of Dentsu Company at an online working session with Vietnamese engineers in Hanoi and HCMC (Photo: VNA)
Kazuaki spoke highly of Vietnamese engineers' background knowledge, working attitude, diligence, meticulousness. Dentsu is planning to recruit 400 more Vietnamese engineers in the next 5 years.
On Feb 25, a Japan's prestigious newspaper dedicated to business run an article complimenting the foreign workforce, including Vietnamese workers. It says Vietnam is continuing to be one of the most important labor sources to help revamp Japan's economy post-pandemic.
The article clearly states that in 2020, Vietnamese employees increased by 10.6 percent, officially surpassed China to become the largest foreign labor community in Japan (443,998 Vietnamese compared to 419,431 Chinese). The majority of Vietnamese workers who come to Japan are skilled trainees and in fact, this is an important source for industries facing serious workforce shortages in the country.
Along with skilled interns, Vietnamese students studying in Japan are also potential to contribute to the Japanese labor market.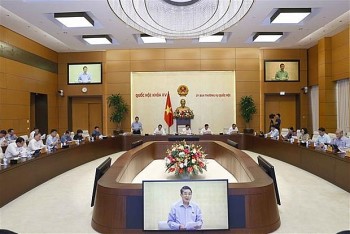 National
The National Assembly (NA) Standing Committee examined the draft revised Law on Protection of Consumer Rights on August 15 as part of its monthly session.