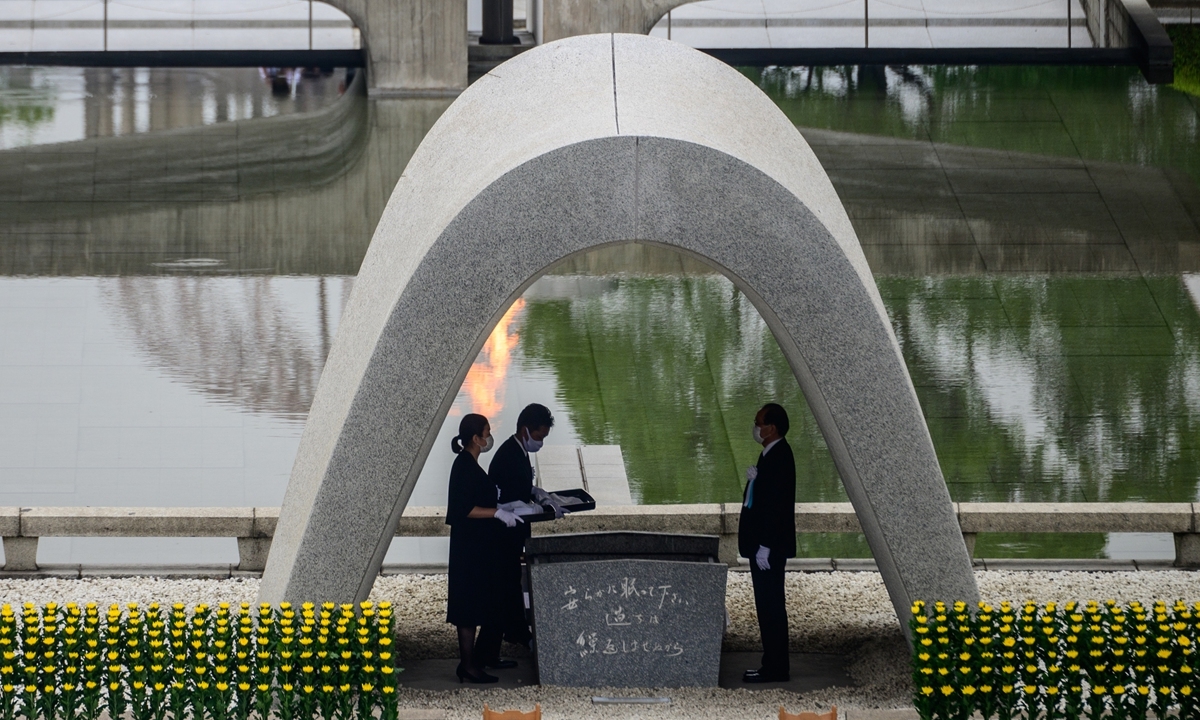 Japanese are taking a moment to pause and remember the victims of a catastrophic Hiroshima atomic bomb 75 years ago (Photo: Global Times)
Japan marks 75th anniversary of Hiroshima atomic bomb with ceremony
According to Euro News, people in Japan are taking a moment to pause and remember the victims of a catastrophic event — 75 years ago, an American warplane dropped an atomic bomb on Hiroshima. An estimated 140,000 people lost their lives by the end of the year.
The city fell silent at 8:15 am, the exact moment when the US bomb struck the city.
Despite following safety measures in place because of the coronavirus pandemic, people haven't been prevented from reflecting on the tragedy and praying for world peace.
About 800 people attended the Hiroshima Peace Memorial Ceremony including survivors of the bombing, known as "hibakusha". They are getting older with their average age now over 83.
Representatives of 80 countries were also there. Due to the pandemic, the number of people attending the event was limited to less than one-tenth of the usual amount.
Hiroshima Mayor Matsui Kazumi placed a list of the victims in a cenotaph. It included the names of 4,943 survivors who died over the past year. As many as 324,129 people are now commemorated in the monument.
Prime Minister Abe Shinzo has maintained Japan will not join a UN treaty on the prohibition of nuclear weapons — he has said the treaty's goal of nuclear abolishment is the same as Japan's, but their approaches are different.
Lebanon declares three days of national mourning for victims of Beirut explosion
According to a statement from the Presidential Palace, Lebanon has declared three days of national mourning for the lives of those who perished as a result of the explosion, as reported by The 961.
In addition, citizens of Beirut are being urged to leave the city to avoid the harmful effects of the chemical material that went up in flames.
Furthermore, the President has declared for Beirut a state of emergency for the next two weeks, handing command of the city over to the army.
The events of Tuesday's explosion can only be described as panic, terror, devastation, and great loss. There is also anger and despair.
Countries and public figures abroad are showing their support for Lebanon. One can only hope that help is on the way.
Lebanon has declared three days of national mourning for the lives of those who perished as a result of the explosion (Photo: Getty Images)
US offers $10 million reward for hackers meddling in US elections
The 2020 US presidential election is less than 100 days away, and in an effort to prevent the foreign election interference that played a role in the 2016 election, the US Department of State announced today that it's offering up to $10 million for any information that can identify someone who's been meddling in a US election, as reported by The Verge.
Specifically, the State Department is offering the reward for "information leading to the identification or location of any person who works with or for a foreign government for the purpose of interfering with U.S. elections through certain illegal cyber activities."
Jasmine Le