Japan's Security Anpo: Vietnam to be bright spot of world economy in 2021
Japan's famous journal named Security Anpo recently published an article highlighting Vietnam's economic growth in the face of COVID-19.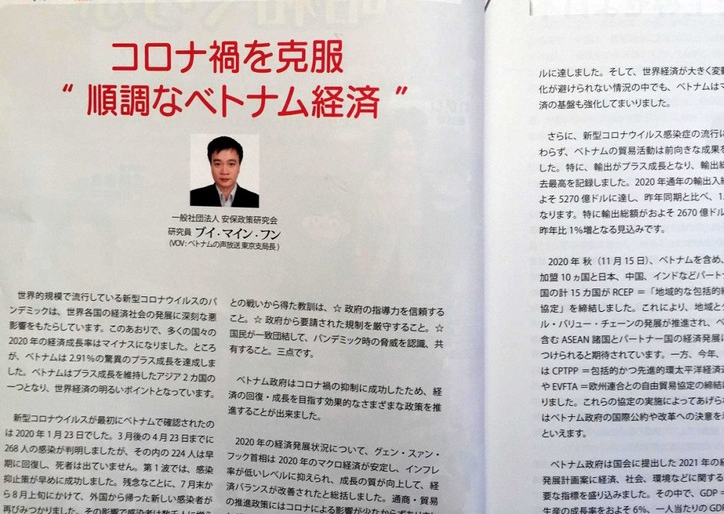 Photo: VOV
Vietnam's economy in 2020 achieved a surprising growth of 2.91% and is forecast to continue to grow at a high level in 2021, becoming a bright spot of the world economy, according to an article published in Japan's journal Security Anpo, January edition.
In the article entitled "Overcoming the Covid-19 pandemic, Vietnam's economy grows favorably," Dr. Bui Manh Hung attributed Vietnam's successful control of the Covid-19 pandemic to three main reasons: absolute trust in the Vietnamese government's direction, strict compliance with the government instructions, and people's unity and awareness of the dangers of a pandemic.
The author quoted Prime Minister Nguyen Xuan Phuc in emphasizing Vietnam's economic growth of 2020 with a stable macroeconomy, low-level inflation, positive growth, improved economic balance. Although investment and trade shrank due to the Covid-19 pandemic, the economic growth was still at a high level compared to other countries in the region and around the world.
With its success in pandemic response, Vietnam has worked out effective policies and measures to restore the economy, according to Security Anpo.
The article highlighted Vietnam's success in signing international economic agreements. On November 15, 2020, ASEAN, including Vietnam and five partner countries Japan, China, India, Australia, and New Zealand signed the Regional Comprehensive Economic Partnership (RCEF). This agreement is expected to promote the formation of global supply chains to contribute to the economic development of member countries including Vietnam. Previously, the Comprehensive and Progressive Agreement for Trans-Pacific Partnership (CPTPP) and the Free Trade Agreement with the EU (EVFTA) was also signed, demonstrating Vietnam's determination in implementing its economic commitments.
The author said Vietnam is attracting great attention from foreign investors. Signing many international agreements, Vietnam commits itself to create favorable conditions for foreign investors. Many investors from the US, Japan, and South Korea want to move their businesses to the Vietnamese market or plan to start a business in Vietnam, the article said.
The author said that there were many forecasts about Vietnam's economic growth in 2021. A reputable UK bank forecasted that by 2021, the Vietnamese economy would be likely to reach 7.8% positive, while Asian Development Bank (ADB) forecasted at 6.3%. Many other experts and prestigious economic organizations in the world were also optimistic about Vietnam's economic growth in the coming years.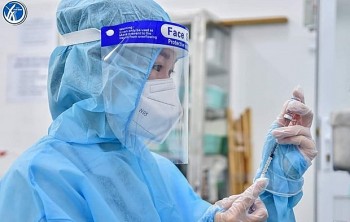 National
Vietnam News Today (December 9): Vietnam confirms 14,595 new Covid-19 cases; Vietnam, New Zealand sign action program to promote strategic partnership; HCM City to inject third Covid-19 vaccine jab from December 10; Hanoi may ban motorbikes in inner areas from 2025.