Korean NGO supports children with difficulties
Korean non-governmental organization Good Neighbors implements projects to promote and protect child rights, strengthen global partnership, and advocate for the most vulnerable in Vietnam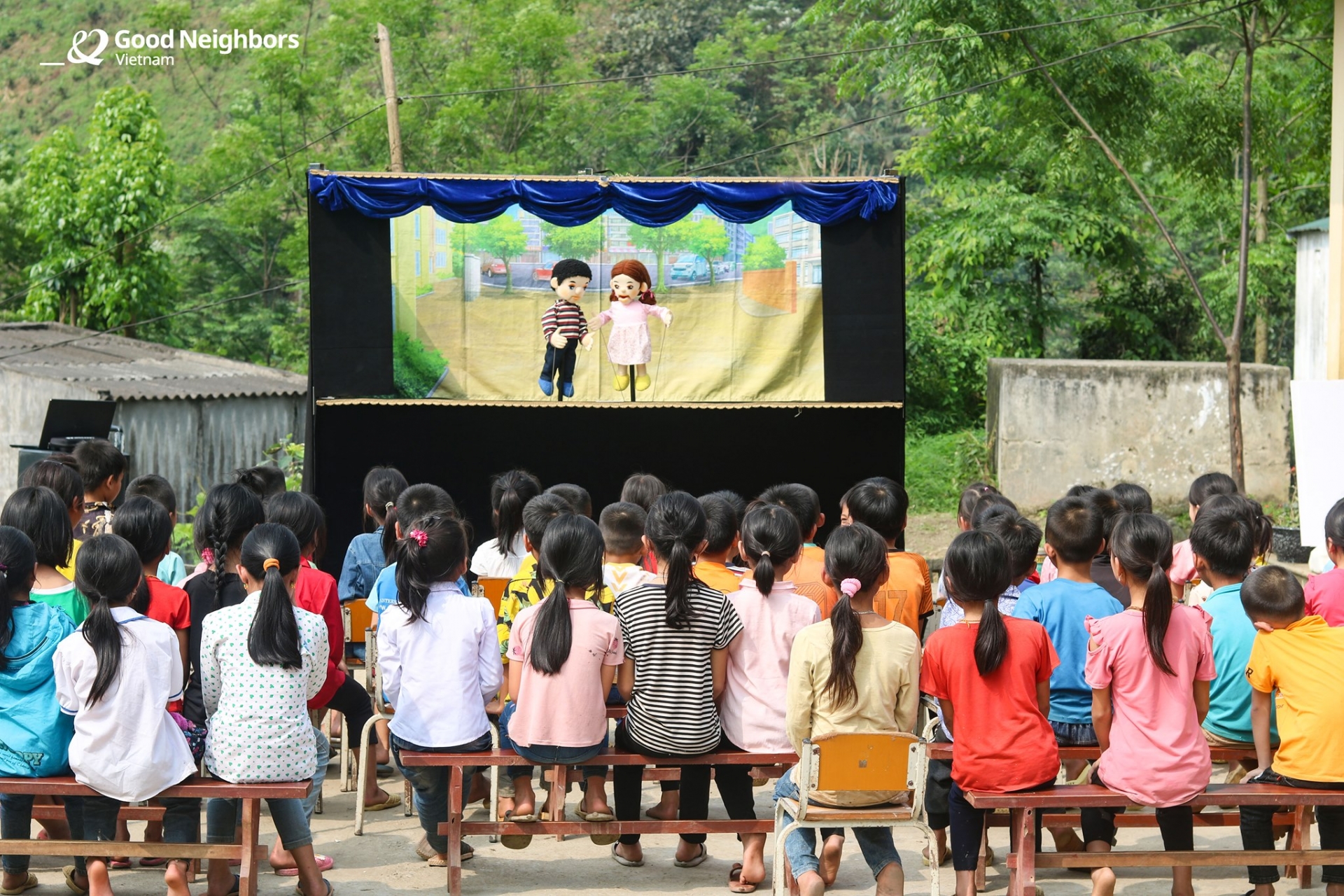 A GNI created puppet shows helps explain sexual violence to children and understand how to prevent and report it.
Since 1991 Good Neighbors International has been working as an NGO to help children, with a mission to "make the world a place without hunger, where people live together in harmony."
As one of activities of the Hope Letter Project, in April 2021, GNI assessed the cases of 17 disadvantaged children as registered by the National Hotline 111 on child protection. After evaluating and screening, GNI provided support for 14 of the cases in provinces of Dien Bien, Tuyen Quang and Phu Tho, as well as the city of Hanoi. The support was provided by coordination of GNI staff, child protection officers and representatives of departments and agencies in the provinces.
The work conducted by GNI for children and their families included education (learning expenses), health (treatment fees, nutritional support for children), and provision of safe shelter (support to build houses, etc.), with the total support being valued at VND 111 million (4,700 U.S dollars). Local child protection staff told GNI that such aid was offering hope and motivation for children and their families to overcome difficulties and improve their lives.
GNI has now received taken on more than 41 cases from National Helpline 111 and plans to provide support for them in May 2021.
The Hope Letter Project is aimed at strengthening child protection and support systems, providing services in child abuse prevention and support for those with difficulties. Project activities include: supporting disadvantaged children received from National Hotline 111, the Good Puppet Show, and raising awareness for the self protection of children.
The Good Puppet Show program and Child Self-Protection Capacity Building program are two GNI programs that provide students with a basic knowledge of the valuable parts of the body, and help children identify scenarios where they might be being abused, kidnapped or put at risk.
GNI implemented the two programs at 13 non-project primary schools in Quang Binh District of Ha Giang Province from April 14-24. The activity attracted the attention of 5,287 students, of which 3,119 students in 1, 2, 3 grades participated in the Good Puppet Show program and 2,168 students in grades 4-5 participated in the Child Self-Protection program.
Within the framework of the Hope Letter Project, GNI will continue to bring education programs on self-protection and child abuse prevention to students in Hoa Binh, Tuyen Quang and Thanh Hoa provinces.