Lap Xuong Sausage – A Delicious Treat From Vietnam's Northern Highland
Lap Xuong, or dry-cured sausage, one of the most delicious delicacies in Vietnam that is a must dish in Tet Holiday, which brings a distinctive salty and sweet flavour.
Under the mellow sunlight and brisk atmosphere of mountainous villages in the central Nghe An Province, the best cuts of free-range pork get their turn to develop a rounded, savory flavor in a delicacy known as 'lap xuong,' or dry-cured sausage, a cuisine specialty that local communities of Thai ethnic group pride themselves in.
What was the origin of "Lap Xuong"?
Photo: JAMJA
Lap cheong are Chinese pork sausages with a sweet-salty flavor and a beautiful reddish-pink color. It is the presence of monosodium glutamate (MSG), a flavor enhancer regularly used in Chinese cuisine that gives lap cheong its special flavor and also baijiu, a rice brandy.
Lap cheong is eaten hot or cold but always cooked in a wok. These sausages can be found almost everywhere in Asia, meat drying being a method of preservation known since ancient times and probably more.
Their flavour will vary depending on ingredients used, however lap cheong typically have a sweet-savoury taste. They are most commonly made out of pork and pork fat, but other varieties can be include liver or cuttlefish, or even be made with beef or chicken. With an increased interest in healthy eating, lower fat and sodium varieties are becoming available in many countries.
In Vietnamese, Chinese sausage is called lạp xưởng or lạp xường. It has been incorporated into a variety of dishes from simple omelets to more complex main courses. Due to the salty taste of the sausages, they are used in moderation with other ingredients to balance the flavor. The sausages are made from pork (lạp xưởng heo) or chicken (lạp xưởng gà), the latter of which yields a leaner taste.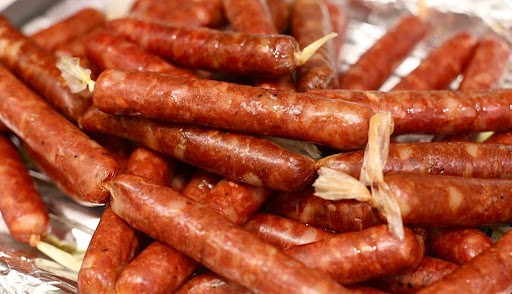 Photo: Savoury Days
Lap Xuong Sausage – A must food at Tet in Vietnam
Lap Xuong sausage (Chinese sausage, Lap Cheong) is a must food at Tet – the biggest festival in Vietnam, especially South Vietnam. In the past, Lap Xuong sausage is only made at Tet. In the recent, this food has become popular and produced all around the year in many regions of the country. It is also a favorite food and ingredient to cook many delicious Vietnamese dishes. The best places where the best Lap Xuong sausages are made are Soc Trang Province (especially Vung Thom village), Can Giuoc District in Long An Province, Chau Doc Province.
Photo: Yurifood
Traditional Lap Xuong sausage is made from pork small intestine, pork fat and lean pork, Mai Que Lo wine, spices including sugar, salt, dry black pepper. To make the sausage, cut lean pork and pork fat into small cubes, mix them with spices, stuff pork small intestines with the mixture, tight the stuffed intestines at two ends and in the middle to make chunks of sausages, finally dry the stuffed intestines, under the sun for 1-5 days depending on the recipe and weather. After drying, the sausages become dull-brick red, shining, medium hard, sweet-tasty, the fat turns translucent and less greasy. In Chau Doc Province, they make Lap Xuong sausage from beef – a specialty of this province. Besides pork and beef, Vietnamese people also make Lap Xuong sausage from shrimp and chicken. In Dong Thap, they make Snake sausage from snakeskin and snake meat. In the recent, they created fresh Lap Xuong sausage which is not dried but cooked right after stuffing. Instead of drying the stuffed intestines under the sun, they dry the sausages in drying machines. Depending on the drying time and packaging method, Lap Xuong sausages can be stored from a couple of days to few months.
There are many methods to cook Lap Xuong sausage: grilling, frying, steaming. The most favorite method of cooking Lap Xuong is cooking the sausages in a little of water (water just covers the sausages) until the water dried up, the sausages become well-done, more tender in comparison to the uncooked ones, less greasy, and extremely fragrant. Sometimes they use coconut water instead of water to fry the sausage. Steaming Lap Xuong in rice cooker is also a great method to cook this amazing food. The cooked sausages are cut into chunks or slices, served with steamed rice or steamed sticky rice and pickles.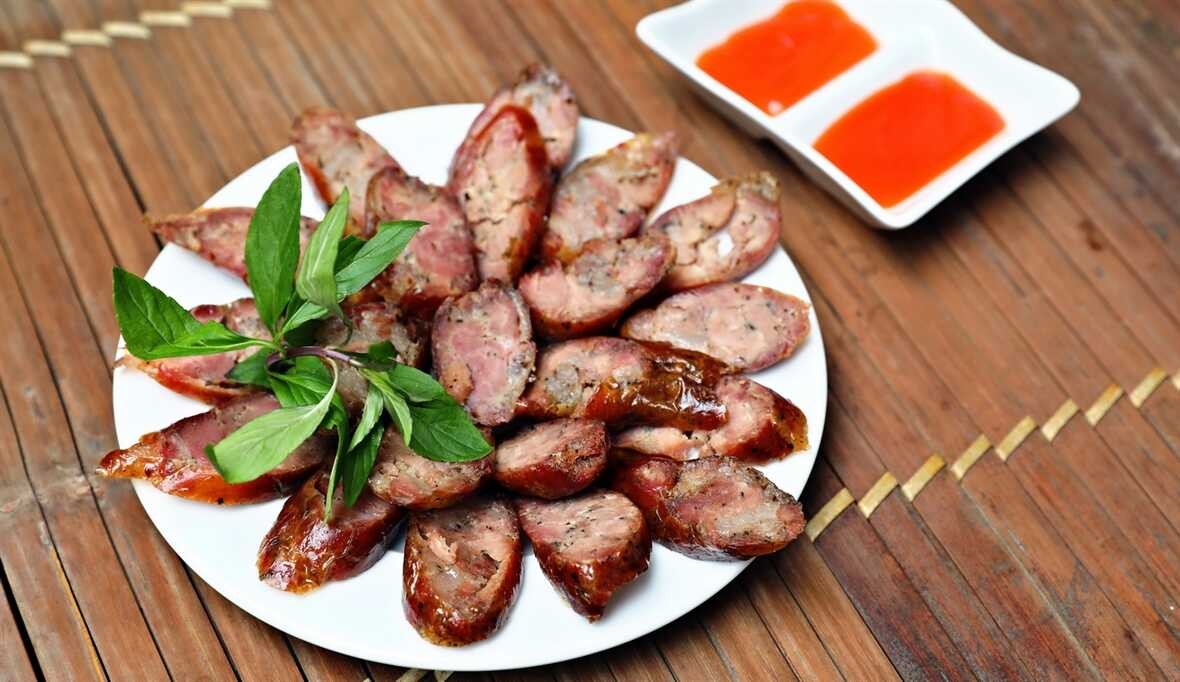 Photo: Vietnamnet
Dry-cured pork sausage – Must try dish of Nghe An Province
A local spin to 'lap cheong,' also known as Chinese sausage, 'lap xuong' from Nghe An Province boasts a more supple texture, as well as a discrete flavor profile that reflects the local cuisine.
The local Thai people, who have perfected the recipe as both a food preservation method and a time-honored cuisine tradition, insist that their 'lap xuong' be made with free-range pork, otherwise it will not achieve the consistency and taste that they want, according to Tuoi Tre News.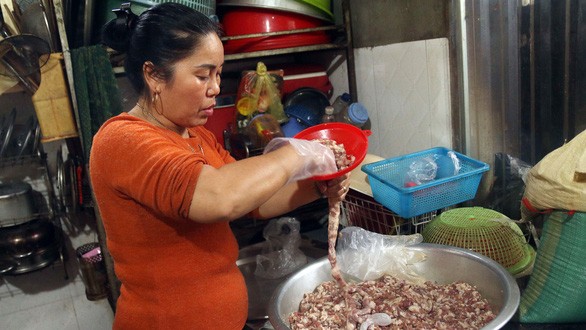 A Thai native prepares lap xuong sausage in Nghe An Province, Vietnam. Photo: Dao Tho / Tuoi Tre
To start off a 'lap xuong' batch, they mix minced pork ham and pork fat together at a 5:1 ratio to ensure a balance between the meaty texture and juiciness in the final product.
A slew of spices, including garlic, chili, sugar, is then introduced to the mixture to fill in the flavor.
Subsequently, white wine is also added to create the perfect environment for fermentation to take place in the next six to eight hours, bringing out notes of tanginess from the substance.
While the meat rests, the cooks will prepare the pig's small intestines, washing them thoroughly with wine and vinegar to turn them into natural casings for the sausages.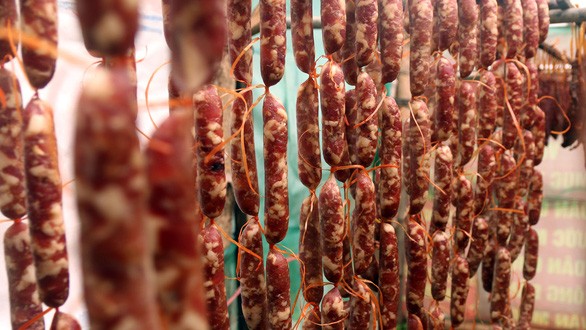 Lap Xuong is dry-cured in Nghe An Province, Vietnam. Photo: Dao Tho/ Tuoi Tre
They will then be filled with the meat via a cylinder-shaped sausage stuffer, a novel gadget that takes up the arduous work of filling meat into casings by hand.
Once done, the sausage is left to dry outdoors, picking up smoke from the household stoves and sunlight from the open air to develop a deep red finish and unique pungent flavors.
When dry-cured this way, 'lap xuong' can be preserved in a refrigerator for a year.
These cold cuts are a fail-proof choice to spice up meals and drinking sessions, regardless of how they are prepared.
Either stove-grilling or frying would be a viable option — although the Thai natives promised that charcoal-barbecued 'lap xuong' is an experience that is second to none.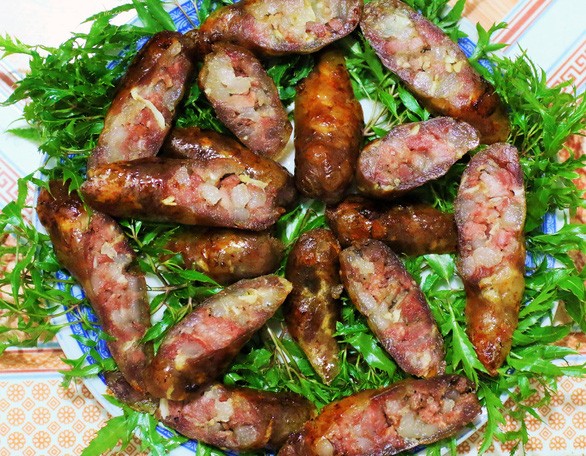 Fried Lap Xuong sausage. Photo: Dao Tho/ Tuoi Tre
Top 6 Best Activities to Enjoy in Sapa

Sapa has been a famous destination in Vietnam for many years for its natural and pristine beauty, and tranquility. Here is some best activities and ...