Living a good life motivated for development by religious activities
Every Sunday, hundreds of parishioners gather at the Plei Ia Lang Protestant Church to support each other in both spiritual and material life.
To gain a closer insight into the religious life and activities of parishioners and believers, Vietnam Times Magazine had an interview with Pastor Hanh, Head of the Protestant Representative Board of Gia Lai Province, Manager of Plei Ia Lang branch, Chi Lang Ward, Pleiku City, Gia Lai.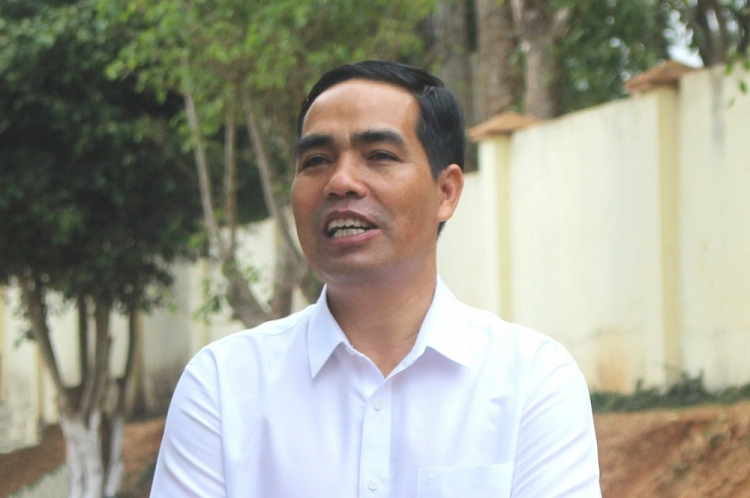 Pastor Hanh, Head of the Protestant Representative Board of Gia Lai Province, Manager of Plei Ia Lang branch, Chi Lang Ward, Pleiku City, Gia Lai.
- Can you introduce the Plei Ia Lang Protestant branch?
Plei Ia Lang Protestant branch was established in 2005 and currently has more than 1,700 followers, who are all Ja Rai ethnic group. About 500 followers gather at the church every week. The remainders practice the religion in three other places due to unfavorable transport. On major occasions such as Christmas, all followers get together at the main church Plei Ia Lang.
Plei Ia Lang Church, built between 2007 and 2009, serves as a place for parishioners and believers to practice the religion.
- How does the religious practice take place?
The local authorities have created favorable conditions for us to conduct religious activities. Thanks to their enthusiastic support from the beginning, we now have a spacious venue to practice our religion.
We currently organize religious activities every Sunday. There are two ceremonies on Sunday morning and evening. The ceremony in the morning is official, while, one in the evening is prayer. The two ceremonies feature hymn singing, bible reading and prayer. Committees such as the Youth or Teenager and Children organize their own activities in the evening.
- Having been attached to the local parishioners for 10 years, do you see any changes in their lives?
In terms of religious life: In the past, parishioners had to practice the religion in scattered and small places or followed amateurish pastors. Nevertheless, since 2009, I have witnessed a significant change because the inauguration of the Plei Ia Lang Church has offered parishioners a chance to practice in a good facility that is fully equipped with tables, chairs, bible books, fans and playground for children. Pastors are well-trained and thoroughly prepare before lecturing. These have brought joy and comfort for parishioners.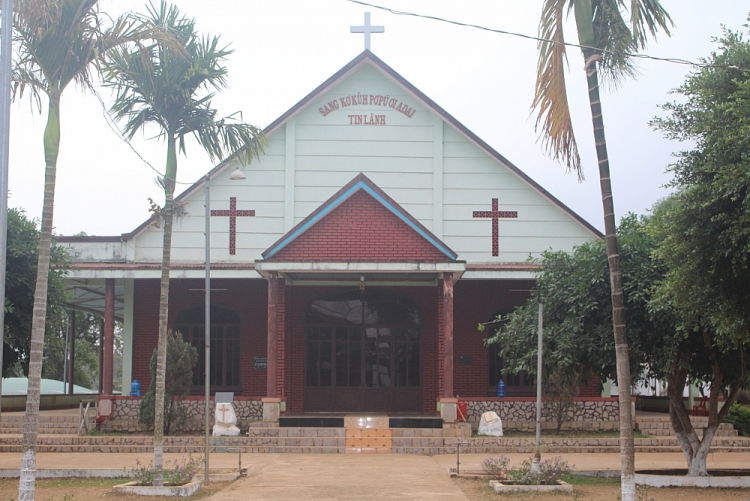 Plei Ia Lang Protestant Church.
Concerning socio-economic life: As you can see, there are many green vegetable gardens surrounding the church. In the past, only a few households knew how to grow vegetables. Now, hundreds of households have made a living by selling homegrown vegetables instead of planting coffee trees, helping to improve their social-economic life.
10 years ago, the transport infrastructure in Chi Lang Ward was in very bad condition. Now, the ward has new roads and electricity. Many households have accumulated property. Many children have got access to higher education.
- How does Plei Ia Lang Branch convey the spirit of "sống tốt đời đẹp đạo" (living a good life and believing in God) to parishioners and believers?
Living a good life and believing in God are reflected in the rules and charters of Vietnamese Evangelical Church. There are many messages in the Bible about this spirit, including helping the disadvantaged people and being responsible for the country.
Apart from teaching our followers to worship and adore God, we have taught them "satisfied in any circumstances", which means that we shouldn't be envious of others. They have also be taught if they live wholeheartedly and work diligently, they will definitely be blessed. In addition, followers should adhere to regulations of the local authority as well as policies and laws of the state, contributing to building a stable and safe society.