Mekong Delta to improve ecosystem conservation
Responsible conservation and development in the unique ecological systems of the Mekong Delta have been identified as a priority for the region
World Environment Day 2021, held on June 5, focuses on ecological restoration. Through this year's theme (reimagine, recreate, restore), the international event aims to showcase the importance of conserving and developing ecosystems to sustainably protect the living environment .
Despite its unique ecological systems, the Mekong Delta is suffering from the negative impact of climate change and unsustainable exploitation of natural resources. Enhancing conservation, minimizing ecological degradation, improving livelihoods, and reducing natural disasterS risks have become the region's priorities.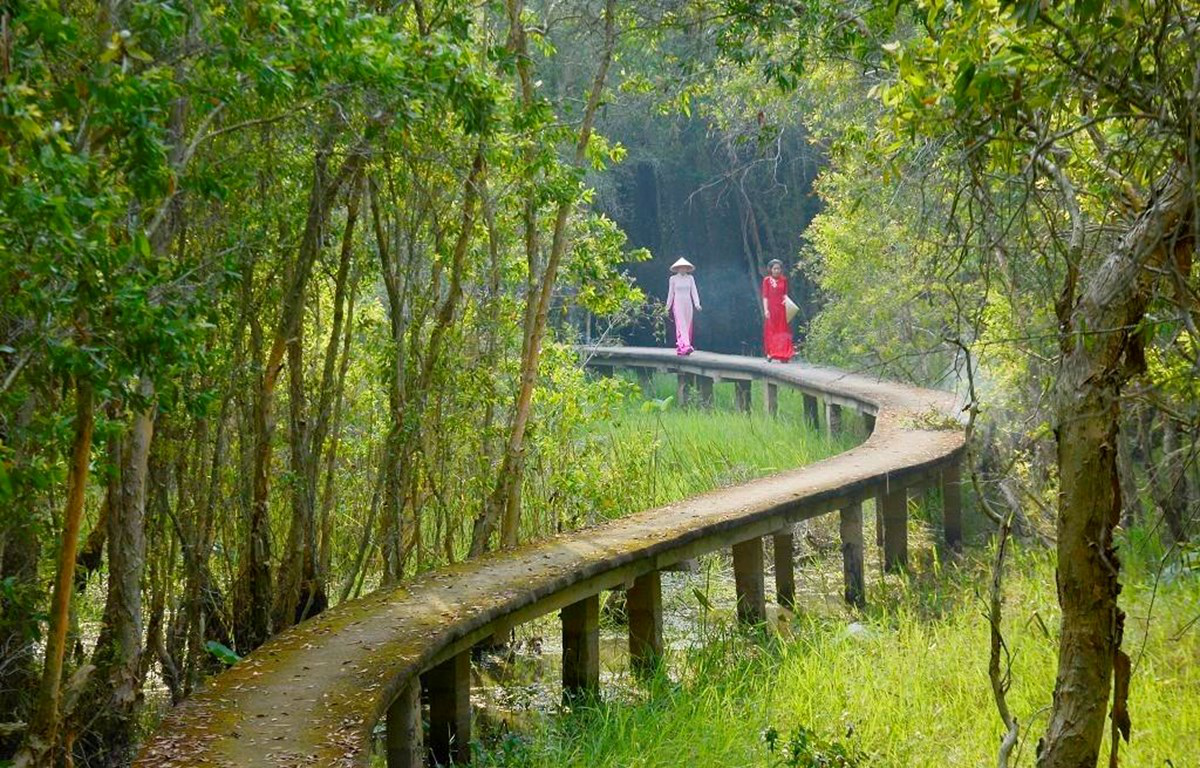 Tan Lap Floating Village in Moc Hoa district of Long An province / Vietnam News Agency
Conserving natural resources
Situated in southern Vietnam, the Mekong Delta was formed via continuous deposition of the Mekong River sediments over thousands of years as the river changed its course due to flat terrain.
The Mekong Delta's ecological systems are diverse, consisting of many biosphere reserves, national parks, and conservation areas with high biodiversity such as the Ca Mau Cape National Park, U Minh Ha National Park, and Tram Chim National Park, a wetland conservation area recognized as a wetland site of international importance.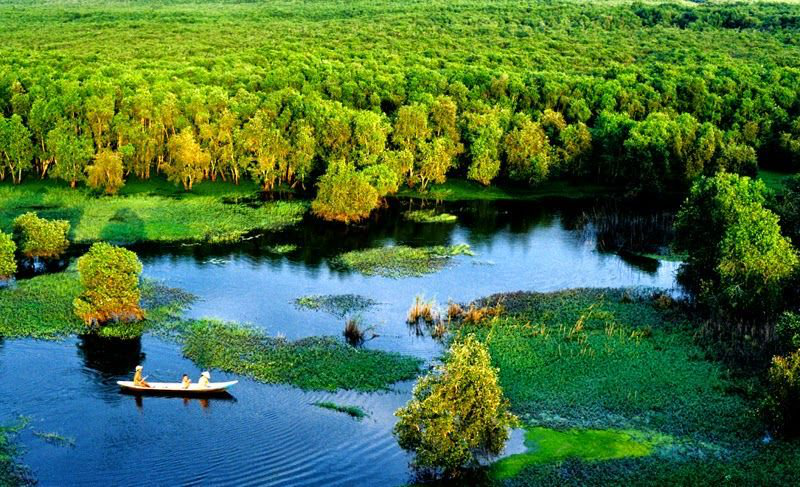 Tram Chim National Park / Dulich.Dongthap.gov.vn
Responsible conservation, development, and usage of resources in the Mekong Delta have been identified as a priority for provinces in the region to protect the environment and adapt to climate change.
Accordingly, the Mekong Delta province of Kien Giang has launched a project to investigate and survey the biodiversity and adjust subdivisions in the protected area of Phu Quoc Marine Protected Area.
Located in Phu Quoc National Park, the Phu Quoc Marine Protected Area has a water area of more than 40,909 hectares. It includes a coral protection and seagrass protection area. Under the project, Ken Giang plans to restore degraded sites, as well as improve natural resource and environmental surveying, particularly in the coral protection area.
It will also monitor the changes of the environmental conditions and biodiversity in the area, and design adaptive management solutions.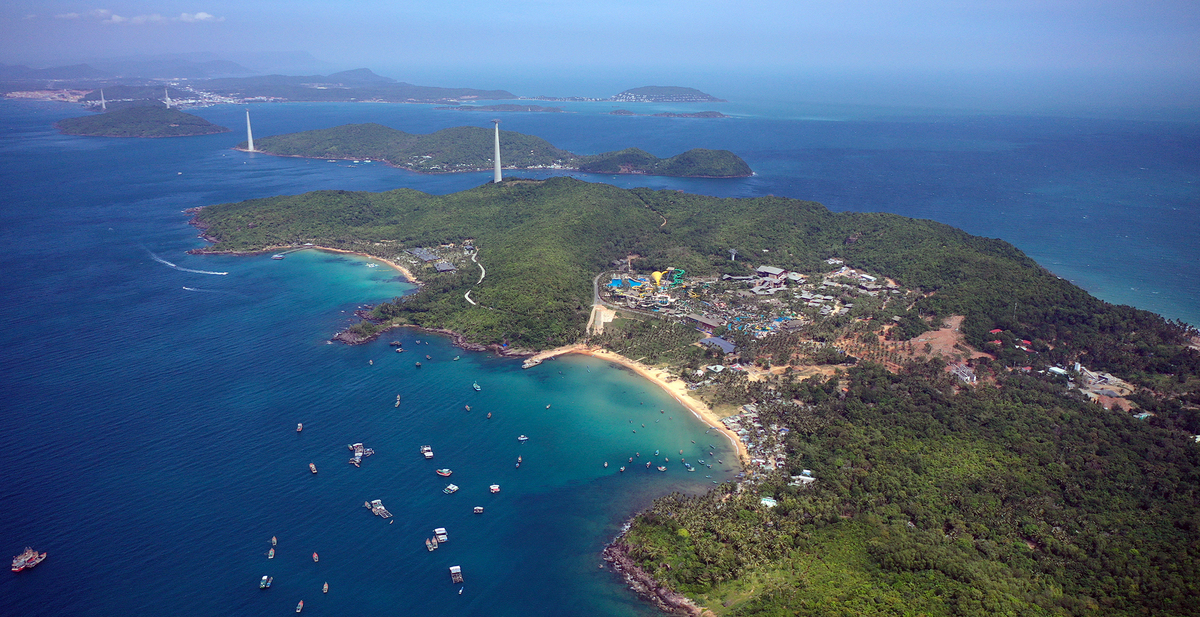 Phu Quoc Island / VnExpress
In response to climate change, the province is also expanding its coastal protected forest and implementing a project to plant trees to prevent salinity and protect sea dikes, with a total newly planted area of 85 hectares. Since late 2017, Kien Giang has grown more than 540 hectares of mangrove forests.
U Minh Ha National Park, a conservation area located in the Mekong Delta province of Ca Mau, has identified preserving the cajuput forest ecosystem on peatlands as an important mission to improve its vegetation coverage.
The park is one of the three core zones of Ca Mau Biosphere Reserve, recognized by UNESCO as a World Biosphere Reserve. Situated in the Tran Van Thoi and U Minh districts of Ca Mau province, the park has a total core area of 8,527 hectares and a buffer zone of 25,000 hectares.
According to Huynh Minh Nguyen, director of U Minh Ha National Park, the management board of U Minh Ha and local authorities have been accepting and releasing endangered animals such as golden pythons and pangolins into the park's protected areas, in order to preserve U Minh Ha's forest ecosystem and biodiversity.
Awareness and action
Understanding the importance of natural resource preservation and development to a sustainable livelihood, Pham Duy Khanh – director of the Muoi Ngot Ecotourism Site in the buffer zone of U Minh Ha National Park, said locals were aware they must conform to forest protection laws and strive to protect the ecosystem.
Khanh reminds his staff to keep the environment clean, grow more cajuput, a typical plant in U Minh Ha, and avoid overexploitation of animals. He also encourages others to comply with forest fire prevention and control measures, particularly when organizing beehive making and honey harvesting activities for tourists.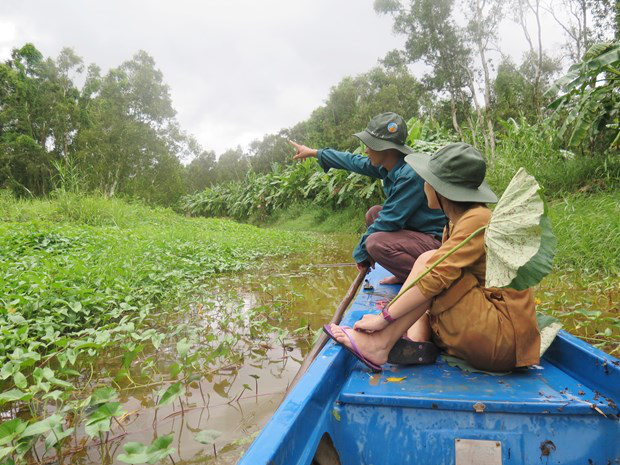 Pham Duy Khanh, director of the Muoi Ngot Ecotourism Site, shows tourists the cajuput forest and wetland ecosystem. / Vietnam News Agency
On Phu Quoc Island, local authorities have been running a beach clean-up campaign on the first Saturday of every month since mid-2019.
With the motto "one person, one action for an environmentally friendly Phu Quoc," the campaign has been attracting local communities and tourists. On the beach clean-up day, residents, officials, and tourists in Phu Quoc clean up the beach and implement awareness-raising activities to reduce the use of plastic bottles and straws.
Nguyen Thi My Quynh, manager of the project Phu Quoc - Toward a plastic waste-free island, said Phu Quoc is one of the three Southeast Asian cities to partake in the organization's Plastic Smart initiative, a movement to connect cities and tourist destinations in Southeast Asia to fight plastic pollution.
Together with Patong city (Thailand) and Donsol city (Philippines), Phu Quoc has pledged to reduce plastic pollution by developing a detailed action plan and testing innovative solutions.
Demonstrating their commitment, hotel and resort owners in Phu Quoc have been conducting activities to protect the environment and preserve Phu Quoc's marine ecosystem such as reducing the use of plastic bottles and straws and giving eco-friendly shopping bags to tourists.