More Covid Vaccines Arrive in Vietnam
Vietnam has received nearly 3 million doses of coronavirus vaccine in the last two days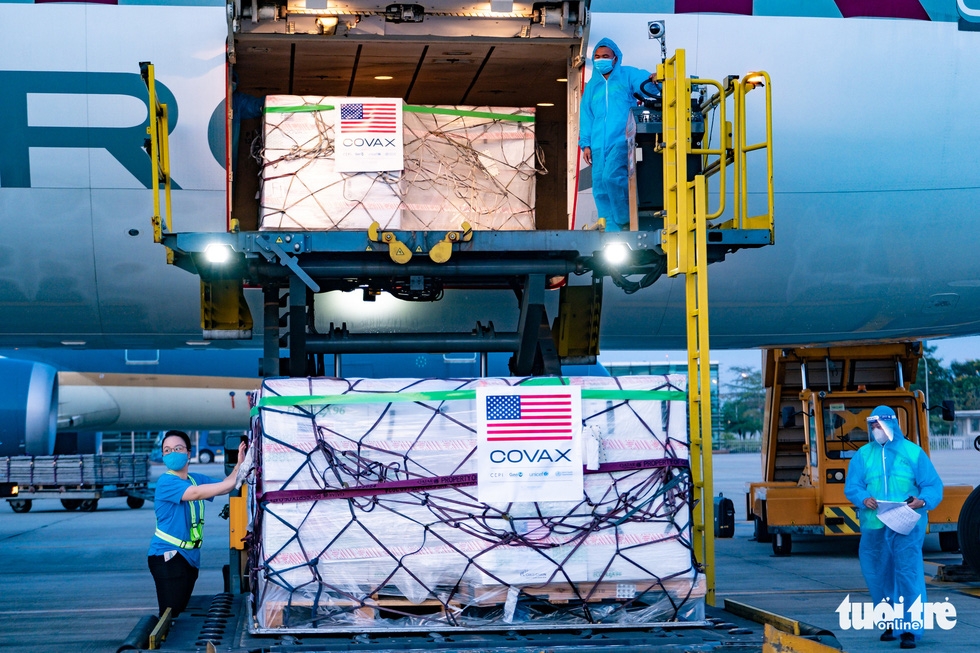 US-donated vaccine arrives at Noi Bai airport Saturday morning. Photo: Tuoi Tre
Two million doses of the U.S. AstraZeneca vaccine touched down at Noi Bai International Airport early Saturday morning, the U.S. Agency for International Development has announced.
The batch is part of the vaccine aid package President Joe Biden pledged to grant to other countries via the COVAX scheme and is among the first doses to arrive in Southeast Asia.
"We are proud to assist Vietnam in the Covid-19 fight. We believe that together, we will win over the pandemic," the agency said.
"The batch brings us hope of an end to the Covid-19 battle and resumption of normal life," said Christopher Klein, interim chargé of the U.S. Embassy in Vietnam.
According to UNICEF, Vietnam's response to the pandemic since 2020 has been a success. Still, its vaccination coverage, accounting for roughly 4% of the population, is low due to limited global vaccine supply.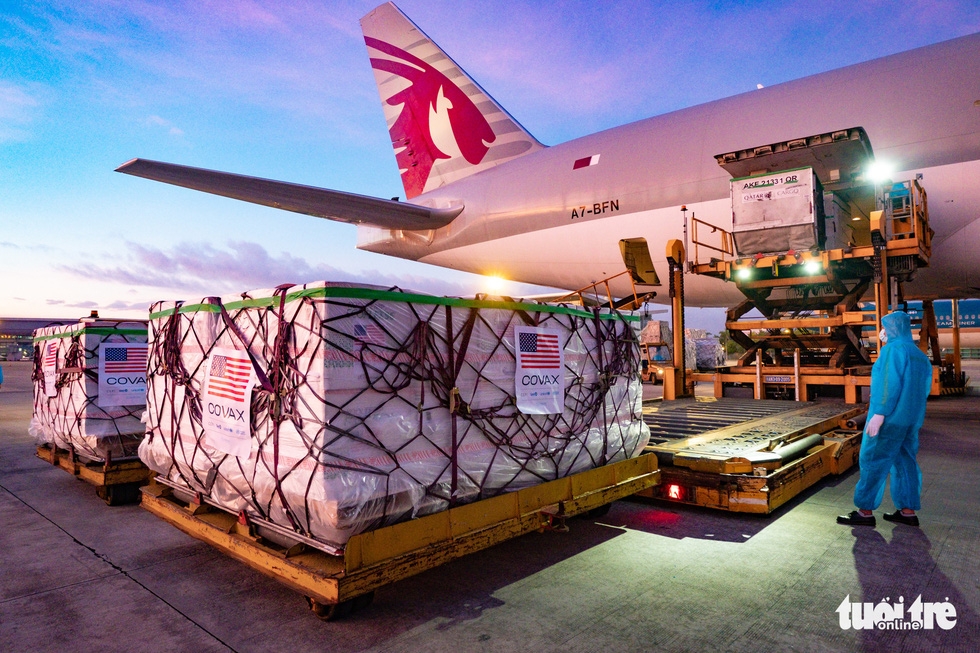 Photo: Tuoi Tre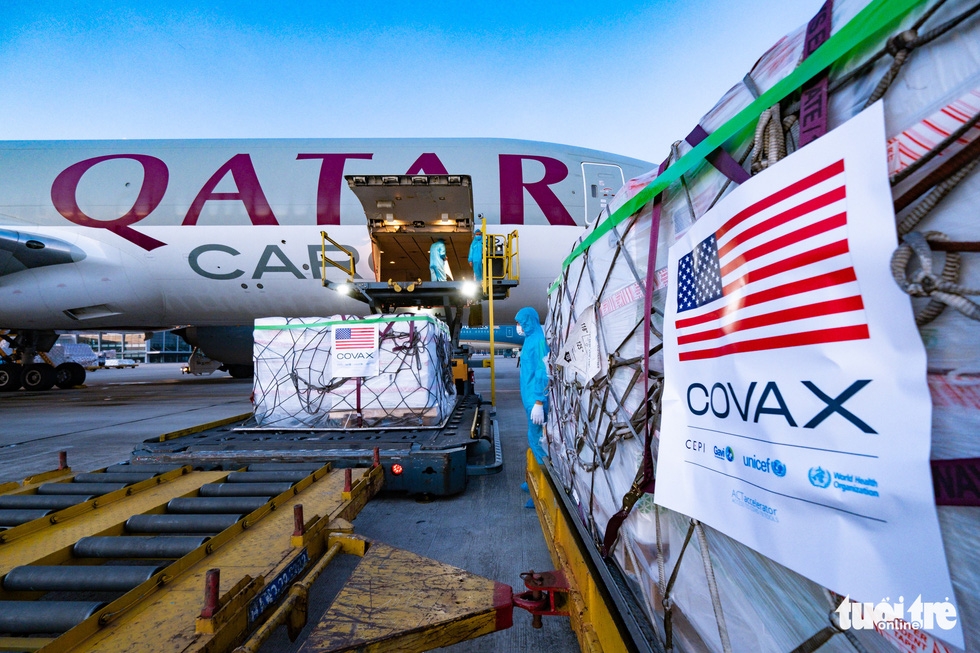 Photo: Tuoi Tre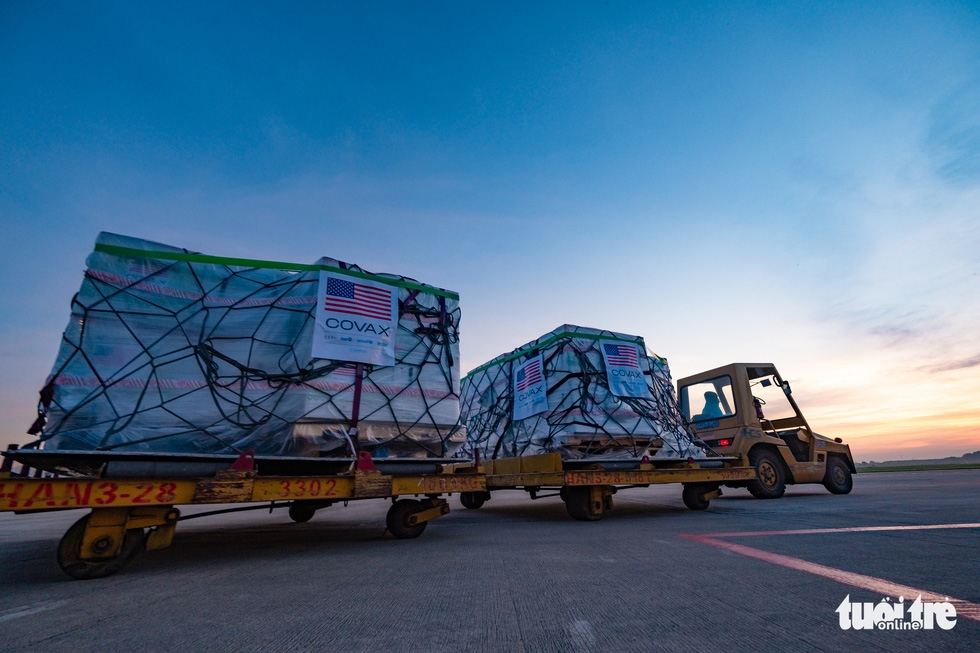 Photo: Tuoi Tre
Meanwhile, over 400,000 doses of AstraZeneca vaccine donated by Japan also arrived at Tan Son Nhat International Airport, on July 9. The country had earlier distributed some 1.6 million doses to Vietnam, raising the tally to nearly 2 million doses. The Vietnamese government and the Ministry of Health will be in charge of distributing the batch to localities.
The health ministry said Japan's vaccine donation was"timely and helps Vietnam curb the spread of the novel virus."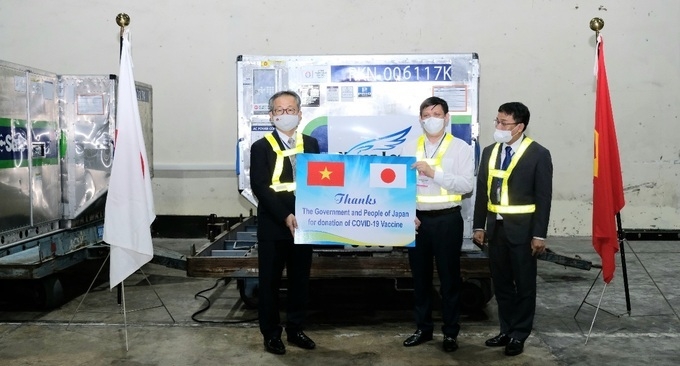 Health Minister Nguyen Thanh Long (in white) receives the vaccine from the Japanese Ambassador. Photo: VNE
Another 580,000 doses sourced via the Vietnam Vaccine Company (VNVC) contract also landed at Tan Son Nhat airport Friday morning. This is the third batch of the 30-million-dose contract signed by VNVC and the AstraZeneca Biopharmaceutical company to reach Vietnam.
"AstraZeneca will continue to work with Vietnam Ministry of Health, WHO, UNICEF and VNVC for more vaccine supply in the next few months," Nitin Kapoor, president and general director of AstraZeneca Vietnam told VNE.
The nationwide vaccine rollout in Vietnam kicked start on March 8 and has vaccinated around 3.98 million people, with nearly 260,000 recipients fully inoculated. The jabs prioritize frontline healthcare workers, police and border forces, Steering Committee for Covid-19 Prevention and Control members, industrial workers and other essential workers.
The government has so far approved the emergency use of five Covid-19 candidates, which are U.S. Moderna and Pfizer, Russia's Sputnik V, China's Sinopharm, and British-Swedish firm's AstraZeneca.
To date, about 105 million doses from various sources have been committed for use in Vietnam, as reported by the health ministry.
The novel coronavirus emerged in Wuhan city, China's Hubei province in late 2019, and has spread to 220 countries and territories, claiming over 4 million lives. The US, India, and Brazil are the three hardest-hit nations worldwide.
Meanwhile, in Vietnam, the latest resurgence has been creating unprecedented records. HCMC is battling its worse outbreak yet, with daily tally reaches four-digit numbers, with at least 10,915 cases reported since April 27. The southern city is deploying the most stringent measures, including social distancing orders, and a testing ramp up. Neighboring localities are also experiencing complicated situations. The pandemic in the northern and central regions, however, is basically controlled.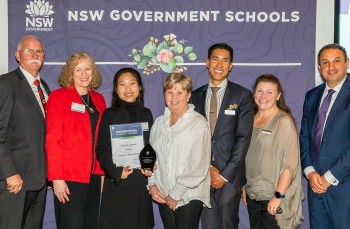 Overseas Vietnamese
The award for international students studying at New South Wales state schools (Australia) honors excellent ones from many countries, including a Vietnamese female student.