Vietnamese Americans quick to receive Covid shots
Vietnamese people in the US have been signing up for doses of the coronavirus vaccine en masse
Despite being injected with Covid-19 vaccines, Vietnamese people in the United States have stayed vigilant against the novel coronavirus, Zing News reported.
Governments in many countries have encouraged their citizens to get vaccinated. As of May 7, more than 1.23 billion vaccine doses have been used in 174 countries at a rate of 19.4 million jabs a day, according to Bloomberg.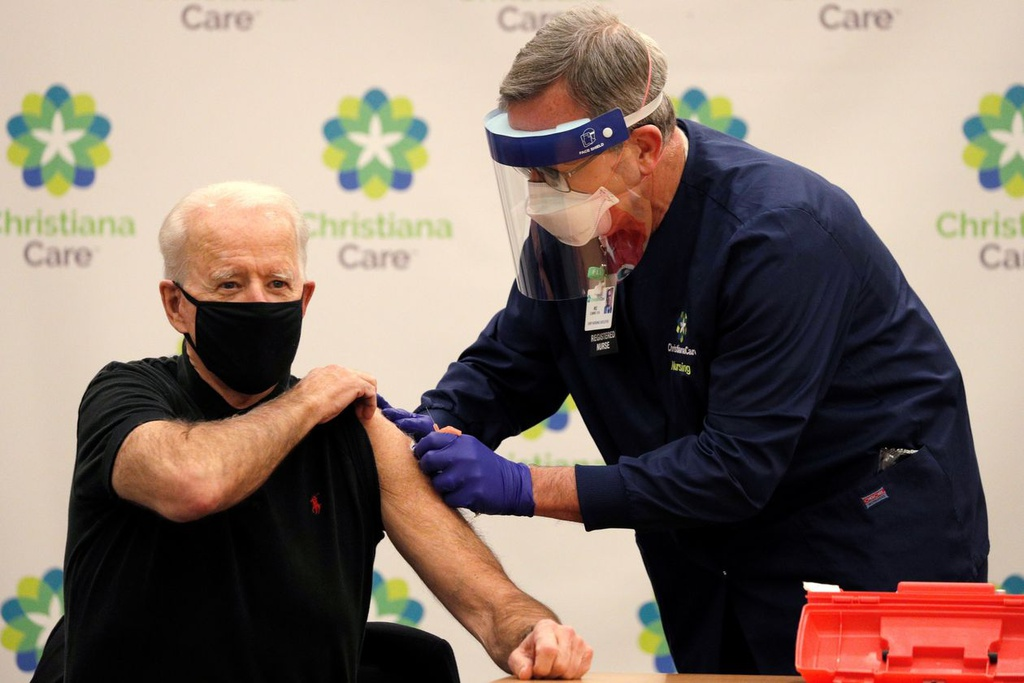 The U.S President Joe Biden receives two Covid-19 vaccine shots. Photo: Reuters
The Covid-19 vaccination is one of the top priorities of the Joe Biden Administration with a target of vaccinating 70% of adults in the country by July 4.
"Everyone I know has received the Covid-19 vaccines. Most Vietnamese people in the U.S have been administered two Covid-19 vaccine shots. Only a few have been inoculated with the first jab and are waiting for the second. Many Asian Americans have also actively got vaccinated," Nguyen Hai, a former businessman living in California told Zing News.
Diverse vaccine registration
Several months ago, those who wanted to receive the Covid-19 vaccines had to register in advance and prove themselves part of prioritized groups such as medical workers, the elderly, having underlying diseases. However, residents in many states now can register for inoculation without any requirements.
"I was injected with two vaccine shots on March 16 and April 13 at Walgreens pharmacy near my home," said Ha Nguyen, of Illinois City, Chicago. "I visited the Walgreens' website and luckily got appointments for two vaccine shots."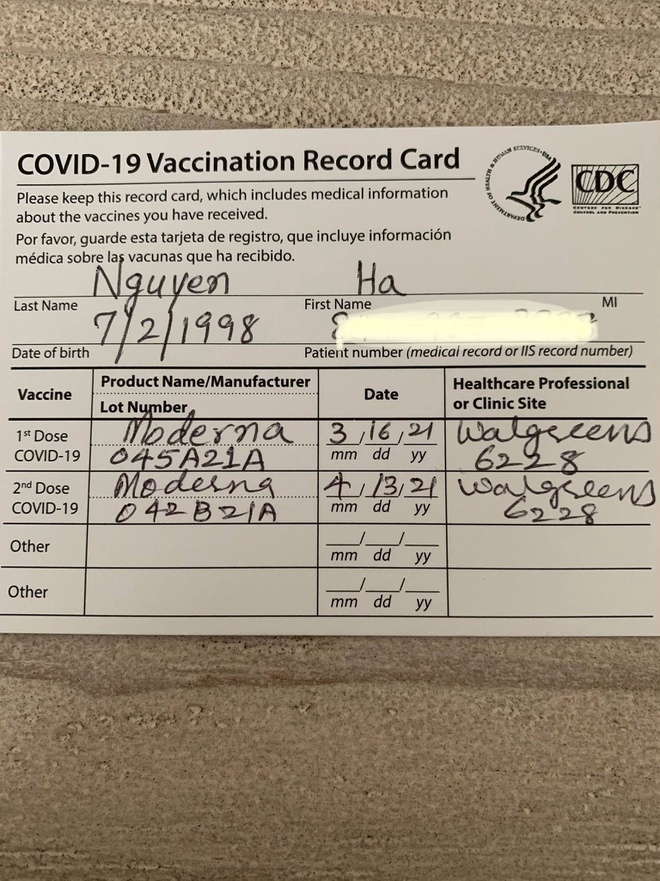 A Covid-19 vaccination certificate.
In Texas, people can choose the type of vaccine that they want to be injected with. Thu, 22, said her family opted for the Pfizer vaccine as her relatives had received it and no reactions had been reported.
Linh Vu, 26, also living in Texas, said that people could even go to the injection sites to receive vaccines without registration if slots were available.
"We need to have belief for our health and community"
A vaccination site in Bayonne, New Jersey.
Many Americans have been hesitant to get vaccinated as they fear post-vaccination reactions.
Nhu Nguyen, 46, a biologist with 10 years experience producing vaccines, living in New Jersey, said a number of people in the United States had spread fake news about the vaccine, making it hard for the government to mobilize citizens to get vaccinated. She added that getting vaccinated was an effective way to obtain herd immunity, thereby soon stamping out the pandemic.
Many Vietnamese in the United States have said they feel more secure when going out after receiving the vaccines.
Nam, living in Atlanta, said because he had worked online for over the past year, he was eager to be inoculated.
"We still need to stay vigilant against Covid-19 after getting vaccinated"
Vietnamese people in the United States receiving two vaccine shots have still stayed alert against the novel coronavirus. Hai has strictly adhered to wearing face masks in public spaces.
Hai added that the airports were crowded with passengers, and that gathering in restaurants might also trigger the outbreak.
"In eateries, people still sit close together and don't wear face masks," Hai said.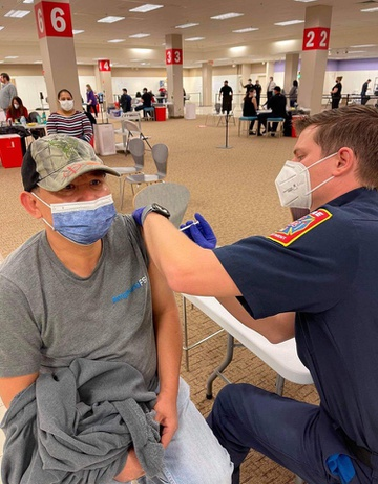 A Vietnamese person in Texas is injected with the Covid-19 vaccine.
Although the immunization campaign has been launched, some people worry about getting vaccinated and that anti-epidemic measures being loosened may cause a new outbreak.
"We shouldn't think that as we got vaccinated, we can drop our guard," Nhu said.
If 70-85% of the U.S population is injected with the vaccines, herd immunity will be reached, according to White House Chief Medical Advisor Dr. Anthony Fauci.