More support for flood victims in central Vietnam
UNICEF will provide at least USD 100,000 for emergency relief looking specifically at the needs of children for water, sanitation and hygiene, health, education, protection and more.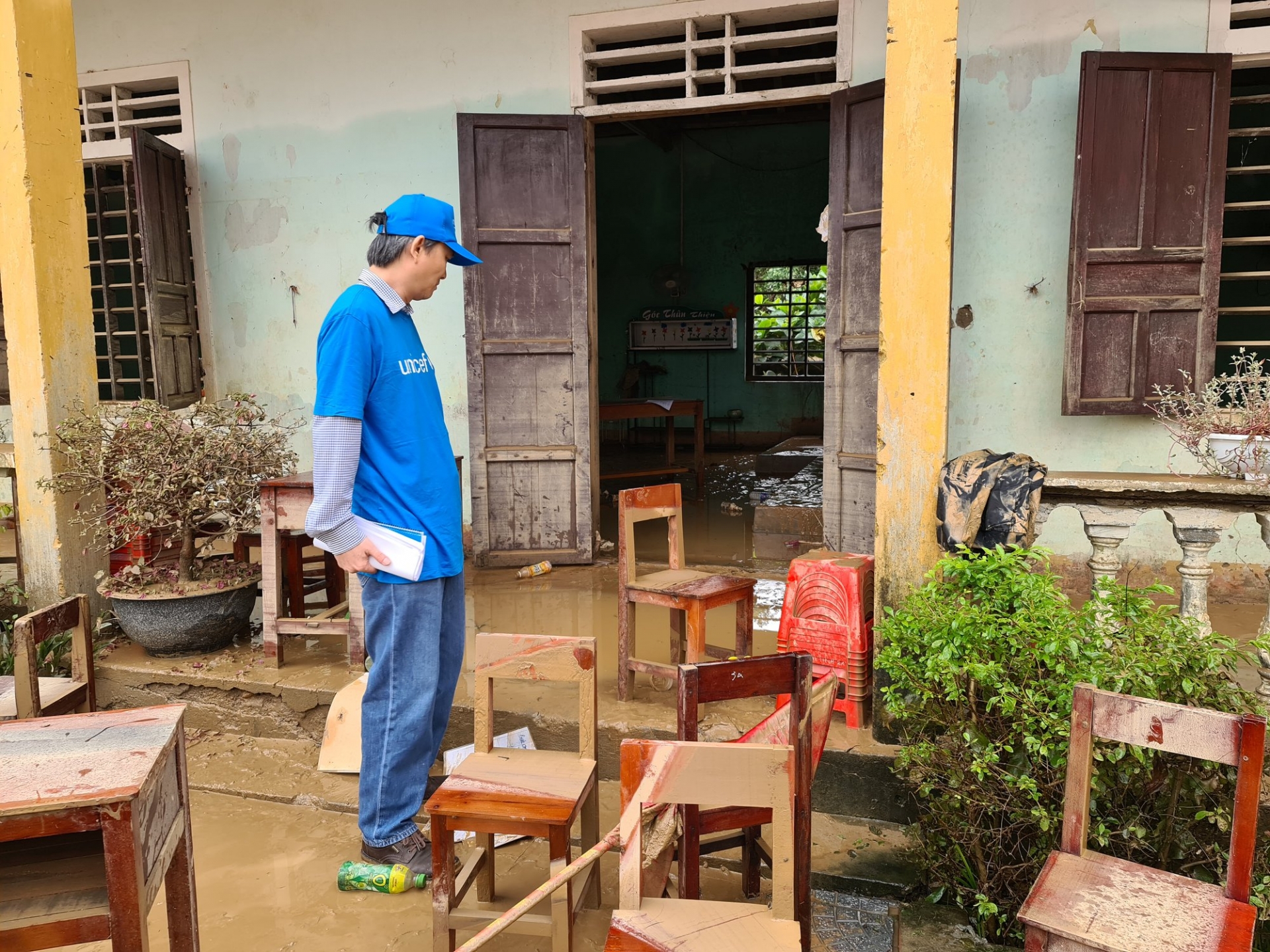 The people and children in Centre of Vietnam are being suffered from the devastation of floods and land-slides recently. Source: UNICEF Vietnam
Central Vietnam has been battered by two subsequent storms over the past two weeks. Heavy downpours triggered flashfloods and landslides, leaving 111 dead and 22 missing.
UNICEF Vietnam has quickly responded by conducting rapid assessments together with Vietnam Disaster Management Authority – Ministry of Agriculture and Rural Development (VDMA-MARD) focusing on most needed areas: WASH, Nutrition, Education and Child protection.
UNICEF will provide at least USD 100,000 for emergency relief looking specifically at the needs of children for water, sanitation and hygiene, health, education, protection and more.
"The floods and landslides have caused severe damage in the communes visited. Schools have been damaged, books and other learning materials are destroyed by water. The population can't access running water and the lack of personal hygiene and sanitation is increasing the risk of diseases," said by Ly Phat Viet Linh, UNICEF disaster risk reduction specialist is currently in Quang Loc commune, Ba Don town, Quang Binh province.
"Meanwhile in Quang Nam, the damage is less than other Central provinces, the water has receded, the people are desperately need chemical to sterilize the living environment and try to come back to normal to get ready for another coming storm in the next few days," shared Nguyen Dinh Quang, UNICEF nutrition officer, who is currently conducting a rapid assessment in Dai Hong commune, Dai Loc district, Quang Nam province.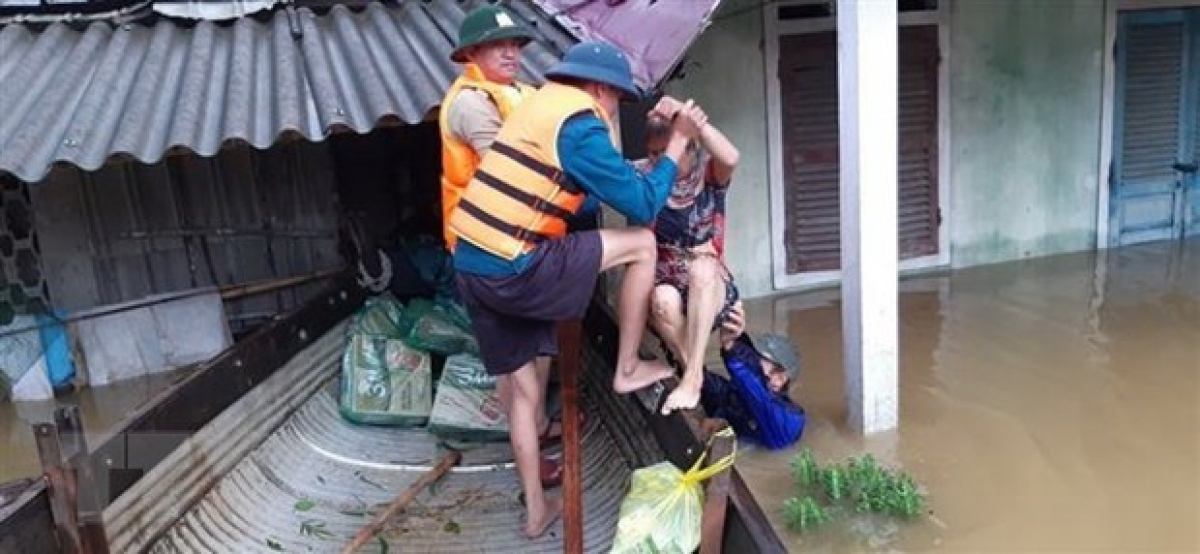 Competent forces help a local resident move to a safer place. Photo: VNA
Vietnamese people abroad also are joining hands to support flood-hit residents in the central region, which has suffered heavy losses of life and property over recent days.
The Vietnamese Business Association and the Vietnamese Students' Association in Australia have also made appeals over the last few days to overseas Vietnamese to assist those in distress in their homeland.
Vice Chairman of the Vietnamese Students' Association in Australia Huynh Tan Dat said it raised over AUD 3,000 (over USD 2,100) in three days, from October 17, from members and other donors.
In the state of Victoria, VSM - a group of Vietnamese students in Melbourne, launched a donation campaign on October 16. Its founder, Nguyen Duc Quyet, said that, in less than a week, it raised nearly 40,000 AUD (USD 28,500).
On October 20, the Vietnamese Embassy in Canada also launched a donation campaign, organised online with the participation of Vietnam's representative agencies and expatriates in Ottawa, Toronto, Montreal, Quebec City, and elsewhere.
According to a report from the Office of the Central Steering Committee for Natural Disaster Prevention and Control, as of 7 am on October 21, flooding that began on October 6 had killed 111 people and left 22 missing.
Some 371 ha of rice paddies have been submerged, 7,126 ha of crops damaged, and over 700,000 heads of cattle and poultry killed or swept away.
Central Vietnam is expected to be braced for Typhoon Saudel, which is forecast to have a devastating impact on the region
Deputy Prime Minister Trinh Dinh Dung on October 21 asked localities to focus on supporting flood-hit people in the central and north-central regions, especially Quang Binh and Ha Tinh provinces, and on designing plans to prepare for and respond to upcoming storms so as to ensure life and property.
The Director of the National Centre for Hydro-Meteorological Forecasting, Mai Van Khiem, said Storm Saudel formed in the East Sea on the night of October 20. It is heading towards central localities and is likely to be at its worst from the night of October 24 to October 25./.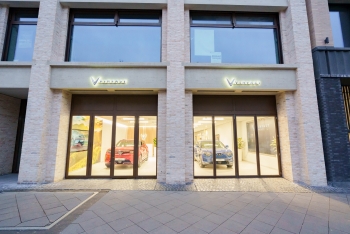 Economy
VinFast has officially opened its first two VinFast Stores in Cologne, Germany, and Paris, France.