My story - a Croatian 'stuck' in Vietnam during the pandemic
The croatiaweek , a travel website in Croatia, shares the story of Arijana Tkalcec and her boyfriend's life - two foreign tourists were "stuck" in Vietnam and their choices between staying or going home when the Covid-19 pandemic broke out. It is interesting that Arijana is also the story's writer to tell about her story by herself through her own eyes and feeling.
Arijana starts by introducing that she is only 24 years old, after finishing college, her boyfriend and she decided to travel around South East Asia for seven months. They started in January when coronavirus was already present, but nobody thought it could become a global threat as it was still mainly in China. Their first stop was Bali, where they stayed for a month. After that, they continued to visit Vietnam. The plan was to travel around for three months, but things didn't work out as we planned.
"Stuck" due to the Covid-19 pandemic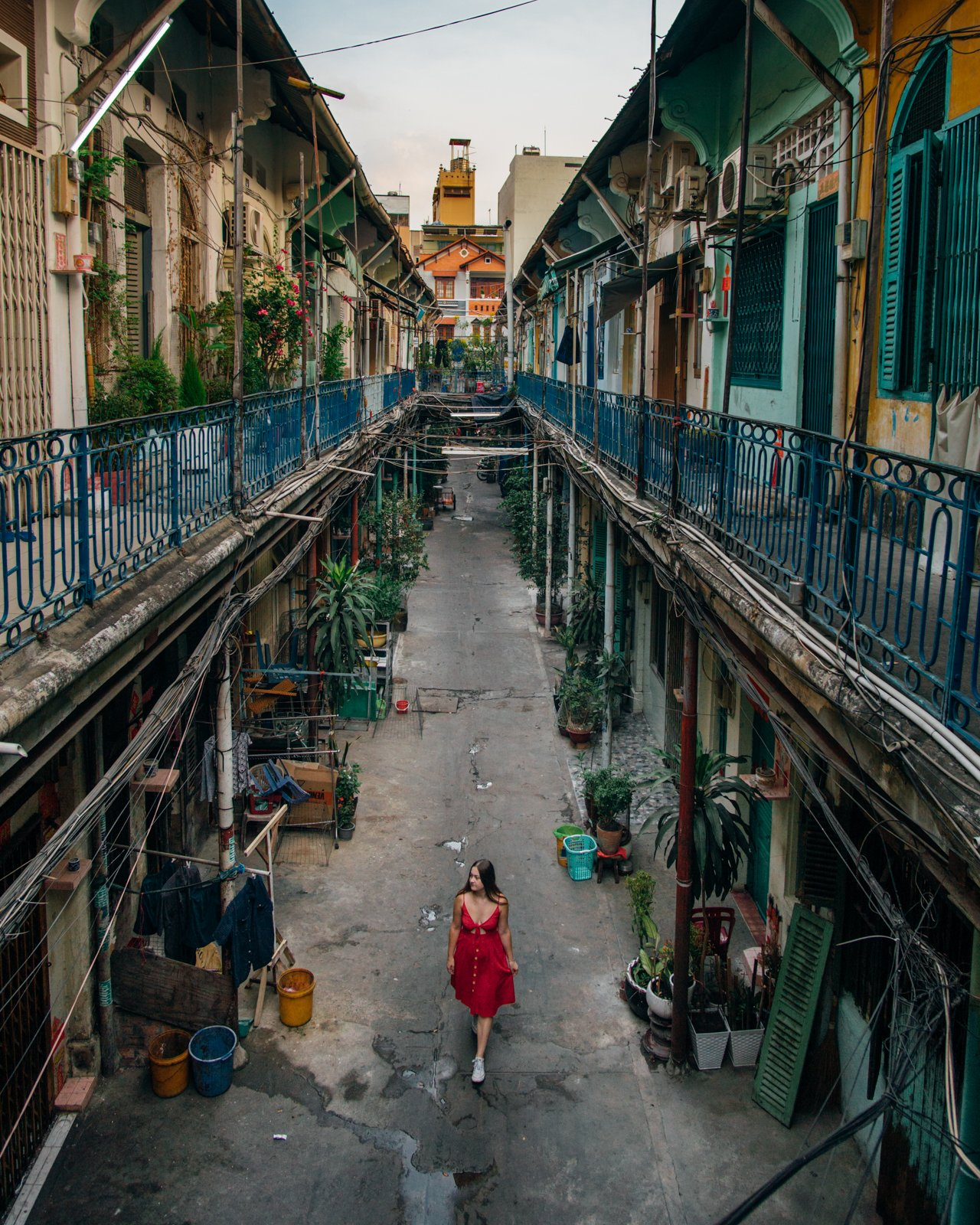 First two weeks of our Vietnam trip were completely normal, and we explored freely (Photo provided by her)
At that moment, they were 'stuck' in Da Nang, the beautiful coastal city in Central Vietnam, known for its sandy beaches. It was also known as the city of digital nomads, and that's why they chose to get 'stuck' here. She said that they had rented a house where they were staying for another month, at least. Social distancing measures were continuing until 22nd April, but there was a high chance that this would continue until the end of the month.
It was written that the first two weeks of their trip had been perfect. When they entered the country, Vietnam had 0 active cases of the virus. They went around Ho Chi Minh City and explored Mekong Delta. The only unusual thing in her experience was that they were asked for the temperature check before entering the War Museum.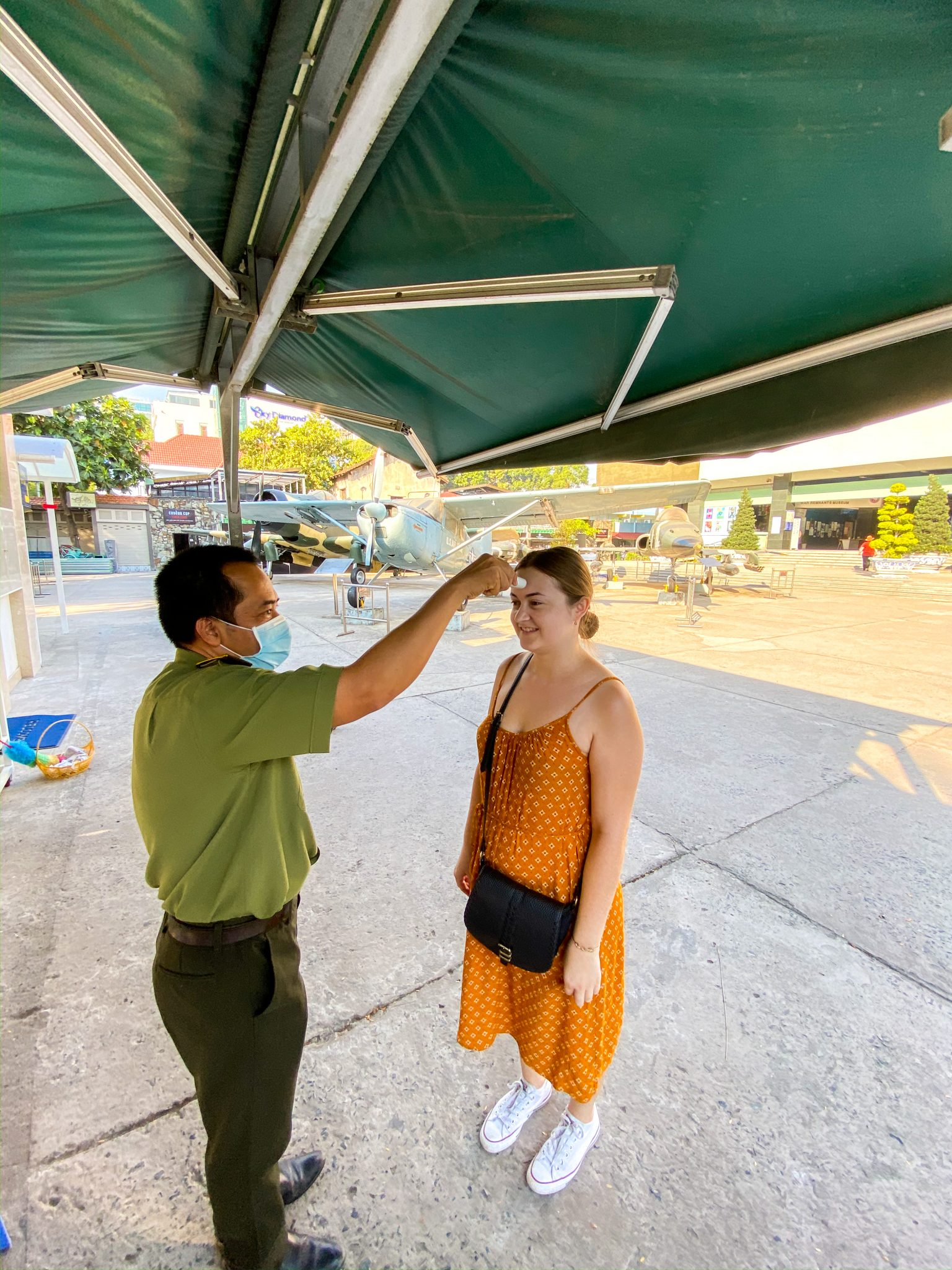 Temperature check before War Museum (there were no active cases at that moment). (Photo provided by her)
When they arrived at Mui Ne, their third stop in Vietnam, things started to change. Cases were rising in Europe, and soon the first new case showed up in a town 17 kilometers away from them. Slowly more cases were confirmed, and the corona was officially back in Vietnam. The lively town full of tourists slowly started closing down. Some restaurants closed, hotels stopped taking in tourists, there were fewer people, etc.
She thought that the situation there in Vietnam wasn't that bad yet and decided to continue their trip to Dalat. But the problems started when they were denied entry to one local restaurant because they were foreigners. People on the street would put the mask up when they were passing by etc. She thought locals seemed to be afraid of them. Many new cases came from abroad (whether it was from foreigners or Vietnamese coming back from overseas), so she could partially understand their behavior. However, that make them uncomfortable too, so most of the time, they stayed in their apartment.
Stay in or return home?
The time for the big decision came: should they stay in Vietnam or go home? The clock was ticking: the borders started closing, the situation in Europe got terrible, there were fewer and fewer flights each day. After long talks with her families and colleagues in the same situation, they had decided to stay.
And she explained reasons for their mind made up that: "Firstly, flying in this situation didn't sound appealing to us. Many confirmed cases in Vietnam were connected to flights. Secondly, we already have our ticket back to Zagreb in September from Bali. This would be an additional financial cost that we couldn't afford. The tickets were too expensive, and nobody could guarantee that the flight wouldn't be canceled. What if we got 'stuck' at some airport or the flight got canceled, and we didn't have money to buy another ticket? It was too risky. Thirdly, if we did come back to Croatia, self-isolation of 14 days was mandatory. The only place we could go to was my parents' house. We didn't want to risk it as we could put them in danger. And lastly, the fact that my boyfriend is from Slovenia, which was already completely closed, made even more problems".
Vietnam would go on lockdown that time, so they had to choose the place they want to 'get stuck in'. And they chose Da Nang because it was a big city, full of digital nomads. She said that they would have everything they needed for a normal life there.
To get to Da Nang, they took a 6 hour bus to Nha Trang and stopped for a few days. The situation in Nha Trang was much different than in Dalat. Everything was full of tourists (mostly Russians), many people didn't wear masks, the beach was full of people. They weren't sure what to think about that because the rest of the country was in a full-on panic, while everything there was so relaxed.
Correct decision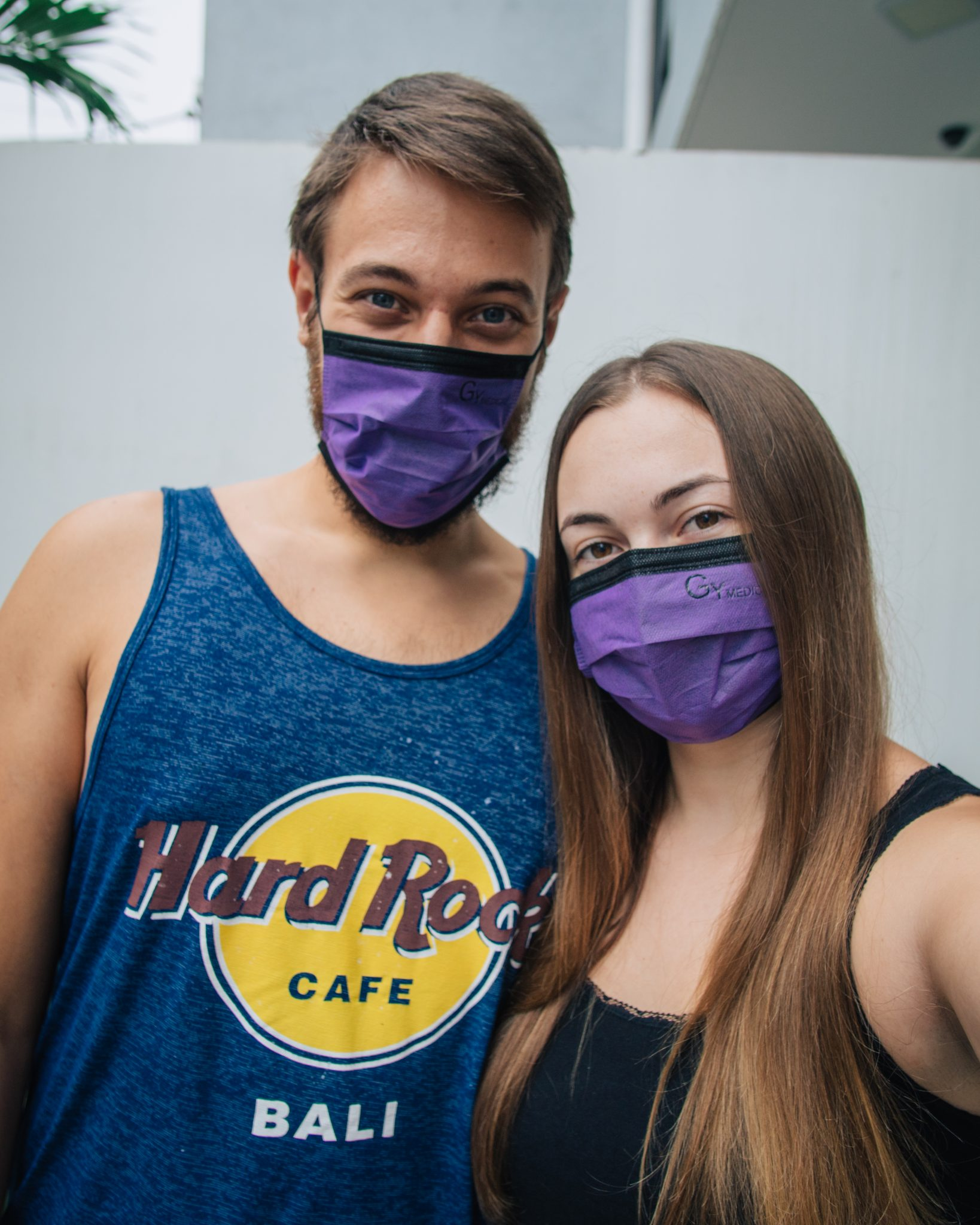 There's no going out without a mask anymore. (Photo provided by her)
They took another 10 hour trip to reach Da Nang by train. There was a shocking scene to them at the entry of the Da Nang train station. People in full-on blue suits accompanied by police were waiting at the entrance. One guy held an English sign just for us as they were the only tourists on the train. That made her so scared when she saw them as they didn't know what's going on. Her first question was: 'What will they do to us?'. But I have to mention how kind and understanding they were. It made me much calmer". They were assisted to go through a temperature check and hand disinfection (two times). As foreigners, they had to fill in some documents. There were questions about which places they had visited, where they had been staying, when had they entered Vietnam and how, etc.
People in full-on blue suits accompanied by police checking passengers at the train station. (Photo provided by her)
" We also had to download their Health Declaration app and fill in our information. Every day the app asks us if we're feeling well or have any symptoms. That way, they can track how we are feeling. If anyone needs any help, they can react much faster than in other countries. Each person is identified with a certain number, which can be scanned through a QR code", she shares.
" We came at the last minute. The next day the city was closing down, and we barely managed to find suitable accommodation for us. We got lucky, though! According to the government's order, many accommodations didn't accept foreigners anymore. They wanted to stop the unnecessary movement. Now we're waiting to see how the situation develops. The social distancing measures (that's how they officially call this, although it's not that different from a lockdown) are being enforced until 22nd April (for now). We mostly spend our time in the house. Luckily we have our kitchen, so we cook every day. We go to the store once per week and have no problems with finding food (people don't stack up on groceries here like in Croatia).
The beach is closed. It's not possible to get near it as the police and lifeguards are patrolling the area. Even one part of the main road next to the beach is closed for walking or jogging. That's why there are many people on bicycles now. That's the only way to get through some places. The neighboring streets are now much busier as people are running and exercising there because of the ban. Masks are a must, and if you don't wear one, you'll get a fine. All public places, such as stores, have a person who is disinfecting your hands before getting in. The temperature checks on the entrance are a normal thing now. As of 16th April, restaurants are open for takeaways and delivery only. Official or online taxies are not allowed to operate; only scooters can", written by her.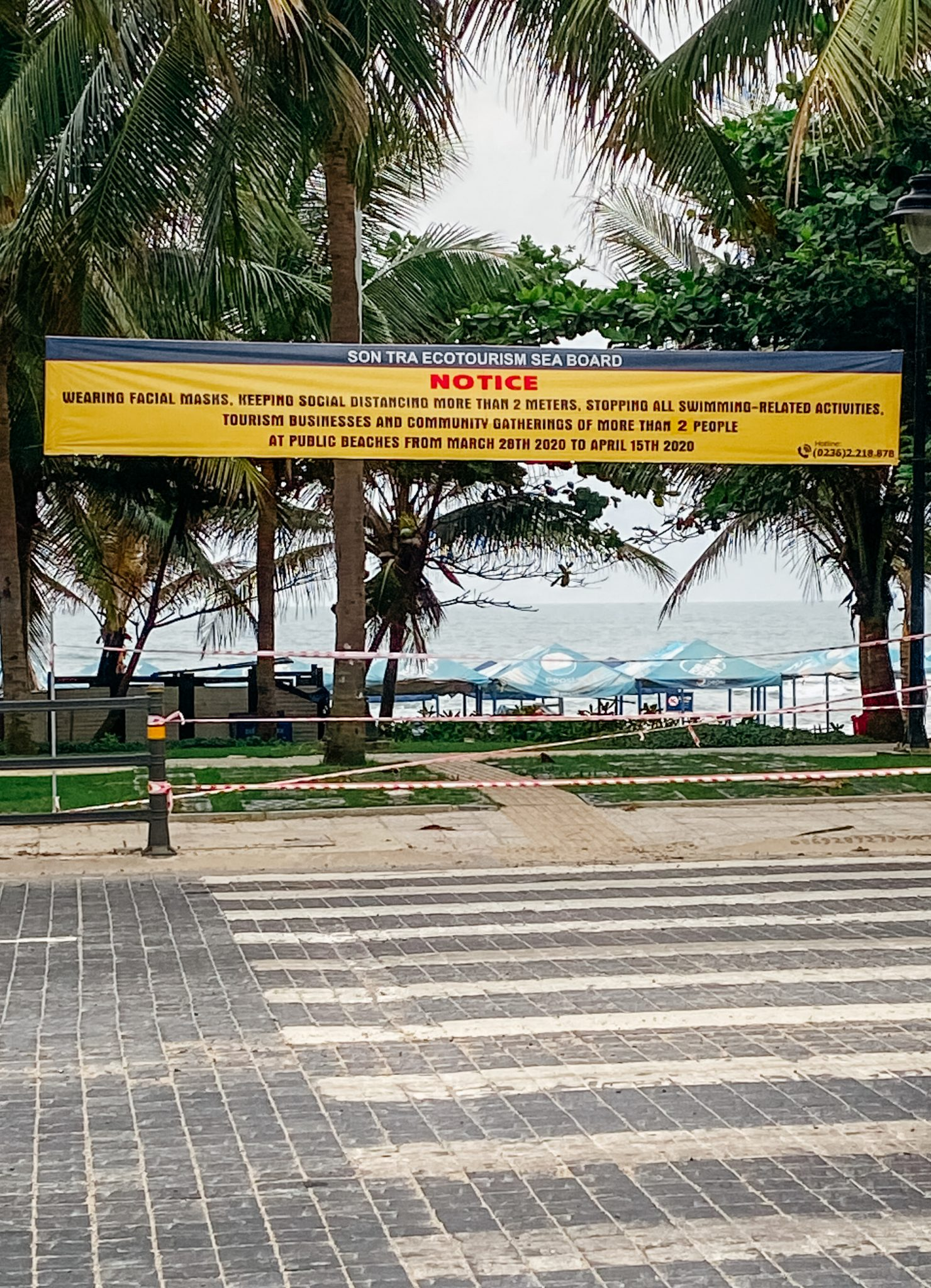 Beach is closed. Every few meters there are signs with an explanation of social distancing measures (on both English and Vietnamese). (Photo provided by her)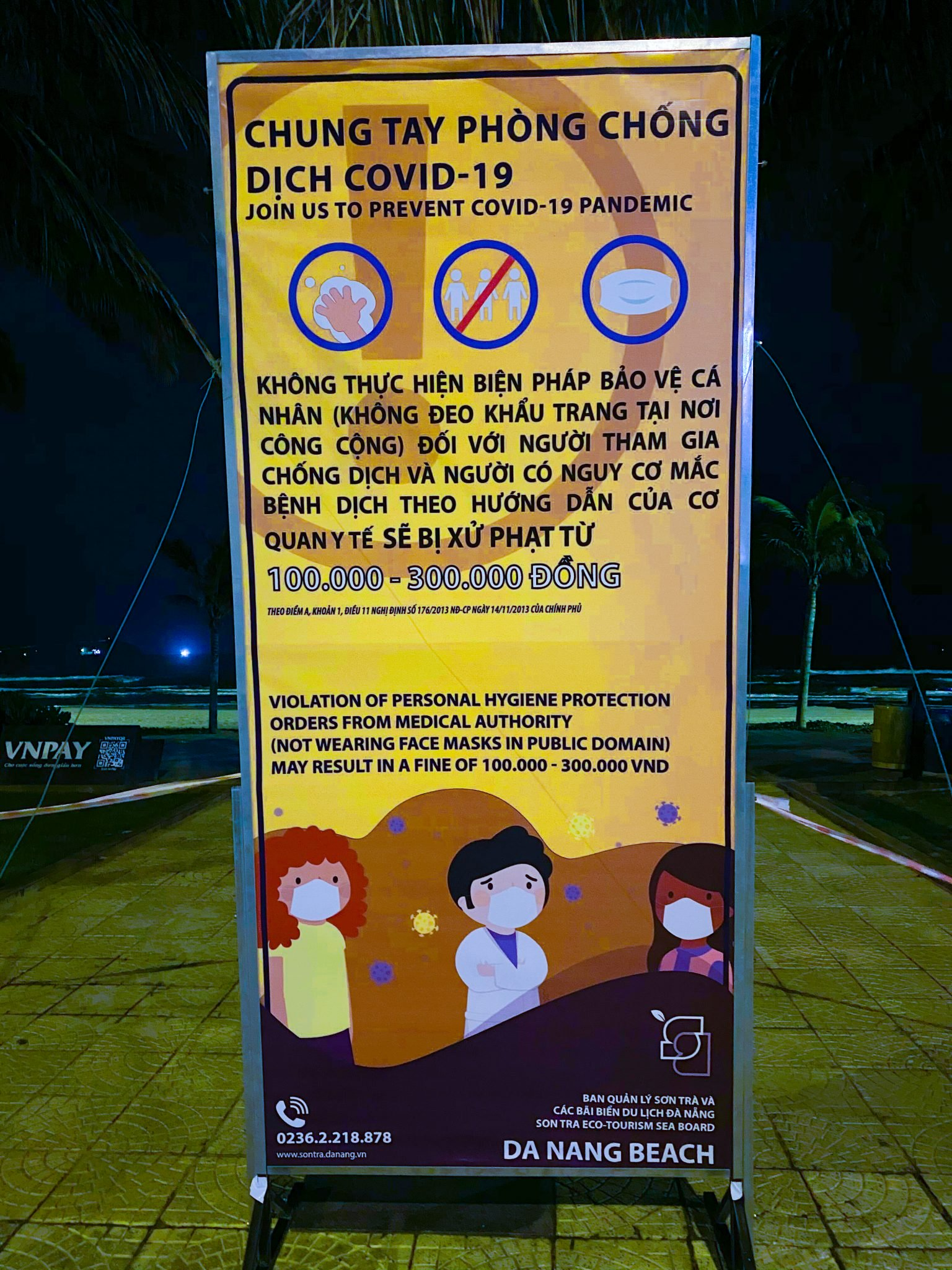 Not wearing a mask in public can result in fines
At that time in her writing, Vietnam had 70 active cases (268 in total, 198 recovered). Vietnam was one of the countries handling the situation the best.
"That's why we feel safe here for now. The government is active in educating its citizens about the virus and hygiene (especially washing hands). They even made a viral song about the virus and how to act in the situation. There's also a choreography with dance moves that show the right way of washing hands. I find that very helpful as they made it interesting for all ages to watch. They also reacted very fast and are trying to have everything under control. The interesting fact is that there are 0 deaths reported. I'd say that's partly because their people are more fit than ours. We've seen older people in better condition than we are. They exercise every day and are very active. Most wake up at 4, the latest 5 in the morning, and hit the beach to do all sorts of activities (badminton, dancing, yoga, open gyms)", wrote Arijana. And they were so happy to enjoy a normal and healthy life there everyday.
On May 19, Arijana shared on her Twitter: "It is unbelievable that we have been in Vietnam for 3 months and will stay another 3 months. It was not the original plan, but right now, I have nothing to complain about. We feel really lucky to be stuck here. I am very excited for the upcoming journey to discover Vietnam ".
Source in Vietnamese: https://thoidai.com.vn/cuoc-song-cua-du-khach-nuoc-ngoai-khi-mac-ket-tai-viet-nam-vi-covid-19-108825.html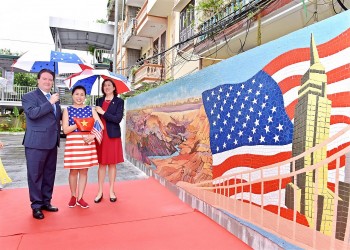 Multimedia
A ceramic mosaic mural named "Vietnam - US friendship" depicting the natural and cultural heritages of the two countries, was just revealed in Hanoi