Obstacles Stranded Vietnamese Have Getting Home
Restrictions and limitations imposed by the pandemic have created roadblocks for Vietnamese residents eager to return home after being overseas for a long time.
Now that the festive holiday season has arrived, Covid has put people's plans on hold. Overseas Vietnamese have faced the pandemic scenario to return to their homeland.
Problem at Roots
Nguyen Van Tam and his wife, both 67 years old, traveled to the United States to see their daughter after the Lunar New Year in 2020. They were planning on staying for a month but it has been two years already, and it's still going strong. Despite being close to their daughter, the couple is homesick and depressed on a regular basis.
Van Nguyen, Tam's daughter, 29, said according to VNExpress: "I'm sad for seeing them cry, urgently wanting to return home. I've looked for tickets for them to return in a variety of ways."
Tam called a number of airlines to inquire about the cost of repatriation flights, but the price of $4,000-5,000 per person was too high. Van earns roughly $4,000 per month as a nail technician in California, but she is responsible for six family members. To make matters worse, due to a family feud with their son-in-law, Van had to rent a place for her parents to live alone, putting even more strain on her finances.
Tam and his wife continue to console, support and encourage one another as they wait for commercial aircraft to return home.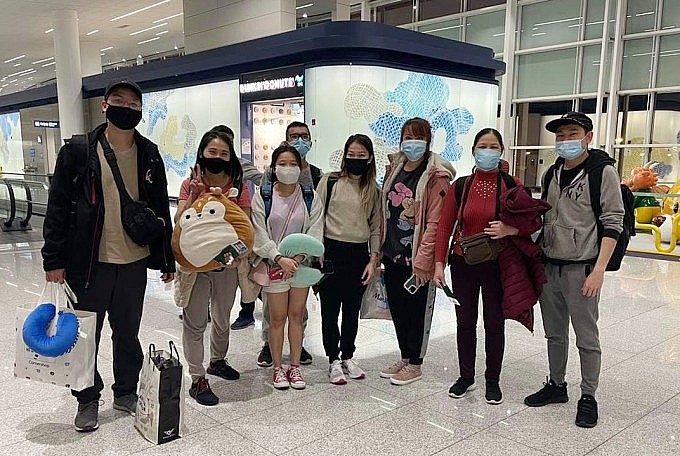 In South Korea, a group of Vietnamese returnees waits to catch an aircraft to Cambodia on their way back to Vietnam. They arrived home safely on December 7, 2021, after finishing their quarantine obligations. Photo: VnExpress.
They obtained a letter of registration for repatriation from the Vietnamese Consulate at the end of 2020, but the ticket price remained at $4,000 per person. The elderly couple restrained their irritability once more and continued to wait for ticket prices to drop.
"Recently, my parents chose to return regardless of the cost," Van explained to VNExpress.
The parents worked part-time jobs and saved $10,000 during their nearly two-year staying in the United States. They intended to use the funds to rebuild their decaying home in Vietnam, as well as to renovate their eldest son's burial and get their teeth fixed.
"After seeing our daughter struggle to support her husband, children, and us, we canceled that idea," Tam added.
Van came across a video on YouTube one weekend explaining how Vietnamese stranded abroad can return home for less money if they transit via Cambodia. She then learned that Cambodia had resumed flights with ASEAN countries, allowing thousands of Vietnamese to return home.
Van spent two nights researching this topic and contacting a variety of experts to learn more about the safety of this repatriation route. Simultaneously, she read that the Vietnamese government intends to reopen foreign trade routes.
However, she has decided to let her parents to go to Cambodia despite their desire to return home as quickly as possible. Each returnee would only need to spend $3,000 in total, including travel and other costs.
Hopes Shattered
According to the Ministry of Foreign Affairs' State Committee for Overseas Vietnamese, there are around 5.3 million Vietnamese living and working in 130 countries and territories. Vietnam halted all international flights, allowing only Vietnamese nationals, foreign specialists, investors, and highly qualified workers to enter on special flights, in March 2020. Since the outbreak of the pandemic, Vietnam has booked 800 aircraft to return more than 200,000 citizens.
The administration agreed on the evening of December 10 this year to resume regular international flights to places with high Covid safety ratings beginning next year. Regular flights to San Francisco or Los Angeles (USA), Singapore, Bangkok (Thailand), Phnom Penh (Cambodia), Vientiane (Laos), Beijing/Guangzhou (China), Tokyo (Japan), Seoul (South Korea), and Taipei (Taiwan) will resume on January 1.
Repatriation flights for Vietnamese workers whose contracts have expired, as well as students and business travelers detained abroad, are in high demand, according to Deputy Health Minister Do Xuan Tuyen on VNExpress. The reopening of the flight routes will make it easier for foreign investors and professionals to visit Vietnam and look for investment opportunities, Tuyen added.
Van Giang, 35, a native of Hai Phong Province who is presently residing in Slovakia, got optimistic about her return after reading this information. She'd just canceled her flight back to the United States via Cambodia because she hadn't been vaccinated and wouldn't be allowed to enter.
"I was heartbroken because the cost of a ticket to Cambodia is less than $100," Giang told VNExpress.
In October of this year, Giang visited Slovakia and later funded her husband's visit to the Eastern European country. Covid-19, on the other hand, has put the couple in a bad situation.
The husband was unable to work due to issues with his document until early this month, when he was hired by a bakery. Meanwhile, Giang had to leave his job as a carmaker due to health issues and work for a company that makes gift wrappers.
The couple's financial strains grew after she became pregnant seven months ago. She claims that hiring an interpreter for each prenatal checkup costs her 50 euros per hour, and she can't imagine how difficult it would be if her future kid became ill.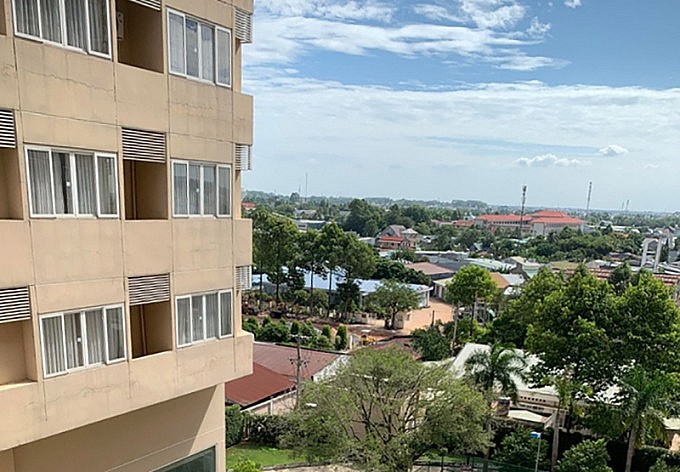 A view of the facility in the southern province of Tay Ninh where Nguyen Hong Quang was quarantined, Dec. 10, 2021. Photo: VNExpress
Nguyen Hong Quang, a 26-year-old Physics PhD student at Iowa State University in the United States, saw the university closures as a once-in-a-lifetime opportunity to see his wife. However, after two years of waiting, he became dissatisfied with his inability to get a spot on a repatriation flight.
Quang chose to return in November, but because the repatriation airline tickets were too expensive, he instead booked a return trip through Cambodia, which cost him roughly VND40 million. He chose to fly from Iowa to South Korea, transit in Seoul, and then fly to Cambodia. Despite the 27-hour overall flight length, he did not find the experience to be as bad as others had reported.
Quang stated that he hasn't planned his next step as he nears the end of his confinement.
"But I am already happy that I am able to be back in my homeland and breathe in the fresh air. That is all that I need," Quang said, adding he was looking forward to a happy Tet reunion with his wife, told VNExpress.
Meanwhile, Van has seen her parents off on a flight to Cambodia. She joined two online chat groups of people boarding the same plane, just in case she can't contact them, added: "Everything seems to be okay, but I still can't be reassured until my parents are safe back in Vietnam."