Tan and My's caravan house (Photo courtesy of Ha My/ via VNE)
Being travel lovers, Ha My, 27, and her husband Doan Tan, 28, decided to make their own caravan house after watching a video of an oversea Vietnamese making a mobile house.
The couple first starts their plan by buying an old Ford Transit which worths VND 120 million (US$5,185). Since April, Tan started to renovate the car into a caravan house. Tan is reported to have spent around 10-12 hours each day "building" the mobile house.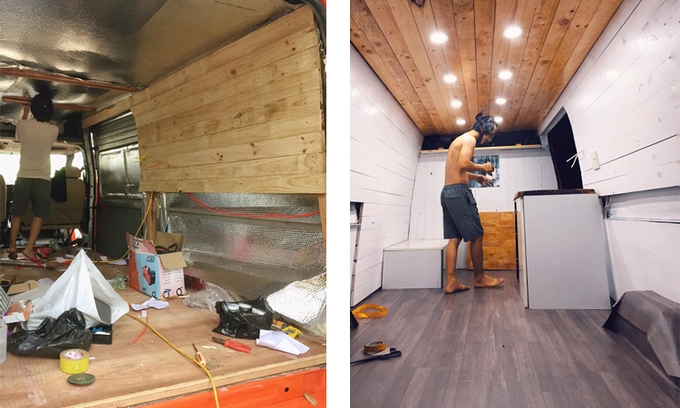 It took Tan 2 months to renovate the car into a caravan house (Photo courtesy of Ha My/ via VNE)
My and Tan's second house is completed after two months, with the front of the car turned into a three-seated space and the back rebuilt into a living space with beds, toilets, showers, kitchens, refrigerators, desks, closets, air conditioners. All the appliances use solar power during day time. The battery is, however, used at night instead. Running water is contained in six 30-liter-cans and brought along the journey.
The sink and the cooking area lies right at the car's door, which is fully equipped with utensils. The suitable location makes it easier for the couple to occasionally prep and cookout, VNE reported.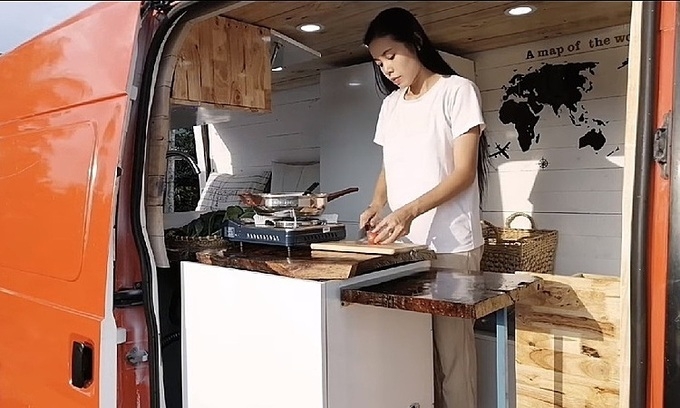 The kitchen is placed right at the door (Photo courtesy of Ha My/ via VNE)
The couple is planning to start their journey across Vietnam this September, with Sapa is the first stop.
"Our aim for the journey on the caravan house is to experience. It doesn't matter how far or how long we go, as long as it's possible", Tan told VNE.
The couple would also bring their nine-month baby to travel with them. "We believe that experiencing out-doored life from an early age will be helpful for their development. We also take advantage of this time, you know, when our baby is still small to let him go with us", My added.
Jasmine Le