Overseas Vietnamese Vloggers Bridging Cutural Gaps
Some Vietnamese living abroad produce vlog channels that receive millions of views, thanks to their multicultural value. The vloggers have made the audience from the homeland feel more connected to their lives abroad.
Living abroad can be a very scary challenge. Many are unaware of what waits for them in a different country. Fortunately, there are many Overseas Vietnamese that showcase their lives abroad by making Youtube videos. This helps Vietnamese viewers learn how to adapt to new cultures while also teaching non-Vietnamese about the charms of the S-shaped fatherland. These vloggers deserve credit for facing new challenges head on while also being informative representatives of Vietnam.
Vietnamese brides around the world
Vietnamese bride Pham Thi Kieu Tien showed her wedding banquet on The Yewon TV YouTube channel. The vlog captures a table full of Vietnamese special snacks such as green mango, dried jackfruit, pickled tamarind, dried bananas and banh tet to treat her Korean parents-in-law. The episode attracted more than 175,000 views in nearly three days.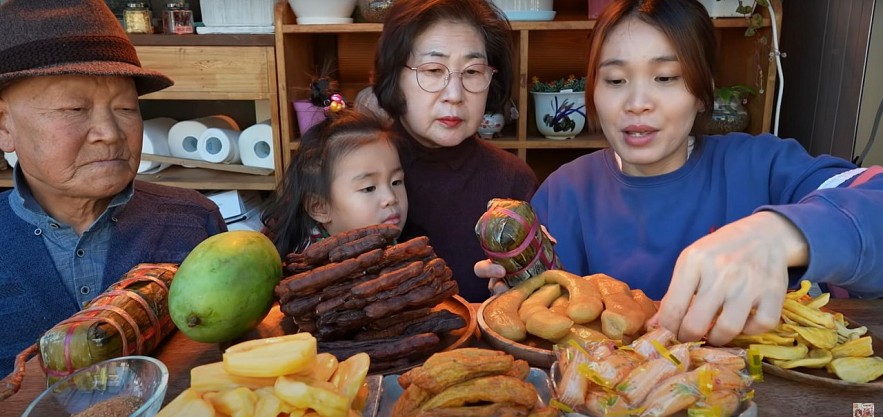 Pham Thi Kieu Tien treats Korean parents-in-law with Vietnamese specialties. Photo: Yewon TV
Ngo Thi Ngoan, a Vietnamese bride and her husband, whom she often calls "Soo," enjoy eating boiled vegetable dipping sauce with caramelized fish sauce which is a common Vietnamese dish people usually have in daily meals.
Vietnamese Vegetable Dipping Sauce with Caramelized Fish Sauce (Mắm Kho Quẹt). Photo: Cooky
Ngoan also treated her husband to Hue beef noodle soup, a traditional dish in the South Central Coast of Vietnam. Viewers can follow the daily life of Ngoan's family on the YouTube channel called Heesun Family Korean Life.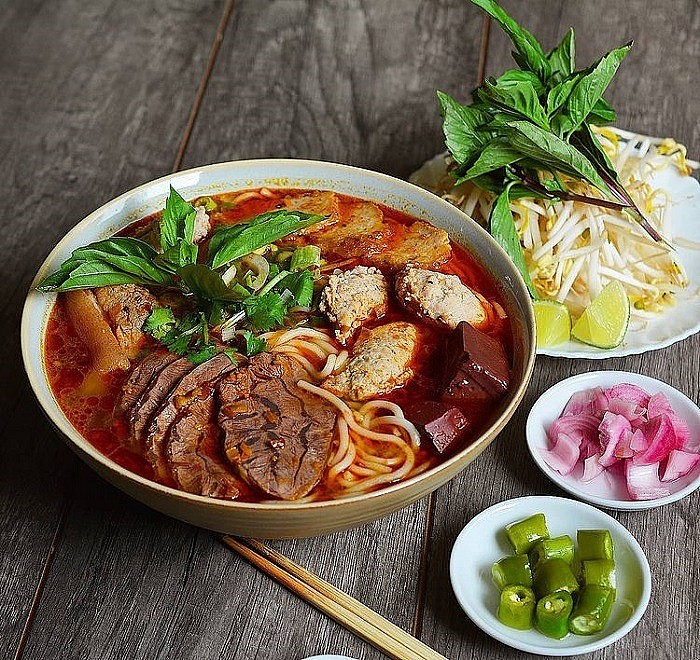 Hue beef noodle soup. Photo: cookingwithmamamui
Ngoan and Tien are two of many Vietnamese brides in Korea who are well-known in doing vlogs about their daily activities with the content on the life of a small family with a foreign husband, children and relatives of the in-laws in the foreign land.
The channel' subscribers see Vietnamese - Korean meals appear on their channel, see their family gathers to watch the Vietnamese team plays football, the family members chat together about current events in Vietnam. Such cross-cultural content dawn a large number of followers.
Not to mention, the life of overseas Vietnamese in Korea appears to be so real and relatable throughout such stories as the nice lady who owns a Vietnamese restaurant or the Vietnamese girls turn into business owners having exported fruits from Vietnam to Korea or simply overseas Vietnamese working in Korea, etc.
Many Vietnamese brides' vlogs are from around the world such as the US, Germany, Australia, France, Finland, etc. have increasingly attracted a large number of viewers on YouTube.
For example, Diep Minh who currently lives and works in Paris (France) brings interesting moments in life with journeys to experience and explore the nature, countries and people of Europe on her Youtube channel.
Many people are interested the vlog channel The Long Family when Cuc's mother-in-law loves her Vietnamese Pizza recipe (banh trang nuong). The seemingly small stories in Cuc's multicultural family have a great impact on family values.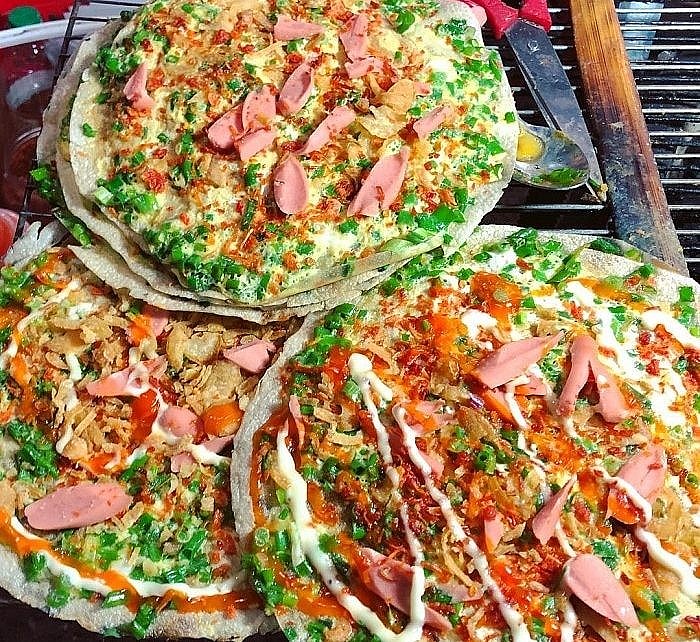 Vietnamese Pizza recipe (banh trang nuong). Photo: OTEC
Viewers can explore the lives of young Vietnamese who are studying and working in many countries around the world. For example, the owner of the YouTube channel Diep Minh who currently lives and works in Paris (France) brings interesting moments in life with journeys to experience and explore the nature, countries and people of Europe. She shares her fun working sessions with foreign colleagues, her own life views, etc.
'What's so good about France?', a Youtube channel by Ton Ton as known as Kim Toan, who is now living in Viuz en Sallaz village, Haute Savoie, Southeastern France), talks about the life in the French countryside where she lives to the beauty of life and culture in the regions where she travels.
This channel explains some aspects of France such as why the countryside in France is clean and beautiful. Kim Toan helps her subscribers communicate with the French, along with some other life-related issues such as buying property abroad, where to meet other Vietnamese living in Paris, etc. Overall, the vlog is very diverse in topics, rich in information, useful, and conveyed in a pleasant, voice that could be really peaceful to watch.
Bridging the Cultural Gap
Rather than focusing on exploiting her personal life, Kim Toan's channel is more focused on cultural topics. "There are also themes through my personal life, where I express the culture and way of life of the French people," Toan shared.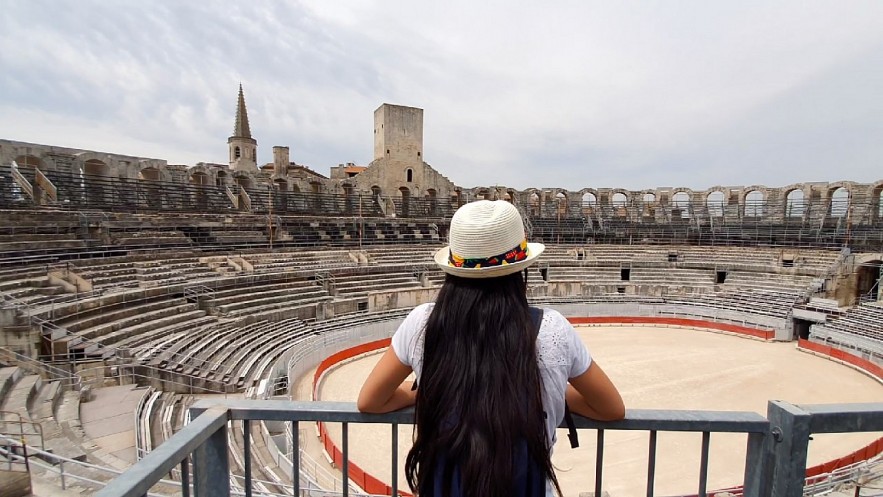 Kim Toan explores the Colosseum in Arles, France
After 2 years of working on 'What's so good about France?', she recently started another channel named Tonton in France - Life in the mountains of France, showing off the nation's distinct natural beauty.
'What's so good about France?' has just been supported to have the first English subtitled version at the end of December 2021. Kim Toan expressed, "The English-American standard translation was made by a qualified Vietnamese who has lived and worked in the U.S for more than 40 years. In addition, my channel also received a volunteer to translate subtitles from another audience who is an English and French teacher in Vietnam. She has been translating for me travel videos for half a year. Hopefully, it will soon be put up as subtitles for the audience in the near future."
"The development of information technology or social networking platforms is making it easier for Vietnamese expatriates to update the information when they live overseas with their family in Vietnam and then develop into its own channel and create its own audience," said Dr. Mong Thi Xoan (Department of Training, Scientific Management and International Cooperation, Hanoi University of Culture), "It can be seen that Vietnamese people everywhere are proud of their culture, so they are very natural in promoting their country's culture to their relatives and friends around the world."
Dr. Xoan also added, "As Vietnamese, regardless of whether they live anywhere, get married to Westerners, or live and work abroad, they still carry with them the traditional cultural features available to them. And they are just like the vlog channels they create, are bridge cultural differences, therefore creating a diverse and multicultural life."