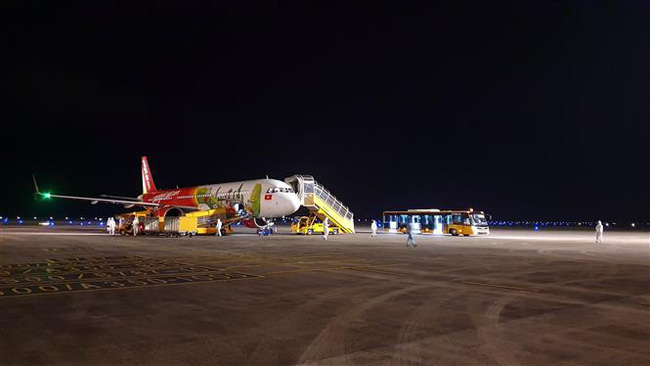 The flight, operated by Vietjet Air, carried 193 Vietnamese citizens from Japan. Photo: VNA
Van Don International Airport in the northern province of Quang Ninh, where the first case in the latest Covid-19 outbreak was detected, welcomed its first international flight on March 11 after being suspended for more than a month because of the pandemic.
The flight, operated by Vietjet Air, carried 193 Vietnamese citizens from Japan. Later the same day, another flight from Japan with more than 160 Vietnamese citizens also landed safely at the airport.
Most of the passengers are students and workers who have expired visas or met with difficulties in accommodation, as well as other people at a disadvantage.
They underwent body temperature check-ups before departure and put on face masks during the flights.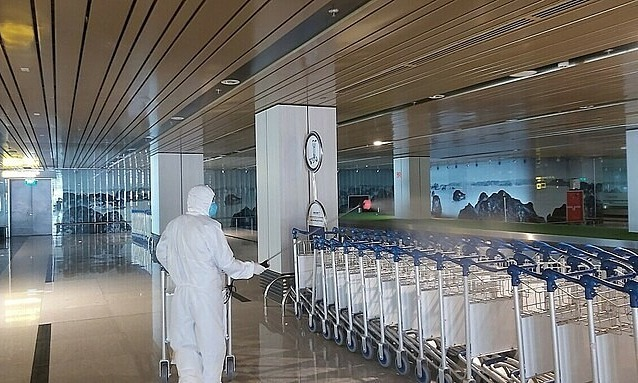 A medical worker disinfects an area of Van Don International Airport, Quang Ninh Province, February 2021. Photo: VnExpress
Last year, Van Don handled more than 180 flights from pandemic-hit areas, carrying over 40,000 Vietnamese citizens and foreign experts.
In January when the pandemic had yet forced the shutdown, the airport welcomed one flight from Japan and four others from the Republic of Korea (RoK) bringing Korean experts to Vietnam.
The airport was closed on January 29 after a male worker tested positive for the coronavirus, and reopened on March 3.
With the airport opening, the national flag carrier Vietnam Airlines has resumed its Ho Chi Minh City-Quang Ninh service, flying once a week until March 17, and thrice after that. Vietjet has begun to fly four times a week./.
Vietnamese citizens fly home from Japan, US

Vietnamese authorities, representative agencies and national flag carrier Vietnam Airlines partnered with authorities of two host countries to carry a large number of Vietnamese citizens ...