Phở and fried dough sticks – a strange yet exciting match
It is believed that the flavour of Phở wouldn't be complete without some crunchy fried dough sticks (quẩy) served on the side.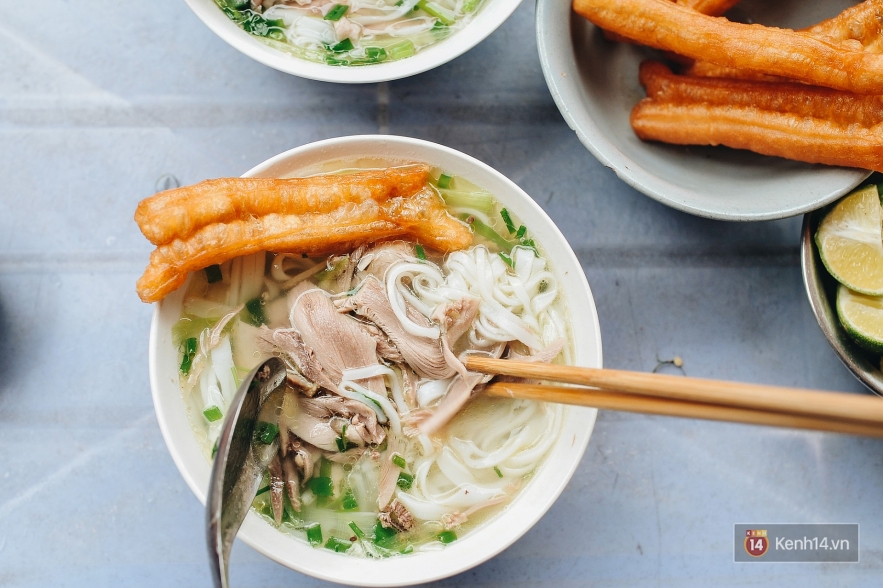 While Southern Vietnamese people eat quẩy with pork offal congee, the Northern Vietnamese serve them with phở. Photo: Kenh14.
The Hanoi version of fried dough sticks is very simple, yet it is the dish that's served with phở the most. The combination that first sounds strange turns out to be a perfect match.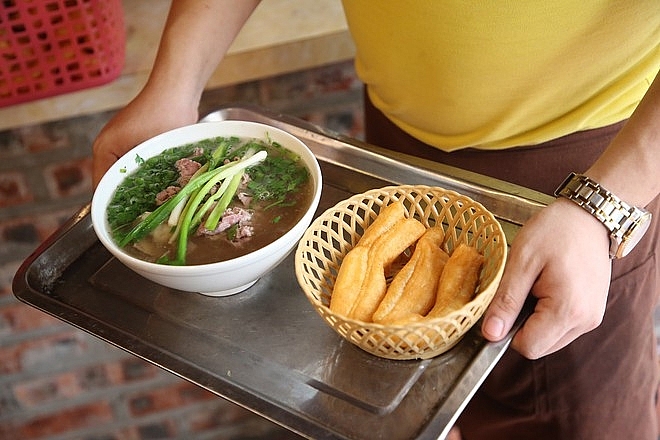 Eating phở with quẩy seems to have become Hanoians' habit. Photo: Thai Trong.
Why quẩy (fried dough sticks)?
When I was a child, my father and I always had phở for breakfast. In my childhood memories, the image of a Phở shop would never lack a huge bag of golden fried dough sticks. Dipping the bone-shaped quẩy into the bowl of phở really brought an unforgettable feeling. But why quẩy? Why not any other thing?
I brought my question to Ngo Thi Thu (67 years old, the main descendant of Tu Lun - the famous Phở cook in Hanoi, and the owner of the famous heirloom Phở Tu Lun restaurant on Hang Ma street), she said when phở is served, the broth is usually very hot, so they recommended eating quẩy first to wait for the broth to cool down, then it's the perfect time to enjoy phở.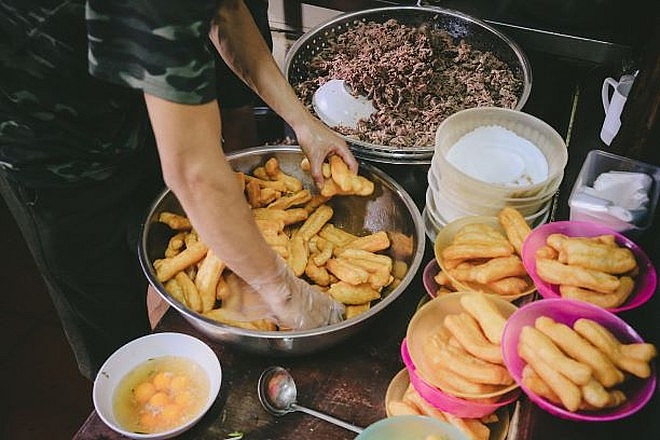 Ready-to-serve bowls of quẩy at a phở shop. Photo: Thai Trong.
Tu Lun's phở shop on Hang Ma street has been welcoming guests for around 7 decades. Like many other phở shops, the phở stall is placed outside so the customers can enjoy phở inside the shop. Other than the ingredients that are used to cook phở, every phở shop has a huge bowl or bag of quẩy. The amount of quẩy served depends on the number of diners. Usually, 2-3 sticks are enough for one, while a family of four will be served with a bowl of quẩy, larger groups may need 2-3 bowls.
Having spent half of her life for her family's business, Thu remembered: "Back in the old-time, when I was a girl helping my parents with this phở shop, quẩy has already been there. Some people eat quẩy just to fill their stomach, but some really like it. Many came to a phở shop simply because they serve good quẩy there, and some of them would leave if quẩy has run out".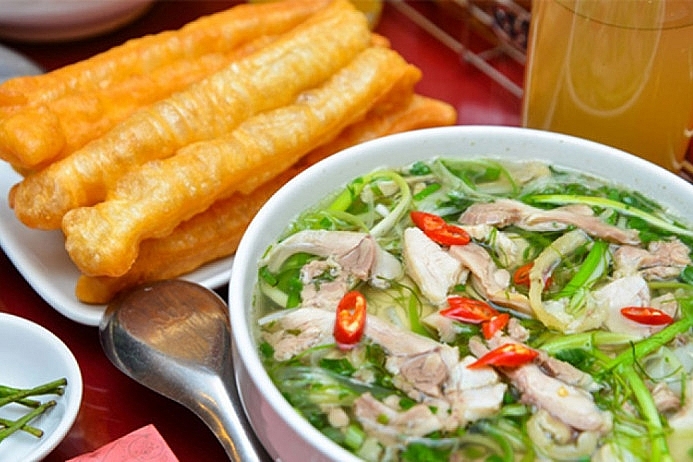 A bowl of phở served with quẩy would fill your stomach. Photo: Nauzi.
"I always order extra broth for quẩy. Eating quẩy with phở will make you full without being too bored of the noodles" – Pham Duy Hung, a regular diner at the Tu Lun phở shop shared while he was waiting to be served. Indeed, many people find it difficult to eat all of the noodles in the bowl, using quẩy to replace a part of the noodles is another reason to explain why quẩy is usually served with phở.
Walking around the noodle shops and vermicelli shops at some disadvantaged communities neighbourhoods along the outskirts, there is always a huge bag of quẩy in every shop. "The guests are mainly manual labourers. They have to eat a lot. Some people order extra noodles and still add a basket of quẩy so they can work continuously until noon without getting hungry" - said Ha - the owner of the phở shop near the Phuc Tan blue-collar neighbourhood.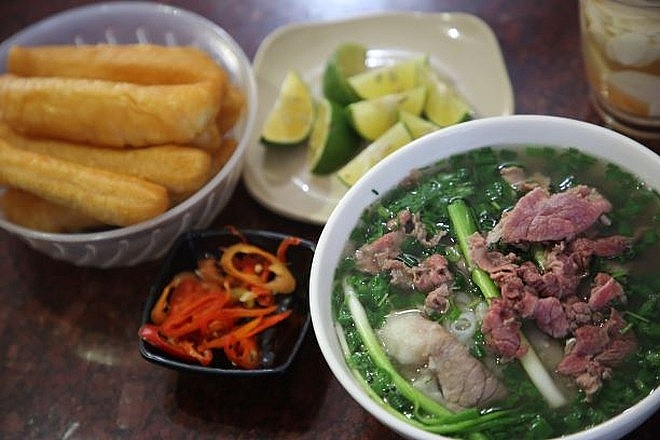 Thu's phở shop consumes around 15 kilograms of quẩy every day. Photo: Thai Trong.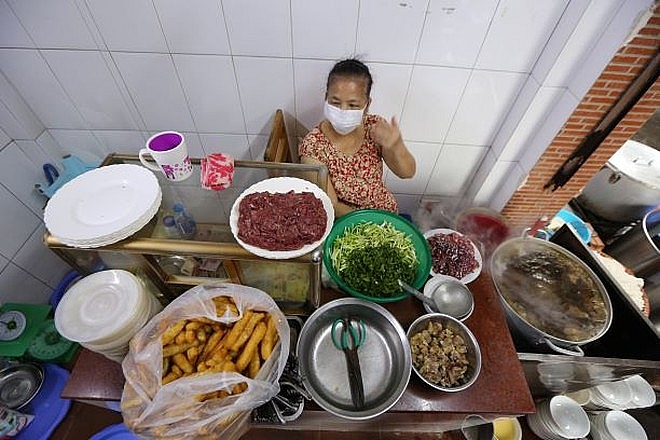 The Man phở shop at no.34 Hang Giay street always has a huge bag of quẩy for diners. Photo: Thai Trong.
Quẩy is very popular, especially for the blue-collar. They always order at least 5-6 sticks of quẩy with a bowl of phở.
The types of quẩy are just as many as the ways to eat them. Photo: Kenh14.
The types of quẩy and how to eat them right
There are many types of quẩy. Some stayed crunchy even when they were soaked into the broth, while some would become soft right after being dipped.
The ways to eat quẩy also differs among different persons. Some eat quẩy with chilli sauce and a tiny amount of lime juice mixed in a small sauce bowl, while some order a separate bowl of phở broth, topped with pepper to dip their quẩy.
Even the order that people eat phở and quẩy varies, some eat quẩy right when the bowl of phở is served, "so I don't need to use a spoon for the broth" – a diner named Quang said. Some people would finish their bowl of phở first then eat quẩy with the broth left.
In Hanoi, quẩy is like a companion for phở. Some people said phở without quẩy would lose half of its flavour, just like bún đậu (rice vermicelli with fried tofu) without mắm tôm (shrimp paste). Those two things should always be served together.