Poor fisherman couple gave home to a Russian friend getting lost in Vietnam
During his trip to Vietnam, Mr. Andrey Anatolevich, a Russian, got stuck in the country due to COVID-19 impacts. Fortunately, he was taken in by a poor Vietnamese fisherman couple in Mui Ne. Together, they overcame the tough times of pandemic and language barriers to become friends and companions.
Mr. Andrey Anatolevich, 65 years old, a Russian, came to Vietnam to explore the beauty of Mui Ne beach (Phan Thiet, Vietnam) in late 2019. As the COVID-19 pandemic struck, he was stuck in Mui Ne with no money, no relatives. Helpless in the midst of strangers, he fortunately met poor Vietnamese fishermen Vo Thanh Do and his wife Tu Thi Kim Hoa (Mrs. Chin). Do took Andrey in to live with his family. Despite all barriers of languages, hobbies, knowledge, together they have overcome the times of difficulties. During his time in Vietnam, Andrey has found a simple yet extremely beautiful philosophy: "Vietnam's humanity".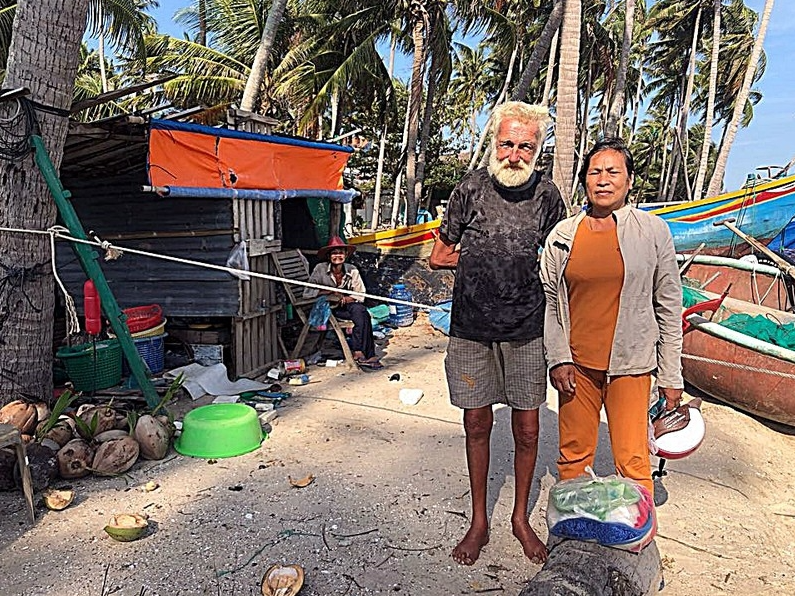 Mr. Andrey Anatolevich (left) and Mrs. Chin in front of the house in Ham Tien ward (Binh Thuan).
Genuine sympathy amid catastrophe
On a morning in February 2020, when taking their fishing gears to the beach, a few fishermen in Ham Tien ward (Mui Ne, Phan Thiet, Binh Thuan) saw a weak old man lying sprawled out on the floor. His body was thin, his skin was flaky and badly injured. Due to language barrier, they had to wait for Mr. Vo Thanh Do (61 years old), the owner of the hut to deal with the situation.
Previously, he used to work as a taxi driver tour guide for Western visitors, so he speaks a little English. Do and his wife Tu Thi Kim Hoa (often called Mrs. Chin, 60 years old), took the "responsible" to take the stranger in his hut.
"I felt sorry for the Western man. He is only 65 but had lost all his teeth. His body was full of injuries. He kept demanding to stay, so my wife and I had to take him in", Do recalled.
Since the day when the Western guest came to stay, Do repaired the hut, roofed it with iron, and covered the surrounding with canvas. All the fishing gear was then left outdoors, leaving the room for the reluctant guest. Do also brought home a cat to keep the guest company.
Mrs. Chin said: "The Westerner called me mama, because every day I brought him food, cleaned the hut, washed his clothes. Andrey told many people that my husband and I are his family."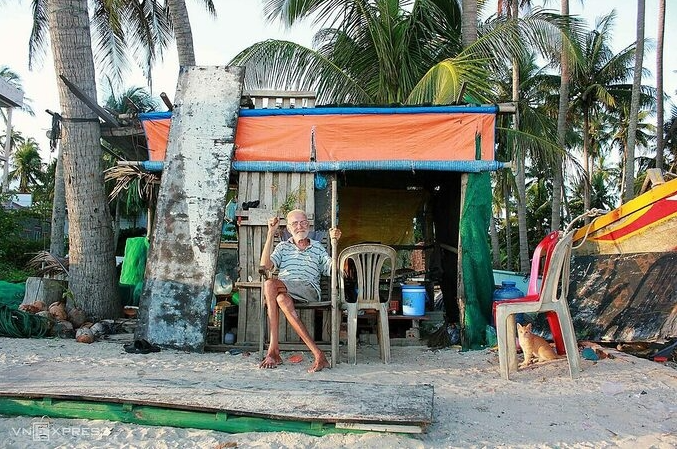 Mr. Andrey Anatolevich at the beach house in Mui Ne (Phan Thiet - Binh Thuan).
"I want to stay in Vietnam"
Andrey Anatolevich is a retired Czech-Russian geologist. At the end of 2019, he decided to choose Mui Ne Beach as a destination for his discovery itinerary, because he had a passion for this beautiful sea for a long time. After arriving in Mui Ne, Andrey's plans were disturbed by the COVID-19 pandemic. He was unable to return to Moscow because flights to Russia were delayed indefinitely. He stuck in Mui Ne and gradually ran out of his savings.
In February 2020, Andrey had a broken pelvis while riding his motorbike around Mui Ne. He was frustrated about the living expenses when the only source of income that he could rely on was a pension of more than 5 million VND per month.
With little money, Andrey wandered on the beach and asked the fishermen for temporary shelter in small huts close to the sea. Compassionate for Andrey's situation, Do and Chin agreed to let him stay. The old hut built of iron and canvas is located behind Lang Cat guesthouse at 2/2, Huynh Thuc Khang, Ham Tien ward is the location where the fishermen use as a place to make a fire to heat before going to sea. Andrey has been living in that small hut for 6 months.
Every day, the couple of Mr. Do and Mrs. Chin often cook for Andrey's part. Andrey also deducted his meager pension to support Do and his wife. Many fishermen nearby also share some delicious fish and shrimp after each of their trips to the sea to support Do's family and the Western visitor. Despite language differences, sympathy and joy have linked the Russian man with the Vietnamese fishermen family.
Since Andrey's circumstances have been shared on social media, a number of groups and individuals have come to help. They donated instant noodles, canned food, mosquito repellent, painkiller, blood pressure medicine, medical cotton, rechargeable flashlight, phone card, old glasses, pen, and paper ...
Many resort, hotel and inn owners offered free accommodation, but Andrey insistently refused. He said: "I am satisfied with my current life in this hut. I don't want to go back to my country because I have no relatives, nor do I like the feeling of being locked in four walls when there is a lot of weakness. I feel comfortable with this sea region".
When asked about his future plans, Andrey fell into silence. His visa expired a few months ago, and his passport will no longer be valid in a year. "I want to stay in Vietnam. I like this beach. I love living by the beach" - Andrey confided.