Vietnam Consulate General gave 434 gift packs to families in difficult circumstances in Preah Sihanouk on the morning of May 16. (Photo: TG&VN)
Vietnam Consulate General coordinated with Khmer-Vietnam Association's Executive Committee held a ceremony to give 434 gift packs to families in difficult circumstances in Preah Sihanouk on the morning of May 16.
400 gift packs, each worth 15 U.S. dollars, including rice, instant noodles, and other necessities, were sent to more than 400 Vietnamese households (both Vietnamese who have been long resided in Cambodia and Vietnamese citizens who move to Cambodia to work temporarily) and more than 30 Cambodian households in the area.
Tran Van Nam, the Chairman of the Khmer-Vietnam Association of Preah Sihanouk, said that in order to prevent the spread of the Covid-19 pandemic, for more than a month, the local government had applied lockdown measures to Preah Sihanouk, making community life here, which was already difficult, became even more difficult due to the inability to travel and doing business.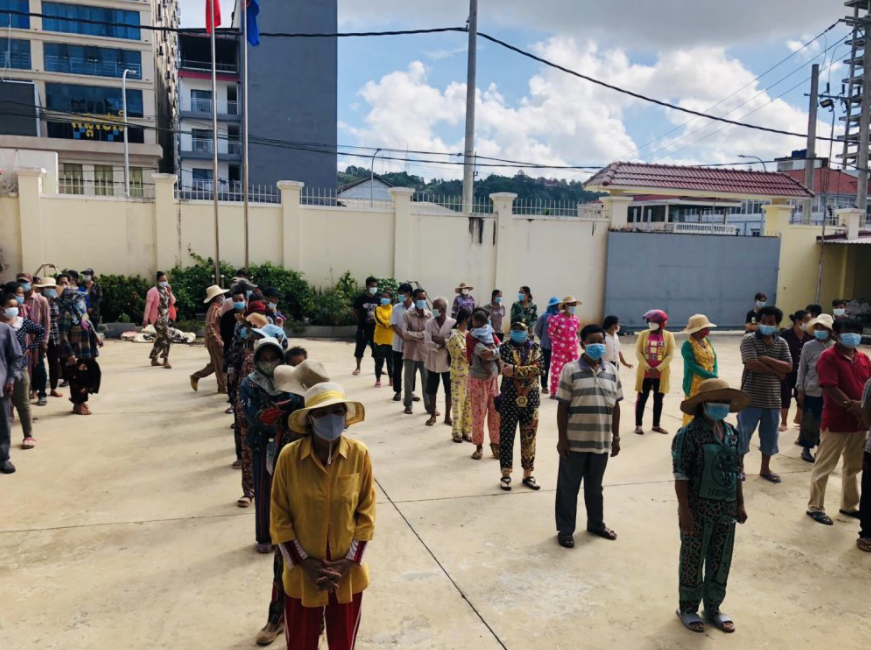 More than 400 Vietnamese and 30 Cambodian families received the gifts. (Photo: TG&VN)
On this occasion, on behalf of the Vietnamese community in Preah Sihanouk, Nam thanked Vietnam's Party, State, and the Consulate General of Vietnam in Preah Sihanouk province, and sponsors inside and outside the area for their constant and valuable concern and support for the Vietnamese people here.
He affirmed: "This humanitarian act will help people have food to fight hunger and gradually stabilize their lives. Through this act, we call on the people to temporarily against returning to the homeland in the current period to avoid causing more difficulties for domestic forces who are straining against the pandemic."
Previously, the Consulate General has held many ceremonies to bring hundreds of gifts to the lockdown areas to distribute relief aids to the people. In some areas, in addition to the Vietnamese community, the Consulate General also provides additional support for poor Cambodian households to create solidarity and attachment between the Vietnamese and the host government and people.
Valerie Mai