Quang Tri gifts medical supplies to assist Lao localities in Covid-19 fight
Authorities in the central province of Quang Tri on May 18 presented medical supplies to three districts in Salavan and Savannakhet provinces ofLao to support their COVID-19 prevention and control.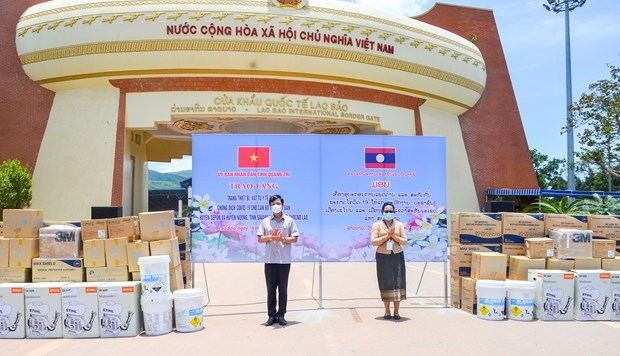 At the handover ceremony Photo: Baoquangtri
The supplies, valued at amounted to 630 million VND (27,375 USD), included antiseptic solutions, protective clothes, thermometers, disinfectant sprayers, and medical masks, Vietnamplus reported.
The two Lao provinces share a border with Quang Tri, and the beneficiaries are Salavan's Sa Mouay district and Savannakhet's Sepon and Nong districts.
At the handover ceremony, Vice Chairman of the Quang Tri People's Committee Hoang Nam said Quang Tri wants to join hands with the Lao provinces to put the pandemic under control in border areas for people's wellbeing.
Representatives of Salavan and Savannakhet said the medical supplies will help improve their COVID-19 response capacity and vowed to soon distribute the supplies to those who need them.
To date, Quang Tri logged three domestic infections of SARS‑CoV‑2. The province has been running checkpoints in border areas to prevent illegal entry and exit.
Salavan and Savannakhet, meanwhile, have so far reported dozens of cases of COVID-19.
Previously, Quang Binh Province also held a ceremony to hand over medical equipment to Savannakhet and Champasak provinces in Laos to assist them in the Covid-19 fight at the Cha Lo-Na Phau international border gate.
Speaking at the handover ceremony, on behalf of the Party, authorities and people of Quang Binh, Secretary of the Provincial Party Committee Vu Dai Thanh said Vietnam and Laos had grappled with new Covid-19 waves. The two countries have cooperated and supported each other in fighting against the novel coronavirus.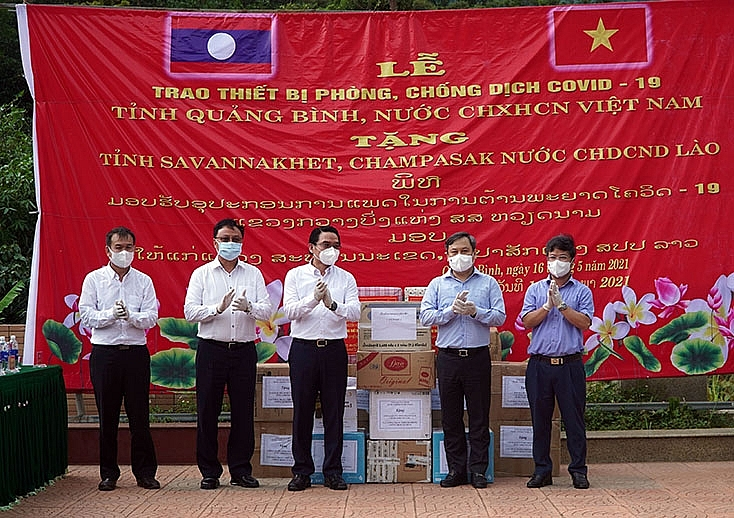 Quang Binh Province held a ceremony to hand over medical equipment to Savannakhet and Champasak provinces in Laos.
To help Savannakhet and Champasak provinces overcome difficulties posed by the disease, Quang Binh gifted them with medical equipment and supplies including ventilators, oxygen concentrators, infrared thermometers and protective clothes worth 2.2 billion VND (about 95,600 U.S. dollars).
Secretary Vu Dai Thang said that Quang Binh would stand side by side with Lao provinces in their Covid-19 battle. Apart from presenting medical equipment, he said that Quang Binh would share its experience in Covid-19 prevention and control as the province is among 10 localities in Vietnam that have not reported any infections.
Leaders of Savannakhet and Champasak provinces extended their thanks to Quang Binh, adding that the aid and experience in Covid-19 prevention and control shared by Quang Binh would help them to soon stamp out the pandemic.
The northern Hai Duong Province extracted 500 million VND (21,792 U.S dollars) from its fund for Covid-19 prevention and control to support Laos in fighting against the pandemic.
President of Hai Duong's Vietnam Fatherland Front Committee Nguyen Duc Tuan handed over 500 million VND (21,792 U.S dollars) to Chairman of Vietnam-Laos Friendship Association in Hai Duong Nguyen Quang Phuc to assist Lao people in the Covid-19 battle. 200 million VND of which is dedicated to Vientiane, Hai Duong's twinned province.
Vietnam-Laos Friendship Association will use the above donation along with contributions from other friendship associations across Vietnam to purchase medical equipment and supplies to gift Laos.
Hai Duong hoped that the aid would partly help Laos to soon stamp out the pandemic.
The Lao health ministry on May 18 reported 49 new Covid-19 cases in the country, including 15 imported cases that had been quarantined upon their arrival in Champasak province.
Of the latest cases, eight were found in Vientiane capital city and 26 in Bokeo province.
The national tally now stands at 1,687, with 686 recoveries and two deaths.