Russians impressed with "Russian salad" made by Vietnam
"Russian salad" dish which has been familiar with Vietnamese familes, was called "Olivier" – a traditional cuisine of Russia from the past to present.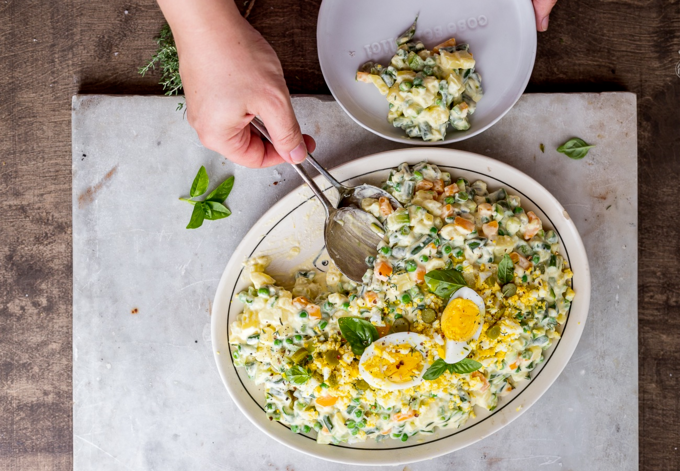 An Olivier salad dish. Photo: Juls' Kitchen
"Russian salad" was invented in 1860 by the French chief Lucien Olivier, the owner of Hermitage restaurant in Trubnaya Square, Mosvka. When the salad came into public, it had become one of the most favourite dishes that made Hermitage restaurant famous.
Lucien Olivier kept the recipe of "Russian salad" to himself and refused to pass it to anyone, after he passed away. However, the Russians could still regconize some of the main ingredients. In 1940, the recipe of Olivier salad was recreated, including chicken meats, potatoes, lettuce, black caviar, lobster, kabul soy, raw cucumbers, boiled eggs, cucumber pickles, and capers. For the sauce, they used mayonnaise cooked in French vinegar with two eggs and olive oil.
Polina Dyatel, 23 year olds, came to Vietnam in October 12, 2019, was surprised to see Olivier salad as one of the most well-known deserts here. She was impressed when Vietnamese called it "Russian salad".
"My parents told me this salad was invented in Soviet Russia, from a restaurant in Moskva. Back then, the ingredients were extremely hard to find, especially when our country was poor. When meat and mayonnaise souce became more popular, everyone could buy them in stores, Russian people become to make this salad at home. The originality of it was changed and renewed, with cheaper ingredients", Polina said.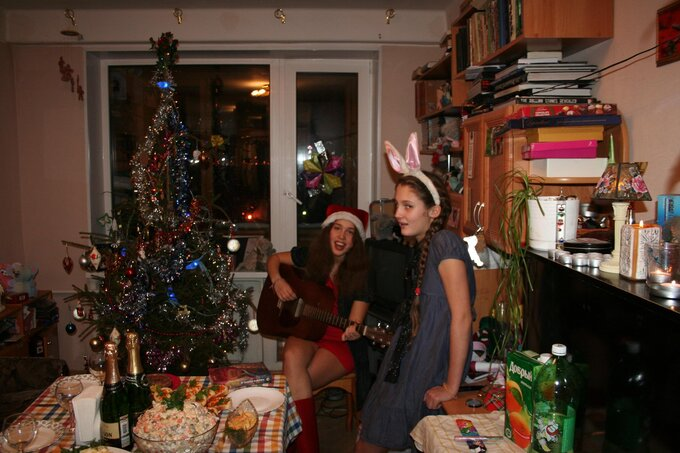 Olivier salad is a must-have desert in New Year's Eve in Russia. Photo: NVCC
Sonya Firsova, 27 years old, who has lived in Vietnam for 2 years, said, "It was interesting to know that our Olivier is called "Russian salad" in your country. It's also very popular and common everywhere, no matter Western or Vietnamese restaurant style. It does taste a little bit different compared to our version in Russia."
What surprises Sonya is "Russian salad" made by Vietnam contains corn, which is different from Olivier in her hometown. Sonya also shared that modern Olivier salad includes potatoes, carrots, Holland peas, hams, cucumbers, eggs, mayonnaise, and onions.
"It's okay, because the original recipe of Olivier salad has been changed a lot compared to this modern day one. It is great to see something similar to it in Vietnam and I have eaten it so many time", she said.
Opposed to Sonya, Ilya Andreev, 21 years old who is living in Hanoi, told that he was not too surprised about "Russian salad" – Vietnamese style. "I assume they named it that way because it came from Russia, and also to differentiate it from other salad dishes. I have tried it in Vietnam and it is clearly not like our Olivier in Russia."
Ilya also remarked that they also add more fruits to the dishes, such as orange, apple, grape… "There is one time I ordered Russian salad at a restaurant on Lac Chinh Street (Ba Dinh, Hanoi), and they brought me a plate with fruit salad. I was impressed by it", he said.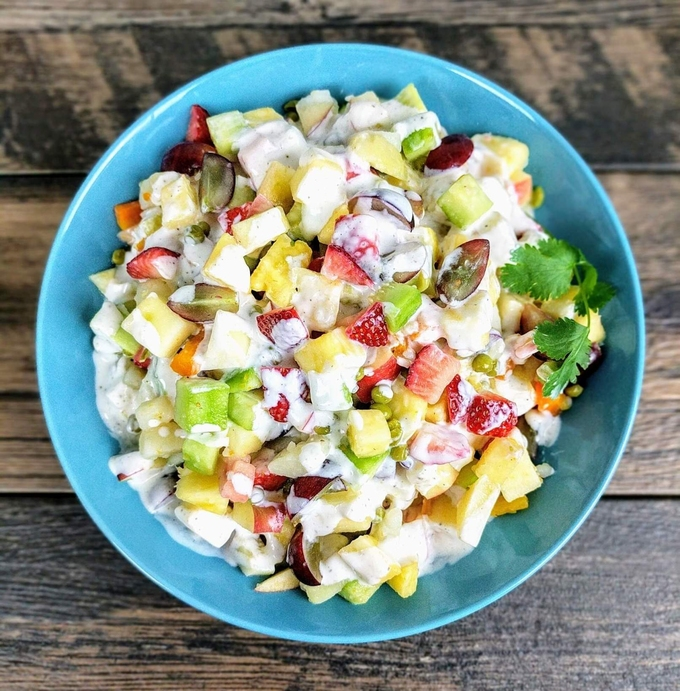 Russian salad with fruits. Photo: VegeCravings
Not only in Vietnam, Olivier salad also appears in other countries in the world. In France, the version of this salad does not contain meat in its recipe, and is called "French salad" or francuska salata, with apple vinegar and sour cream added to the mix aside from mayonnaise.
The Spanish version of Olivier salad is called "ensaladilla rusa", also means "Russian salad". It is popular in Spain, and is also served as the main desert in schools and summer camps all over the country. A lot of restaurants also "invite" you a free salad plate if you order a glass of beer.
In Italy, Olivier salad is called "Piemontese insalata russa", which means "Russian salad with Piedmont style" and is made into different versions, and sometimes the ingredients also include cauliflowers, anchovy fish, and tuna. Especially in Carrù, Russian salad always has tuna meat.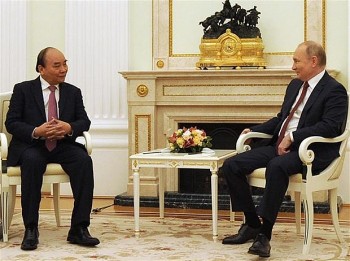 National
An article in Russia's independent newspaper focused on the Vietnam-Russia relationship and the significance of President Nguyen Xuan Phuc's visit to Russia from Nov. 29 to Dec. 2.