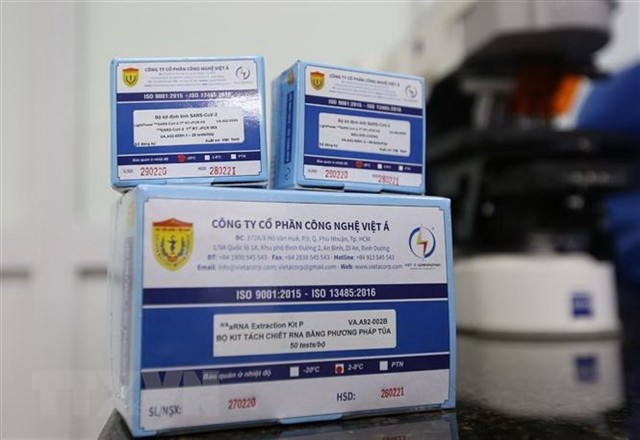 The kits are developed by the Vietnam Military Medical University and Viet A Technologies
Lieutenant General, Professor Do Quyet, Director of Military Medical Academy, has had success in research.
"With sensitivity, specificity and stability, this is a test kit with assured quality equivalent to the quality of the kits we imported," he said.
Vietnam now can be self-sufficient in test kits, which are cheaper and more widely applicable. They can screen and diagnose infection cases early, and treat them in a timely manner.
In the state of emergency, scientists made every effort to accelerate the process of implementing research to develop the test kit.
Senior lieutenant-colonel Ho Anh Son, deputy director of the Military Medicine Research Institute, recalled the days when the epidemic broke out in Wuhan, China.
Vietnamese scientists then immediately started research about the coronavirus before they were asked to do so.
"This was just a natural reaction of scientists to emerging pathogens: learning about the new strain of virus," he said.
Also with the 'natural reaction', four years ago, the scientists successfully developed a test kit to detect Ebola virus based on the one step real-time RT – PCR, though the epidemic did not enter Vietnam. The research led to a patent granted by the Ministry of Science and Technology.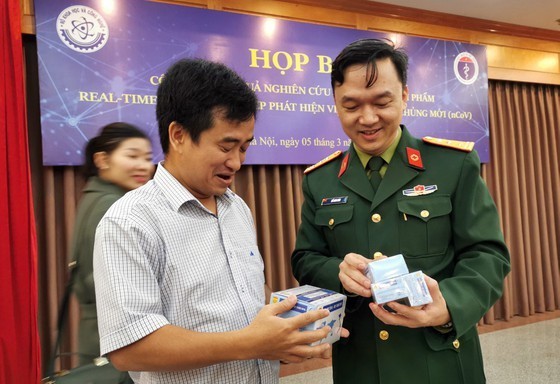 With sensitivity, specificity and stability, this is a test kit with assured quality equivalent to the quality of the kits Vietnam imported
As one of the first persons in Vietnam reading the documents related to SARS-CoV-2, including an article by Professor Christian Drosten from Charité University Hospital Berlin, Major Dr Hoang Xuan Su from the Military Medical Research Institute was professionally aware enough to recognize the seriousness of the disease, even though no infection case in Vietnam was discovered at that moment.
Therefore, Su and other scientists became quickly ready when the Ministry of Science and Technology assigned them to develop coronavirus test kit.
Their team comprises 13 key members who are molecular biologists, virologists, communicators, immunologists and clinicians.
The researchers tried the real-time RT PCR chain reaction on two target genes shared by Charité Berlin and updated the testing procedures announced by the US CDC. They contacted colleagues and biotechnology companies in France, Germany, Singapore and China to get reference kits to optimize them in Vietnamese conditions.
After two weeks, the scientists found a process of designing the kit based on the N target gene, the target gene chosen by many other countries because of high sensitivity.
Scientific councils and the Institute of Hygiene and Epidemiology have concluded that the test kit has high accuracy and sensitivity similar to the one developed by the CDC.
Vietnamnet