Teamwork in return of Vietnamese citizens stranded by COVID-19 from RoK
The flights, carrying 230 Vietnamese citizens, arranged by Vietnamese authorities, the Vietnamese Embassy in the Republic of Korea, budget carrier Vietjet Air together with agencies in the host country.
All crew members and passengers are quarantined upon arrival (Photo: VNA)
Passengers include children aged under 18, the elderly, pregnant women, those with illness, workers with expired visas and labour contracts, students without accommodations, and those in extremely disadvantaged circumstances.
The Embassy of Vietnam in the RoK sent its staff to assist these people to complete all required procedures before boarding the flight.
Strict security, safety and hygiene measures were enforced by the carrier during the flight to protect the passengers' health and prevent COVID-19 transmission.
Upon arrival at Hanoi-based Noi Bai International Airport on August 1, all passengers and crew members were given health check and quarantined in line with regulations.
A further 28 new cases also were confirmed by the Ministry of Health on the afternoon of August 1, bringing the total count to 40 cases in a single day, and to 586 nationwide.
Among the confirmed cases, 19 were related to Da Nang Hospital. Central Da Nang City recorded 1, Quang Nam 5, Ho Chi Minh City 2, and Thai Binh 1. Meanwhile, 2 cases in Da Nang is still under investigation, and 2 cases were isolated immediately after entry in Tra Vinh.
The two cases in Tra Vinh, numbered 559 and 560 were quarantined immediately after entry after taking VJ2432 flight from Indonesia to Can Tho on July 29.
Vietnam has so far recorded 586 infections, 304 of them are imported cases and 142 others related to Da Nang city since July 25.
More than 91,462 people are in quarantine across the nation, including 953 at hospitals and the remainders at concentrated facilities and their home.
The virus has spread to seven cities and provinces, including central Da Nang city, neighboring province of Quang Nam, HCM City, Hanoi, central Quang Ngai province, Dak Lak province in the Central Highlands, and the northern province of Thai Binh.
Another coronavirus patient died in Da Nang City on August 1, bringing the death toll caused by COVID-19 in the country to three in just two days.
The female patient, 68, died of leukemia, severe pneumonia and COVID-19, said a Health Ministry official, adding the patient was admitted to Da Nang Cancer Hospital on July 28 and died early on August 1 morning.
This is the third fatality of COVID-19 in Vietnam. The other two cases, reported on July 31, also suffered from underlying illnesses.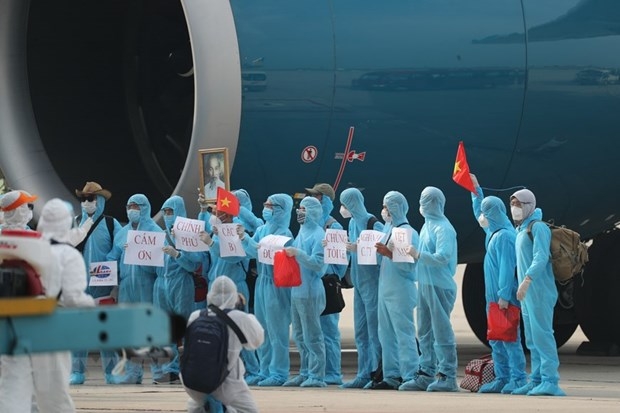 Vietnamese citizens say thanks to the Vietnamese Government and Vietnam Airlines for repatriating them from Equatorial Guinea (Photo: VNA)
Despite surging infections, domestic authorities and Vietnamese overseas representative offices, under Prime Minister Nguyen Xuan Phuc's recent instructions, are making plans to bring home more Vietnamese nationals based on their needs and the nation's current quarantine capacity.
It was not the first time Vietnamese people stranded in a foreign country had been brought home, with such repatriation flights being testament to Vietnam's motto of "No one left behind".
Earlier, on July 29-30, Vietnamese authorities and representative offices in the US and Vietnam Airlines coordinated with the US relevant agencies to conduct a flight bringing home nearly 300 Vietnamese citizens from San Francisco (the US) and Narita (Japan) airports.
A special flight carrying 219 Vietnamese citizens (129 have tested positive for COVID-19) previously living in Equatorial Guinea landed safely at Noi Bai International Airport a couple of days ago./.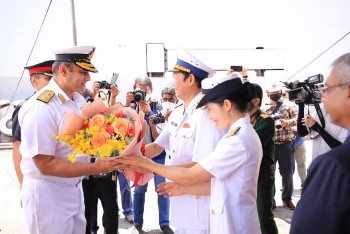 Friendship
Two Indian naval ships carrying with more than 500 crewmembers on June 24 begin a three-day friendship visit to Ho Chi Minh City.