The number of Covid-19 vaccine recipients in Vietnam reaches over 20,000
On March 16, more 4,260 people in Vietnam were administered the Covid-19 vaccine, raising the tally of recipients to 20,695.
The vaccine has been given to people in 12 provinces and cities including Hai Duong, Hanoi, Hung Yen, Bac Ninh, Bac Giang, Hai Phong, Ho Chi Minh City, Gia Lai, Long An, Da Nang, Hoa Binh, and Khanh Hoa, Vnexpress reported.
The prioritized groups receiving the vaccine are medical workers directly treating Covid-19 patients, those involve in taking samples, testing, contact tracing, members of Covid-19 community groups, and members of the Steering Committees for disease prevention and control.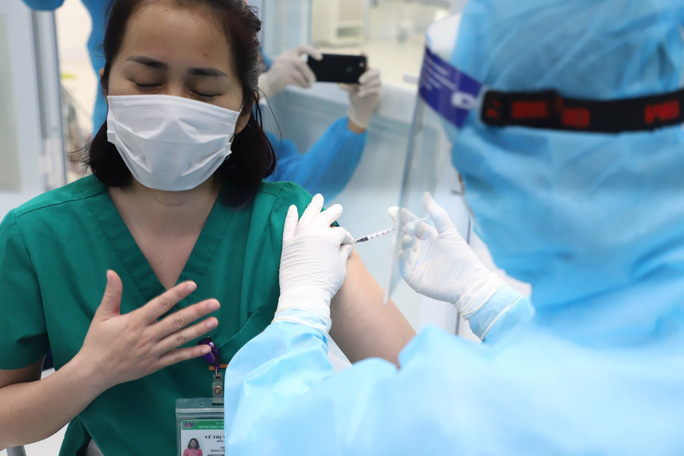 A medical worker receives the Covid-19 vaccine. Photo: NLD
On March 16, the vaccination sites recorded cases with post-vaccination reactions such as fever, swelling and pain at the injection site, rash, fatigue, dizziness, nausea, muscle pain, headache, diarrhea, etc.
Doctors advise vaccine recipients should immediately go to the hospitals if they show signs of widespread itchy, high or low blood pressure, chest tightness, breathing difficulty, etc.
According to the representative of the National Expanded Program on Immunization, inoculation in provinces and cities has been implemented in accordance with the regulations. Vaccine recipients are provided with the phone numbers of medical facilities to receive timely assistance in emergency cases. Besides, the vaccination sites arrange tables a safe distance apart to prevent the Covid-19 spread.
The vaccine used in the ongoing vaccination rollout in Vietnam is developed and manufactured by the British-Swedish firm AstraZeneca in collaboration with Oxford University. Photo: Vnexpress
The vaccine used in the ongoing vaccination rollout in Vietnam is developed and manufactured by the British-Swedish firm AstraZeneca in collaboration with Oxford University. The first batch of 117,600 vaccine doses arrived in Vietnam on February 24. An additional 5 million doses from global vaccine access mechanism Covax, UNICEF, and Vietnam Vaccine Joint Stock Company's purchasing contract are expected to arrive in March and April.
AstraZeneca vaccine has been approved for use in more than 70 countries and territories. At least 10 countries including Denmark, Iceland, and Norway to temporarily suspend the use of the vaccine following reports of severe cases of blood clots in people who have been injected with it.
There has not been a single case of blood clots reported in Vietnam; hence, it will continue its vaccine rollout.
AstraZeneca and European Medicines Agency have said there has been no evidence to prove the vaccine caused blood clots and stressed its benefits far outweigh the risk of contracting Covid-19.
According to AstraZeneca, the vaccine is 76 percent effective, increasing to 81 percent after the second shot.
Vietnam is also speeding up the trials of locally-produced Covid-19 vaccines. On March 15, the first six volunteers participated in the first phase of the human trial of Covivac, the second Made-in-Vietnam vaccine. Covivac is manufactured by the Institute of Vaccines and Medical Biologicals (IVAC) under the Ministry of Health.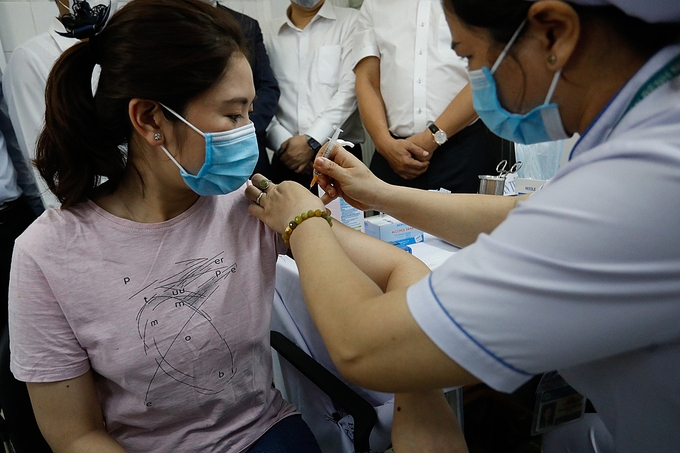 Photo: Vnexpress
After 24 hours of receiving vaccine doses, all six people are in stable health condition.
The volunteers will self-monitor their health and note their medical records before returning to the hospital on March 22 for samples to be taken.
A total of 120 volunteers, aged 18-59 and all Vietnamese, are set to take part in the first phase of trials for Covivac.
20 of the 120 get a placebo while the rest will get shots of varying doses: 1 mcg, 3 mcg, and 10 mcg.
Meanwhile, Nano Covax, the first Vietnam homegrown Covid-19 vaccine made by Nanogen Pharmaceutical Biotechnology JSC, entered its second phase of human trials on February 26.
Results of the trial will be announced in May 2021 before preparing for the third-stage trial during which only one single shot of the vaccine will be administered to 10,000-15,000 people from both domestic and foreign pandemic-hit regions, said Lieutenant-General Do Quyet, Director of the Military Medical University.
Vietnam has two other COVID-19 candidate vaccines being developed, which are VABIOTECH by the Company for Vaccine and Biological Production No 1, and POLYVAC by the Centre for Research and Production of Vaccines and Biologicals.
One case of COVID-19 was detected in the past 12 hours to 6 pm March 16, raising the national tally to 2,560, according to the Health Ministry.
The new case was reported by the northern province of Hai Duong, which is home to the largest hotspot of the latest wave of COVID-19 in the country since January 27.
The same day, 43 COVID-19 patients were given the all-clear, bringing the total number of recoveries to 2,158. The death toll remains at 35.
Among patients still under treatment, 40 have tested negative for SARS-CoV-2 once, 22 twice and 82 thrice.
A total of 36,923 people who had close contact with COVID-19 patients or arrived from pandemic-hit areas are being quarantined nationwide, with 496 at hospitals, 17,396 at concentrated quarantine facilities, and 19,031 at their home or accommodation.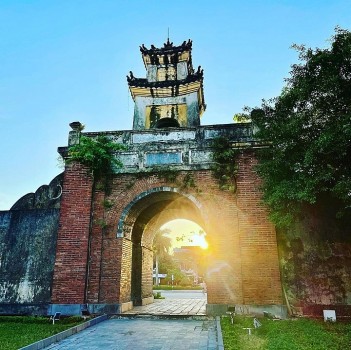 Travel
Quang Binh has many natural wonders as well as magnificent man-made architecture, one of which is Quang Binh Quan