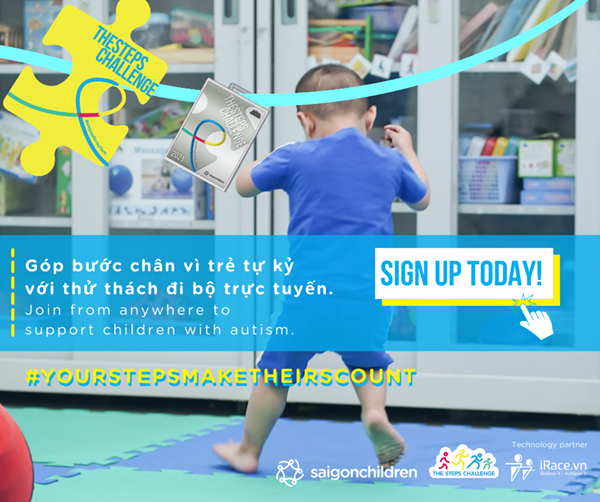 Photo courtesy of Saigon Children's Charity
According to statistics in 2017 from the Department of Child Care and Protection of Vietnam Ministry of Labor, War Invalids, & Social Welfare, there were 200,000 people with autism spectrum disorder (ASD) in Vietnam. The number of children with autism visited for diagnosis at the Department of Rehabilitation of Central Pediatric Hospital in 2007 increased by 50 times compared to 2000.
Autism is a lifelong disability. Understanding, empathising, and supporting children with autism is no longer a private affair for families with autistic children. With the purpose of raising awareness, bringing appropriate care and special education access to hundreds of thousands of children with autism in Vietnam, The Steps Challenge of the UK organization Saigon Children's Charity (saigonchildren) is back with the 2021 edition.
The Steps Challenge - Step up for autism in Vietnam is a community event organised by Saigonchildren, first in 2019, had raised VND 700 million (USD 30.000) and 200 million steps supporting and raising awareness about Autism in Vietnam. In 2021, The Steps Challenge is back with the virtual concept. The participant can collect their steps at home or work through daily activities to accomplish their goal in a 30-day challenge.
For every sign-up, participants are donating VND 130,000 to the work in supporting kids with autism of saigonchildren.
The challenge will officially open for registration on irace.vn on April 1 with deadline for registration is April 30. After registering, a 30-day step challenge will automatically activate to track your steps.
However, in March you can already pre-regiser at https://stepschallenge.saigonchildren.com/en/home/ to stand a chance to win a lucky prize from saigonchildren.
HOW TO SIGN UP
1. Register your participation information with saigonchildren's form at https://stepschallenge.saigonchildren.com/en/home/ and transfer registration fee (VND 250,000).
2. Download the Google Fit app on your phone start practising to be ready for the challenge in April.
Saigon Children's Charity is a UK charity working exclusively in Vietnam since 1992 with the mission of removing barriers to education for Vietnamese disadvantaged children, through four key programs: school building, scholarships, vocational training, and special needs education.
Hannah Nguyen