Three Best Glamping Sites Near Ho Chi Minh City
You don't have time to travel far at weekend? Head to these glamping destinations near Ho Chi Minh City (HCMC) to escape from your bustling life.
It's no need to bring tents or food, the following glamping places provide camping service that is suitable for any campers. On weekends, visitors can arrange a camping trip with a group of friends or family if they are bored with the usual tourist activities. The glamping sites with full service below are all near Ho Chi Minh City and convenient for traveling by private vehicle.
Khoai Camping Garden
Address: Can Gio District, HCMC
Price: From 220,000 VND (US$ 9.41)/person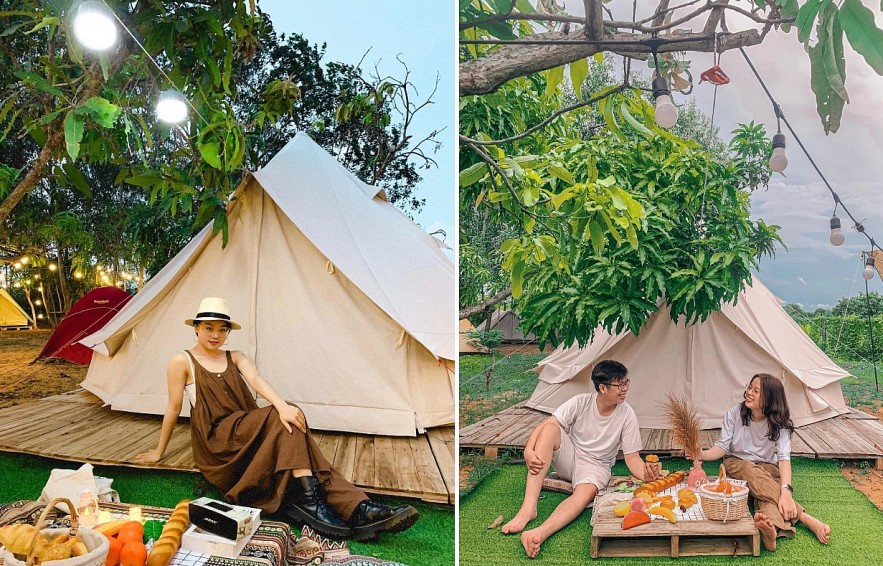 Photo: Khoai Camping Garden..
This campsite is about 60 km from the center of District 1. It is located in the Can Gio district a peaceful space, which is separate from the busy and noisy city.
This campsite offers combo services depending on the need of visitors. The cheapest combo is VND 220,000 (US$ 9.41)/ person with all necessary camping equipment such as tents, tables, chairs, and breakfast set including cup noodles and iced tea. This combo only applies to groups of three or more.
If you go with a friend, you can choose 2 types of combos including a normal tent costing VND 450,000 (US$ 19.22)/person or a high-end Mongolian tent costing VND 600,000 (US$ 25.66)/person. Services in these combos are full as group combos.
In addition, this site has a bar in the middle of the campsite, giving visitors a common space. However, the drinks here are not really diverse.
Ngao Du Camping
Address: Dau Tieng, Binh Duong
Price: From 1.6 million VND ($68.37)/person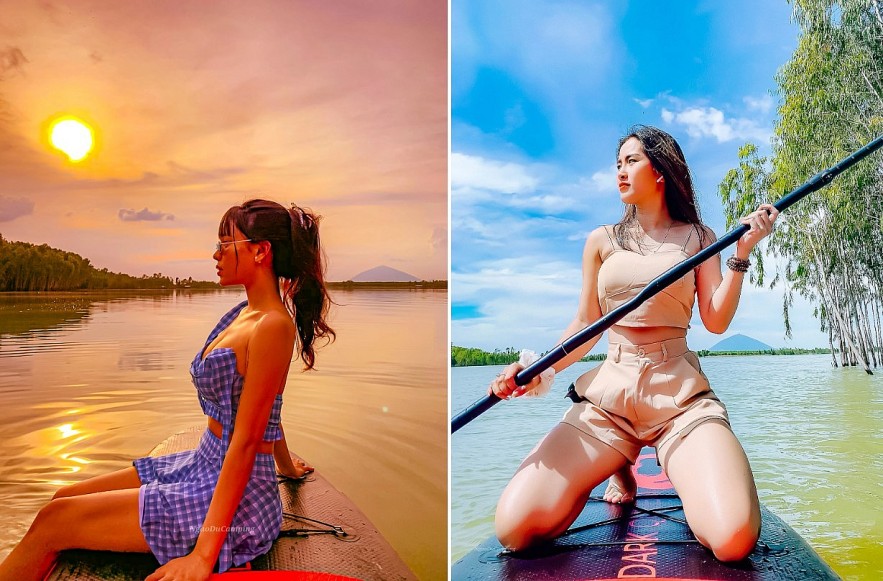 Photo: Ngao Du Camping.
This is a familiar site for campers. It is located near Dau Tieng Lake. If you are afraid to prepare tents and food, you can choose comfortable camping services. Ngao Du Camping has a campsite by the lake with spacious toilets and baths.
This site offers two camping packages for visitors. The former excluding food costs VND 1.6 million (US$ 68.37)/person. All tents and necessary equipment for camping are fully prepared. You can bring food, use the grill, and firewood hanging on the campsite to cook for yourself if you want to save money.
The latter including food costs VND 2.8 million (US$ 119.55)/person. The campsite would prepare a BBQ for visitors.
Located by Tri An Lake, this place has outdoor activities for visitors to participate in such as SUP rowing, and fishing. Remember to book these services in advance.
This place charges a parking fee of VND 10,000 (US$ 0.42)/night/motorcycle and VND 50,000 (US$ 2.13)/night/car. The bathing and cleaning point here also charges about VND 10,000 (US$ 0.42)/per person for each turn.
Di Bui Camping
Address: Xuyen Moc, Ba Ria - Vung Tau
Price: From VND 799,000 (US$ 34.15)/person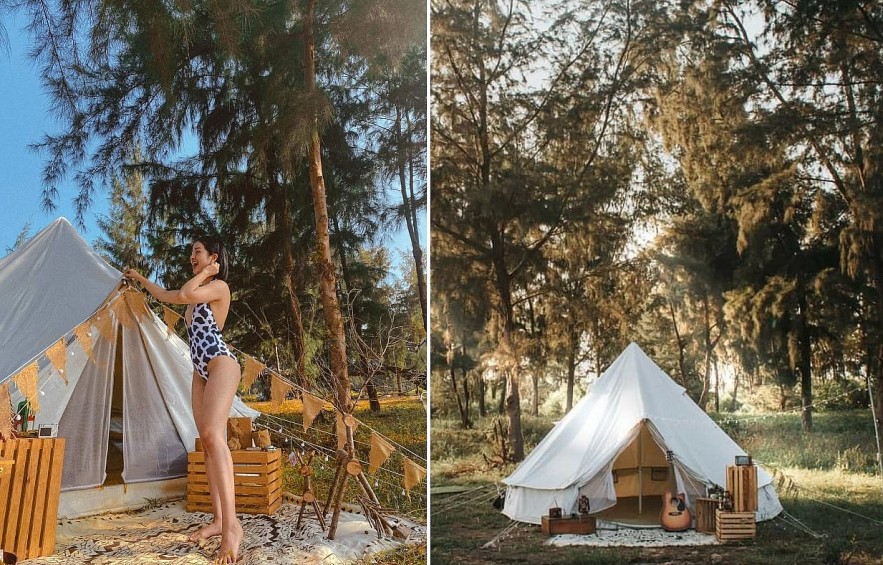 Photo: Đi Bụi Camping, Na Lee.
At this camping site, the tents are designed in Mongolian style. It is surrounded by coastal poplar forest. Each tent has different sizes and the largest one can accommodate about 10 people.
The tents are fully equipped with amenities such as a hotel room with power sockets and fans. The toilet and bathroom are located in a separate area. Campers can order a BBQ with a menu of seafood, beef steak or pork belly. In addition, the campsite also prepares a kitchen and cooking utensils for those who want to cook on their own.
Tourists traveling in groups of 4 people or above will have a cheaper price, VND 799,000 (US$ 34.18)/person. If coming in 2 people, the price is VND 999,000 (US$ 42.74)/person. This price includes the fee of BBQ party and breakfast.
A tourist named Thu Doan (HCMC) has just had a camping trip with a group of 4. "My favorite thing here is the location. It is next to the sea. when I open my eyes, I immediately see the blue sea, yellow sand. It has so many nice photo spot", she shared.
Bao Ngoc (Dong Nai) rated this place as a convenient spot to travel. It is suitable to refresh our mind. "This place has a very natural space, but it's close to the sea, so I feel a bit uncomfortable. Spending two days and one night here is reasonable," Ngoc said.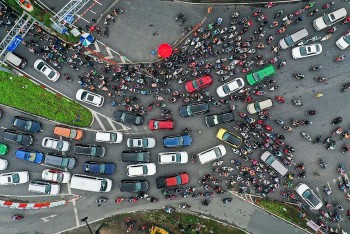 Economy
Vietnam Business & Weather Briefing (Oct 5): 25 Apple's partners have factories set up factories in Vietnam, UOB upgrades 2022 growth forecast for Vietnam to 8.2%