UK and Europe weather forecast latest, January 18: Bitterly cold heading from the Atlantic brings wintry conditions and snow
The UK is forecasted to cope with a bitterly cold heading over from the Atlantic, which bring wintry conditions and snow in northern region.
UK's weather forecast
A bitterly cold from from is heading over from the Atlantic this weekend, which is expected to bring wintry conditions including snow in northern regions as strong northerly winds hit. Scotland is forecast to be hit with 16 inches of snow in central areas this weekend, according to the latest snow depth models from WXCHARTS. Sunday will see more snow in the same area as 10 inches, with north western areas such as Carlisle seeing 2 inches.
Temperatures are expected to plummet to -4C in Scotland overnight, with southern parts of England forecast to average 0C. Northern areas of England including Newcastle and Liverpool could also see bitter -1C tonight.
Pail Mihchaelwaite at Netweather added freezing air could bring more snow this weekend.
He said: "A weather front moved in overnight, bringing rain to many parts but also some sleet and snow, particularly over Eastern and Southeast England this morning. What's left of that will clear through during the remainder of Saturday morning, to leave all parts in a fresh northwesterly flow for the remainder of the weekend."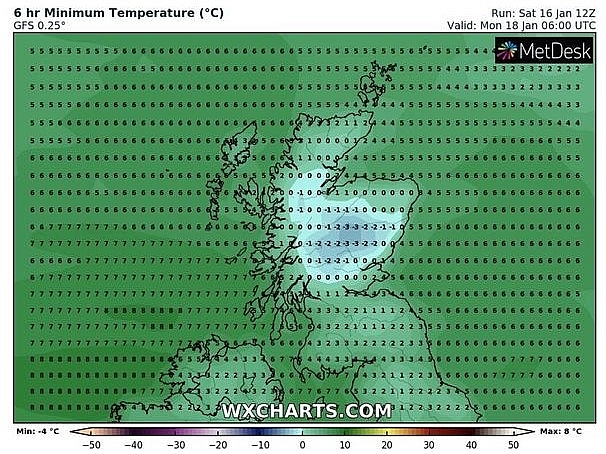 UK snow forecast: Temperatures could plunge to -14C (Image: WXCHARTS)
"But, despite the relative chill, a thaw will set in away from the higher ground for those areas who have seen lying snow this week."
"The low pressure responsible for the weather front is up to the northwest of Scotland currently, and it'll not move far through the weekend, just slowing drifting further north and a touch east, as it moves close to the east of Iceland into Sunday."
The BBC's long range forecast said a cold front is likely to push into the UK tomorrow.
The forecast said: "As a cold ridge of high pressure over the UK slides away to the southeast into Europe this weekend, a frontal system will push in from the Atlantic."
This front will bring in some milder air. It will also bring snow and ice for northern and eastern areas on Saturday morning, with the milder air arriving slightly later.
Sunday and Monday will see another ridge of high pressure slide over the southern half of the UK. Things will stay rather breezy and unsettled for the north. This high will bring in plenty of cloud though, so it won't tend to be too sunny.
Next week, a stronger low pressure system is expected to move in on Monday bringing some wet weather throughout the country through midweek.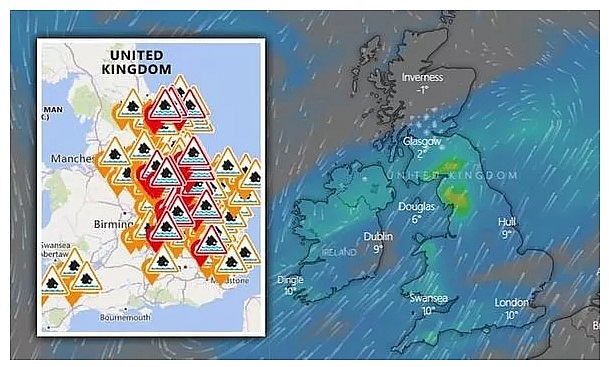 Flood alerts MAPPED: Warning as EIGHT inches of rain to drench UK (Image: GOV.UK - WINDY)
An amber weather warning of heavy snow has been issued by the Met Office across eastern England, with people told to expect travel delays, power cuts and a chance that rural communities could be "cut off".
People in East Anglia woke up on Saturday to a thick layer of snow which had settled overnight, with the wintry downpours expected to continue until the afternoon.
Most of the rest of England and Scotland has a yellow snow alert in place which will last until Saturday evening.
Between 4-8cm of snow could fall in the worst-affected regions, with the Met Office warning drivers to accelerate their cars "gently" and to leave a large gap between surrounding vehicles. Parts of Wales and Northern Ireland will be mostly cloudy, with some bands of rain in the northern regions.
Greg Dewhurst, a Met Office forecaster said: "Areas in eastern England and around the M25 could see up to 8cm of snow, especially as Saturday progresses.
North-western regions are expected to see showers, with a "spell of more persistent rain" later on in the day. The Met Office has also issued a yellow rain warning for Monday evening, which will last until Wednesday.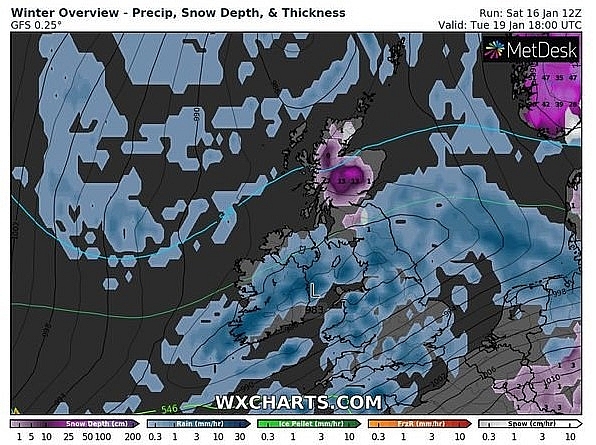 Flood alerts MAPPED: The Met Office expects rain to hit some areas of the UK next week (Image: WXCHARTS)
The warning, which covers parts of north-west England and large swathes of Wales, says to expect heavy downpours with some snowmelt across hilly areas. It means these areas could see flooding to roads and buildings, with delays to public transport.
On January 18
According to Weather Online, Monday currently starts off cloudy across southern and southwest Scotland and Northern Ireland with patchy rain. Cloud increasing further south as Atlantic low pressure moves closer towards Britain. Through the day rain will spread across Ireland, Northern Ireland, Wales central and southwest England. Drier further east. Scotland will be brighter although showers will be rather widespread. Highs at 5 to 9C with the far southwest seeing max temps reaching 11C.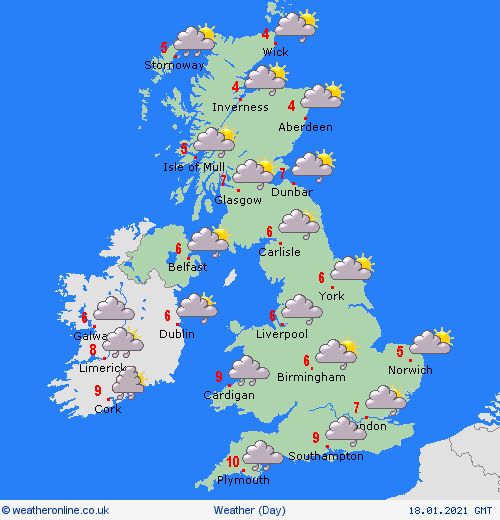 Photo: Weather Online
Northern parts continuing to see sunny spells and blustery showers. Southern areas starting off mostly dry before cloud and rain arrives from the southwest later, Met Office reported.
Outlook for Tuesday to Thursday
Rain, heavy and prolonged in places, throughout Tuesday and Wednesday. Brighter, colder conditions in the north, with wintry showers will spread south to all regions during Thursday.
Europe's weather forecast
Staying largely dry and fine across Spain and Portugal although more in the way of cloud and possible patchy rain affecting the far northeast of Spain. A brisk but now westerly wind through the Balearics but it should be dry here. Strong winds with blustery showers across Sardinia and Corsica pushing into southern Italy and across Siciliy later. Precipitation clearing to the east of mainland Greece but will still affect the islands. Rain, sleet and snow still affecting Turkey.
Rain, sleet and snow continue to affect southern and some eastern areas of France. More in the way of rain in the south. Germany too will see rain, sleet and snow push southwards with northern areas becoming drier. Snow affecting Switzerland and Austria with snow showers still down the Balkan States. Any snow will clear the southern areas of Poland first thing to allow for a dry and bright day here.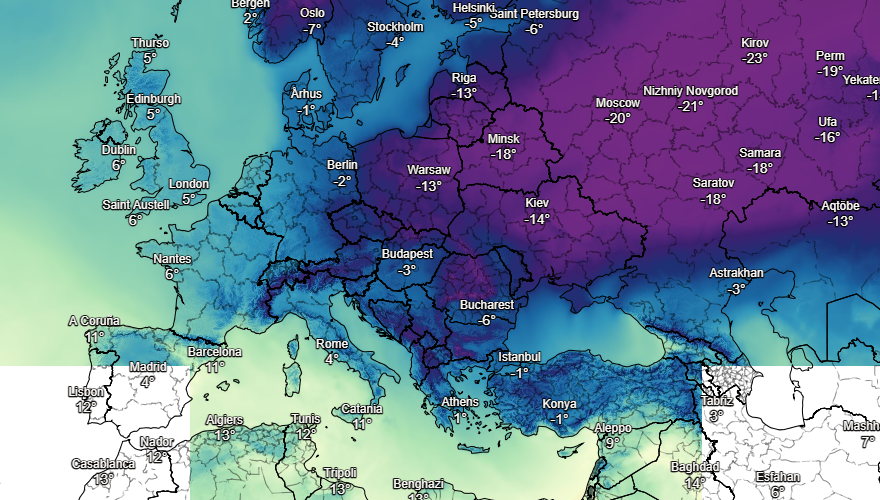 Photo: Stirimeteo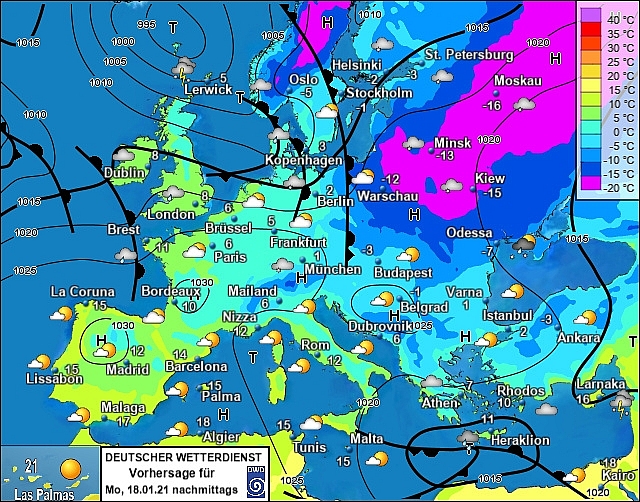 Photo: Stirimeteo
Largely dry across Scandinavia but with snow affecting the far southwest of Norway. Wintry showers also pushing across the Baltic States but plenty of dry weather here too. Cloud and some rain, sleet and snow pushing into mainly western areas of Denmark while eastern areas stay drier with the best of any sunshine here.
On January 18
Dry and fine for Spain and Portugal once again with the Balearic islands also fairing well. Any rain will soon clear southern and eastern areas of Sardinia and Corsica. An improving day from the north across Siciliy as well as Italy with winds easing here. Rain, sleet and snow across Greece should slowly ease off. Cloudy but mostly dry across Turkey although rain will continue to affect southern most areas.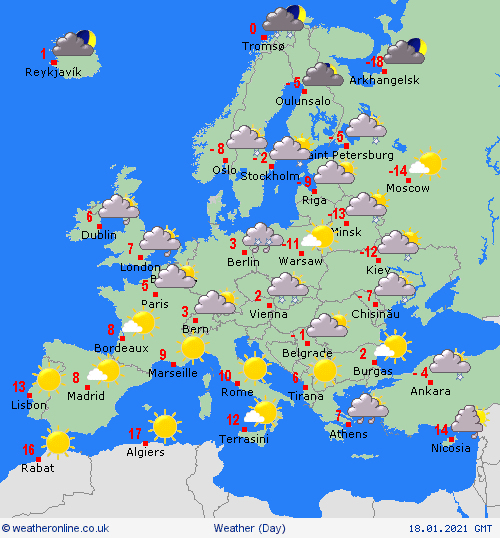 Photo: Weather Online
Largely dry across France and the Low Countries. Cloudy with patchy rain affecting many areas of Germany as well as the Czech Republic during the day. Morning rain in Switzerland will soon clear but will continue to affect Austria throughout the day. Dry and fine down the Balkans. Mostly dry for Poland although rain is expected in the far west later.
Staying mostly settled across Scandinavia although snow will continue to affect southern areas of Norway and Sweden. Largely dry across Finland. Denmark, however, will see rain, sleet and snow, falling heavy in places, in the morning, before clearing to the east in the afternoon. Wintry showers through the Baltic States.