UK and Europe weather forecast latest, January 16: Snow showers to sweep across the UK
The UK forecasted to cope with snow shower across the country, with a menacing system is developing. Meanwhile, low pressure brings heavy precipitation to the eastern Mediterranean.
UK's weather forecast
Snow showers are expected to sweep across the UK again next week, with a menacing system developing from Friday January 22, according to the latest weather charts.
A snow system has been spotted on the latest weather charts, with much of the country at risk of snowfall from Friday January 22. The system is poised to sweep south from Scotland to the rest of the UK from Friday evening into the weekend, according to weather maps tracking its movements. This weather front will be the second to hit the country in days, as the Britain is currently grappling with heavy snow, sleet and ice.
Up to 11cm of snow fell in the Perth and Kinross area overnight, with 5cm recorded in Cumbria by 9am.
Now Netweather's snow risk chart shows a second system appearing in the early hours of Friday January 22. A map valid from 3pm shows the system will engulf parts of northern Scotland with a 100 percent snow risk, while flurries of snow are also expected across Wales and the Midlands.
By 9pm the weather system will have moved further south, affecting the east of Wales, the Midlands and East Anglia.
Parts of central England have a 100 percent snow risk, as shown by the white circle, whereas the rest of the UK has between a 35 to 90 percent risk of snow.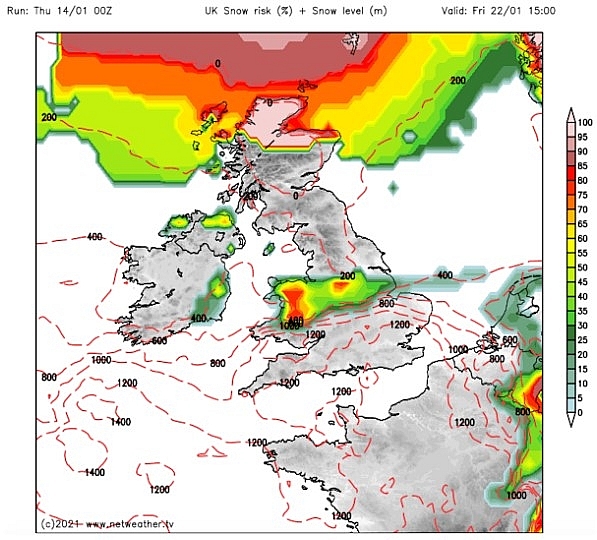 UK snow forecast: A huge cloud of red and yellow is seen developing over northern Scotland (Image: Netweather)
The north of Scotland will continue to be engulfed in the system, covered by a 100 percent snow risk, according to the chart.
As midnight hits, the weather front appears to move further south still, covering much of England. The dark red area indicates between a 75-85 percent snow risk, while the yellows and green on the map indicating a more moderate risk of snow between 30 to 70 percent.
By 6am on Saturday January 23, the risk of snow increases further, with large parts of England covered in white and red. But by the evening the chance of snow flurries moves away from the south of England, with only Scotland and the north of England covered by a high risk of snow.
This pattern repeats over the weekend as the weather system continues to move south. A second map by WXCharts also shows the weather front appearing above Scotland on January 22, before edging further south.
The forecasters expect the system to cause heavy snowfall in the Scottish Highlands by 6pm on Saturday January 23, with up to 16.5 inches (42cm) expected.
As well as causing snow flurries across the UK, the weather system is expected to prompt the mercury to plummet.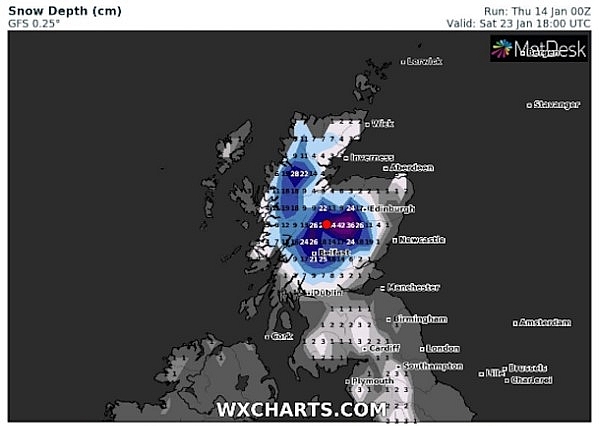 UK snow forecast: 43cm of snow is expected in Scotland on Saturday January 23 at 6pm (Image: WXCharts)
Several charts from Netweather show temperatures could fall to as low as -10C in Scotland, while the north is poised for -5C and further south is expected to see the mercury dip just below freezing.
The Met Office has said a north-easterly flow is expected to bring unsettled conditions from the mid-end of the month.
They said: "A north-easterly flow will bring cold conditions and possibly frequent showers, particularly to the northern windward coasts, which may fall as snow over high ground and sometimes down to lower levels.
"Towards the end of the period conditions are likely to remain colder than average in the north, with the south likely to see more unsettled conditions and slightly above average temperatures at times. These conditions would likely bring periods of above-average precipitation to the UK, with a likelihood of more organised snowfall for northern areas, and rain in southern areas."
Brian Gaze at the Weather Outlook said the changeable weather conditions will continue next week. He said: "In the north there is a chance of heavy periods of sleet or snow at times, especially over high ground. The north will often be cold. There is more uncertainty about temperatures in the south with a greater chance of close to average or mild days."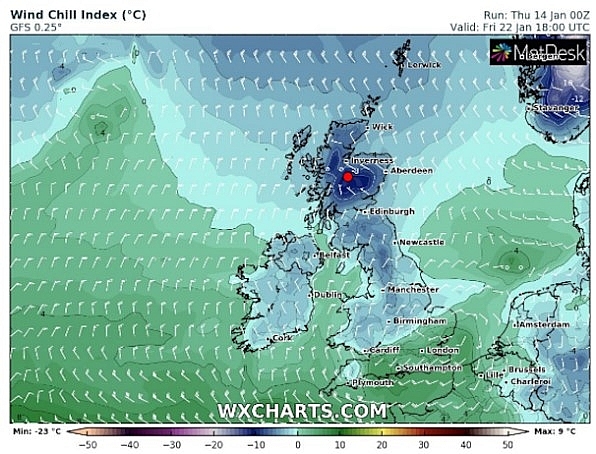 UK snow forecast: A second map by WXCharts also shows the weather front forming above Scotland on January 22 (Image: WXCharts )
On January 16
According to Weather Online, an area of rain, some of it heavy will be spreading eastwards through the night and into Saturday morning. This could bring some sleet and snow to central and eastern England and eastern Scotland for a time, perhaps with a brief covering of snow at low levels. Brighter and drier weather should follow from the west with sunny spells developing here, although more persistent rain and sleet affects western Scotland. Highs at 4 to 6C in the east, 10 or 11C in the west and south.
Rain, sleet and snow in some eastern areas for a time, giving a cover of snow in places. Brighter weather following from west, with scattered showers in west and northwest, Met Ofice reported.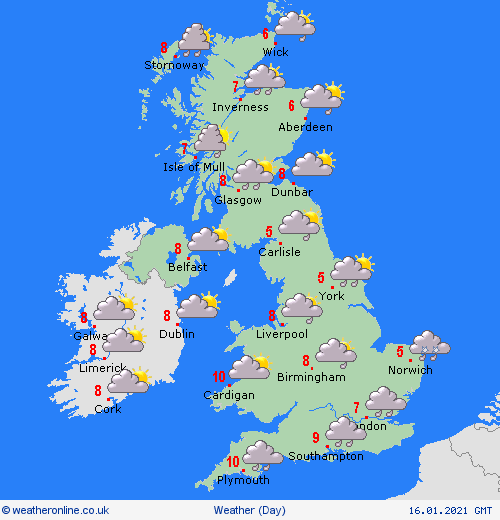 Photo: Weather Online
Outlook for Sunday to Tuesday
Dry with sunny spells for most, showers and rain for the northwest. Rain arriving Tuesday for all but the far north. Cold north, mild in the south. Generally breezy.
Europe's weather forecast
Showers in northeast Spain. Fair over much of the rest of Spain and Portugal with the best of any sunshine in the south. Scattered showers in the Balearics. Heavier showers or longer spells of rain across Sardinia and Corsica as well as the south of Italy. Northern Italy should be drier and brighter. Greece will have sunny spells. Rain and sleet in western Turkey with snow in the north.
Misty in northern and western France, this clearing with bright or sunny spells later. Rain and sleet in central and southern France, breezy too. Cloudy with some spots of drizzle in the Low Countries as wel as through northern and central parts of Germany. Cold with some sleet and snow in Poland. Austria and Hungary will be bright and cold with snow arriving from the north later. Some snow showers in Switzerland.
Cold with a few wintry flurries in eastern Sweden, dry for the rest of the country. Cold for the Baltic States and Finland too, a few wintry showers here. Dry and misty in the west of Norway, fog on coasts with some drizzle here later.
Photo: Stirimeteo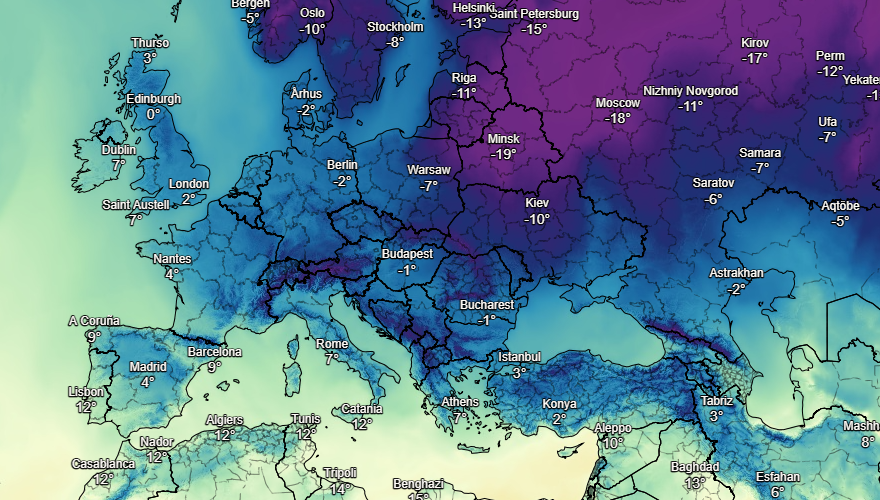 Photo: Stirimeteo
On January 16
Dry and fine for Spain and Portugal. Early showers clear south from the Balearics, Corsica, Sardinia, Italy and Sicily to leave a dry and fien day here too with good spells of sunshine. An area of heavy rain, sleet and snow spreads over Greece and into Turkey. Drier and brighter for western Greece later.
After a dry and fine start, an area of rain, sleet and snow spreads across northern France, the Low Countries and into western Germany.Dry but increasingly cloudy for eastern Germany and Switzerland. Snow showers affect Austria, the Czech Republic, Poland, Slovakia and Hungary. These merge to give longer spells of snow for Poland later.
Photo: Weather Online
Mostly dry and fine for Norway, Sweden and Denmark. Rain edges into southwest Norway and western Denmark later. Early snow showers fade over Finland and the Baltic States to leave a dry but rather cloudy day here.