UK and Europe daily weather forecast latest, February 28: A sunny weekend with mild temperatures in the UK before freezing air to hit
The UK is forecasted to have a sunny weekend with mild temperatures before a big free hits this country. Meanwhile, high pressure dominates and brings largely dry and fine conditions to Europe.
UK's weather forecast
Freezing conditions are expected in March - but the Met Office dismissed reports of a "snow bomb". Experts rubbished claims that a massive 270-mile snowstorm is on course to hit parts of Britain next month just weeks after the current 18C warm snap.
A spokesperson said: "There is nothing like that in our immediate forecast, or in our longer 30-day outlook which can be seen on our website homepage."
Temperatures are expected to drop to -4C, before slowly creeping up throughout the day, The Sun reported.
WX Charts predicted a band of snow - stretching from Norfolk to Dorset - could blanket some areas and may mean Birmingham, Wales, Somerset, Gloucestershire, Bristol and Dorset, could see flurries from March 9.
But the current long-range forecast from the Met Office, from February 27 to March 8, suggests drier and settled conditions are in store, but warns there could be some cold nights.
The forecast anticipates that: "During the last few days of February and the first week of March, many areas of the UK are likely to see more settled conditions."
"Dry conditions with clear or sunny periods are likely, especially in the south of the UK. Any unsettled weather with corresponding showers or rain are most likely to occur in the north and northwest of the UK."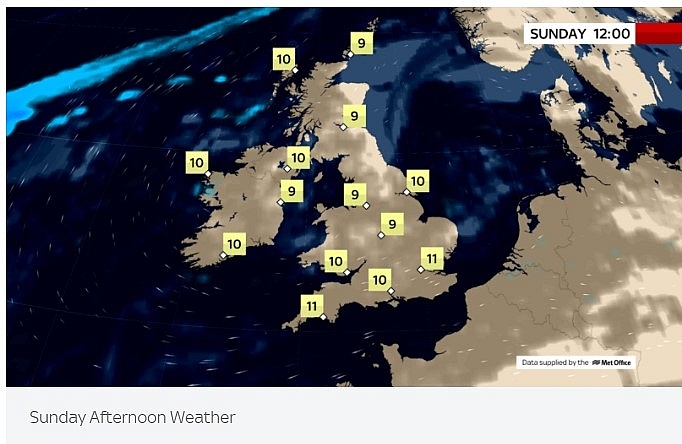 Photo: Sky News.
Meanwhile, this weekend will see the mercury rise to double digits. Parts of southern England are to reach highs of 12C on Saturday while areas in Scotland will see 10C.
New weather charts show and experts claim a cooler weather system is predicted to hit the UK causing temperatures to fall across Britain. This will increase the likelihood of snow falling across the UK on Friday, March 12 with large parts of Britain turning blue, according to the latest maps.
WXCharts snow prediction models suggest there is a likelihood of up to 50 percent of snow falling across northern Scotland. Meanwhile, there is a 10-25 percent chance of snow falling across the rest of the country.
Temperatures across many parts of the country could also be as low as -5C on average, WXCharts 850 hPa temperature maps show.
Across the north of England and Scotland, the charts predicts temperatures would likely be lower than -5C whilst in southern England, temperatures will be closer to 0C on March 12.
Met Office Forecaster Grahame Madge added it was "possible that we could get snow in March". He stressed: "In fact, it's more likely we will get snow in March than in December." Mr Madge made clear he could see a colder weather system coming in which was "causing excitement."
However, the forecaster stressed it was "too far away and too uncertain to have any indication yet." He continued: "It is unlikely to see an easterly weather front coming across, but a white Easter is more likely than a white Christmas."
The prediction of a freezing spring comes despite temperatures rising this weekend. Going into tonight, MeteoGroup says it will be a fine evening as it will be dry with clear skies and just some patchy cloud cover across the north-west. Overnight, thick cloud will build into Northern Ireland and western Scotland bringing spots of drizzle and a few showers. Temperatures will peak at between 11-14C, the group said.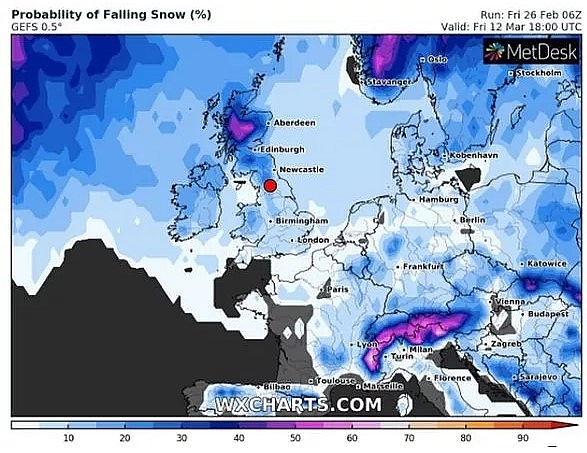 Snow forecast: The UK might be blessed with more snow next month (Image: WXCHARTS)
On February 28
According to Weather Online, high pressure remains over the UK and Ireland through Sunday. This will be bringing lots of dry weather and more sunshine. Any early morning mist and fog patches should clear quickly. Bits of cloud developing especially through Wales and the Midlands later though these will not spoil the sunshine too much. Feeling pleasant in the sun with light winds for most. More cloud towards northwest Scotland. High temperatures range from 9 to 11 or 12C for most.
Fog and low cloud slowly clearing inland, though persisting near some coasts, especially in the east. Feeling warm in sunshine, but chilly along North Sea coasts, Met Office.
During Sunday thicker cloud could bring an odd spot of rain at times to central and possibly southern regions but it should be mostly dry. The brightest skies will probably be in northern areas and to the south of London. After a chilly start it will be quite mild in the afternoon, The Weather Outlook reported.
Outlook for Monday to Wednesday
Central and eastern areas seeing mist, low cloud, and some fog, clearing slowly each day. Elsewhere, mainly fine with sunny spells and night frost. A few showers likely developing Wednesday.
According to BBC Weather, temperatures will turn colder from the second week of March, following a milder period, The Sun reported.
Its weather forecast reads: "For the second week of March, high pressure will begin to shift away to the west. This will allow the colder flows from northeast Europe to move in, bringing fresher Atlantic air from the north or northwest. Temperatures will tend to dip below average, but it will still be drier than normal with high pressure close enough to keep any strong weather fronts away to the north."
The predominantly settled theme continues on Monday. In the afternoon sunshine it should feel quite warm, The Weather Outlook reported.
Tuesday is expected to be a fine day in the northern half of the UK. In southern and central Britain there is a risk of showery spells of rain developing later on. It stays mild.
Europe's weather forecast
A fine morning in Portugal with good spells of sunshine. Staying sunny too through Spain. There will be further sunshine and fair conditions through Italy, the Balkans and Greece. More sunshine in Turkey as well.
Breezy through France but with broken cloud and some sunny spells. A few showers in southern France but dry elsewhere. Sunny too through the Low Countries and Germany. Breezy and bright in Poland. Fair across Hungary and Austria with more sunshine here. Switzerland will be breezy and dry with yet more sunshine.
Fair in Denmark, more sunny spells here. Breezy for the Baltic States with sunny periods. Staying bright in Finland but feeling chilly in the breeze. Fair for Sweden. Norway will be cloudier with rain in the west.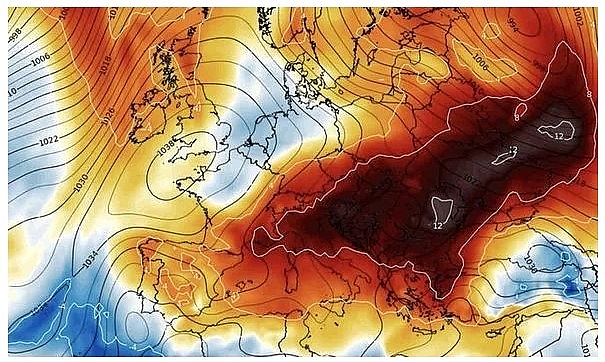 Saharan dust will blanket parts of Europe, according to the latest BBC weather forecast (Image: WXCHART)
Saharan dust will blanket parts of Europe, according to the latest BBC weather forecast. BBC meteorologist Nick Miller warned "more dust in the air from Africa" will sweep across Europe, starting with Spain on Sunday. This comes amid record-breaking February temperatures on the continent, with parts of Germany soaring to 21C earlier this week.
Mr Miller said: "The record February warmth is easing from central areas of Europe. It is not getting cold though. Temperatures will still be at or above the average for this time of year."
"There will also be plenty of fine, settled weather around this weekend. High pressure close to the UK - its influence is being felt across a large part of Europe with settled conditions."
He warned that snow and rain will impact eastern areas of Europe and into Russia. Mr Miller explained: " There is a trailing weather-front sinking southwards toward the Black Sea. That has a bit of rain, a little bit of patchy snow in some spots associated with it."
Into Sunday, the weather forecast is dominated by wind, particularly across eastern areas.
The BBC meteorologist said: "That weather system will take some rain and snow into Turkey. The odd shower around across southern areas of Greece. Quite windy through Croatia's Adriatic coast. Those winds could be disruptive. Still, a lot of fine weather through Iberia, though we could see some more dust in the air from Africa, and some wet weather across northern coastal areas of Norway."
London will experience a brief dip in temperatures on Monday before warming up again. Cities such as Athens will near 20C into next week, according to the forecast. Earlier this week, dust from the Sahara hit parts of the UK, turning skies across the country orange and red. The Met Office warned that warm southerly winds brought dust and sand particles transported over 2,000km from the Sahara Desert.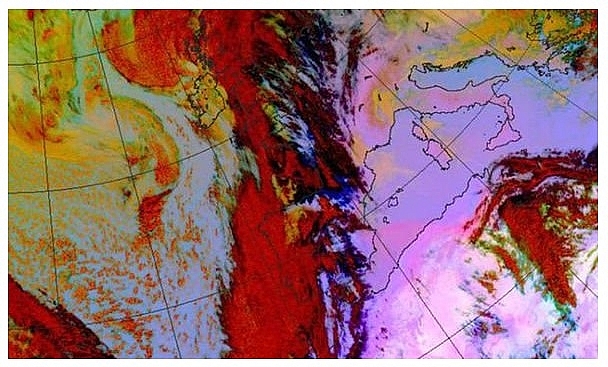 The Met Office warned that warm southerly winds brought dust and sand particles transported over 2,000km from the Sahara Desert (Image: MET OFFICE)
On February 28
According to Weather Online, some showers for eastern and southern parts of Spain as well as southern Portugal but elsewhere in Iberia it will be dry and bright. Some cloud for the Balearic Islands but staying dry. Mostly dry and bright for much of Italy, the Balkans and Greece with scattered showers to the south. Patchy rain for northern Turkey but elsewhere dry and fair.
Early showers clear from southern France to leave a dry and bright day across the country. Dry and bright too for Switzerland, Austria, southern Germany, the Czech Republic, Slovakia and Hungary. Cloudier for northern Germany, Poland and the Low Countries but staying mostly dry here.
Mostly dry and bright conditions extend to Denmark, the Baltic States and Finland as well as to southern parts of Sweden and Norway. Cloudier over northern parts of Norway and Sweden with some outbreaks of rain here.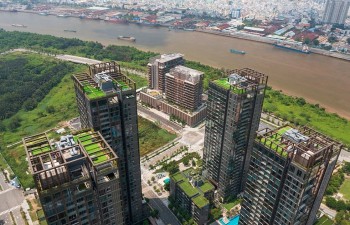 Economy
Vietnam Business & Weather Briefing (August 11): Vietnam to increase coal imports in 2025-2035 period, ten tonnes of Vietnamese longan exported to Australia.