UK and Europe daily weather forecast latest, March 5: Freezing temperature warnings in Britain after weeks of warm weather
The UK is forecasted to have dry weather with spells of sunshine tomorrow. Meanwhile, cold conditions are expected in northern Europe, rain over western and southern Iberia.
UK's weather forecast
The UK and east of Ireland will be mostly dry with good spells of sunshine on Friday, although cloud will increase across central and eastern England bringing the odd shower. The west of Ireland will be fairly cloudy with rain edging into Cork and Kerry. It will be chilly for most, after a frosty start, Sky News reported.
March is predicted to be hit with mixed conditions as bursts of cold and warmer temperatures could sweep over the UK. But spring-like highs are likely to grip the UK as the month progresses as high pressure moves over from a southerly direction - giving good signs for when Britain begins the long-awaited scale back from lockdown. Temperatures could soar to a balmy 14C in Surrey and Reading on Thursday, March 18, according to WXCHARTS.
Other parts of the south-east of England, including London and Kent could also bask in 13C on the same day. Further north, there could also be double-figure highs as North Yorkshire is hit with 11C.
Brian Gaze at the Weather Outlook said the UK could bake in temperatures of 20C as spring progresses during the second half of the month, although it is still too early to confirm.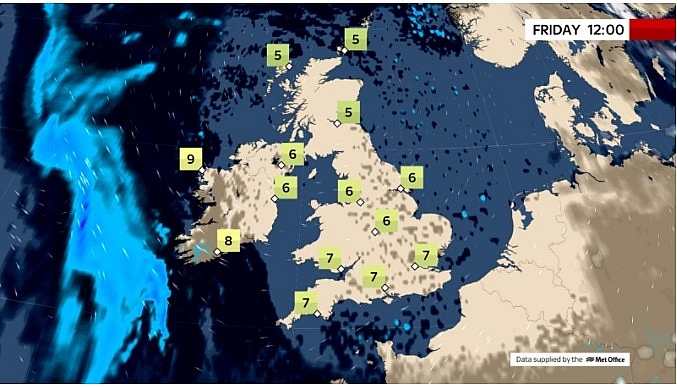 Photo: Sky News
He told Express.co.uk: "At the present time I'm expecting an increasing chance of milder periods developing during the second half of March. The strengthening sun and longer days mean there is the potential for it to feel quite warm, especially in the south."
"The warmer conditions are most likely to come from the south or southwest. I wouldn't be surprised to see 20C (68F) reached during this period."
Weather Outlook's Spring 2021 Outlook added "warmer than average" temperatures could hit in the second part of March. The outlook said: "This year seasonal computer models and recent climatology are favouring a warmer than average season. The signal for this is relatively strong in the context of the above. The signal for precipitation amounts is weaker, as is usually the case."
The Met Office added southern regions should see milder weather during late March.
The long-range forecast between Tuesday 16 and Tuesday 30 said: "High pressure is expected to slowly sink southwards during Sunday with settled conditions confined to the far southeast of the UK, as cloud and spells of rain gradually push in from the northwest."
"A trend towards more unsettled conditions widely across the UK is likely through the beginning of next week, with spells of rain and showers spreading in from the west but also with some drier and brighter interludes at times."
"Through this period there is potential for windy conditions with the strongest winds most likely in the west and northwest of the UK. Temperatures are expected to trend from rather cold at first to closer to average, perhaps mild at times in the south."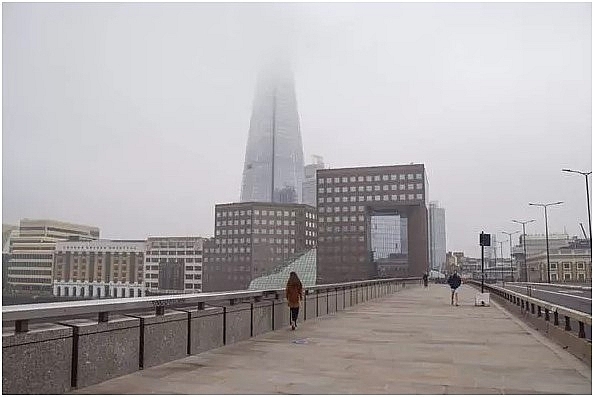 Some areas have also seen morning fog (Image: Getty )
"During the middle of March unsettled conditions look likely to continue across the UK, with spells of rain and showers but also some drier and brighter interludes at times especially in the south."
"Temperatures are most likely to remain near to or slightly above average, with any colder intervals from the north short lived."
The BBC also forecast conditions to be unsettled as March progresses, typical of British spring.
The long-range prediction between Monday, March 15 and Sunday, March 28, said: "The second half of March is shaping up to be locked into a fairly consistent large scale weather pattern for northern Europe (including the UK)."
"We are expecting high pressure to be a dominant feature in the Central Atlantic and occasionally extend into southern Europe and the Mediterranean Sea. Meanwhile, low pressure will persist near Greenland and Iceland and also near Scandinavia and West Russia."
"This will send weather fronts through northern Europe frequently, keeping things unsettled and bringing some changeable temperatures, which is pretty typical for a British spring."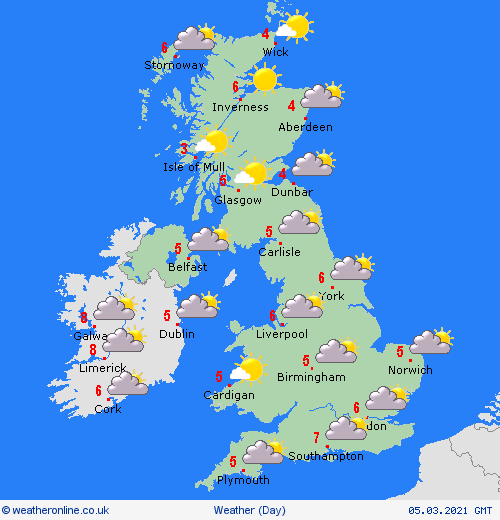 Photo: Weather Online
On March 5
According to Weather Online, a large area of high pressure is over the UK and Ireland on Friday. This is going to be bringing a cold day. There will be some sunshine, the best of it to the west. Always more cloud affecting eastern areas of Scotland and England. Some cloud too in western Ireland but the east should be brighter with sunny spells. A few spots of drizzle may affect the far northwest of Scotland. Highs at 5 to 7C.
A cold and frosty start. Patchy cloud and sunny intervals for most, with a chance of an afternoon shower across central parts. Best of sunshine across Scotland and west Wales, Met Office reported.
Outlook for Saturday to Monday
Fine and settled to start the weekend with sharp frost overnight. Cloudier conditions and outbreaks of rain developing over Scotland and Northern Ireland before spreading erratically southeastwards.
Europe's weather forecast
Rain, heavy at times in Portugal. Showers in northern Spain. Fair in eastern, central and southern parts of Spain. Some showers in the Balearics and Sardinia. Italy should be fair with good spells of sunshine here. Turkey will be fine with more sunshine here.
An area of rain through central and southern France, this being rather showery. Drier in northern France and feeling cold. Staying cold across the Netherlands and northern Germany as well as northern Poland. Rain in central and southern Poland. Hungary and Austria should be dry with sunny spells. Rain in Switzerland.
Cold in Denmark with dry weather and sunny spells. Scattered snow showers for the Baltic States and Finland. Staying cold across Sweden too. Frequent snow showers in northern and western Norway, drier and brighter to the south.
Photo: Stirimeteo
On March 5
According to Weather Online, Spain on Friday. Eastern Spain should be mostly dry although there will be some showers in the north. The Balearics will be dry with plenty of sunshine, although showers affect Corsica and Sardinia. Rain in northern Italy but fare across southern Italy. Greece and Turkey will be dry with lots of sunshine.
Breezy across France, dry in the north with some sunny spells. Cloudy skies for the south with some showery outbreaks of rain here. The low countries and Germany should be dry and generally bright although some rain affects southern parts of Germany. A few showers for northern Poland whilst Austria, Hungary and Switzerland will all be cloudy with rain at times.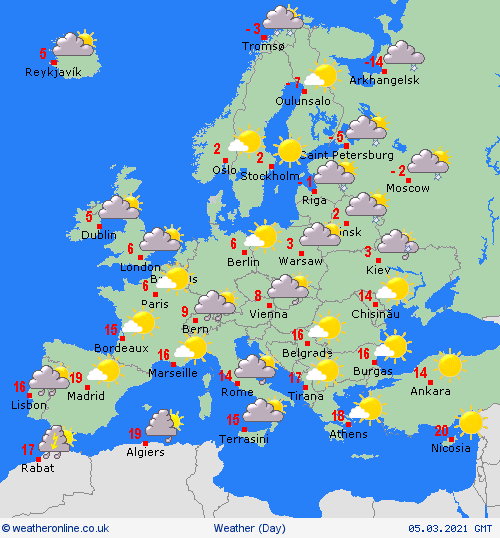 Photo: Weather Online
A bright day in Denmark and dry too. Some cloud and snow affecting the Baltic states. Dry and cold across Finland and northern Sweden, but mostly dry in the south of Sweden with some sunny spells. Drive for southern Norway with broken cloud, but some heavy wintry showers will affect western and northern coasts.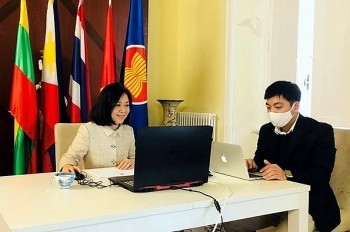 Overseas Vietnamese
The Vietnamese Embassy in Italy hosted an online gathering on January 15 to celebrate Vietnam's 2022 lunar New Year holiday (Tet).