UK's weather forecast
Temperature in UK may go through 21C sunshine before torrential rain and gales for 3 days. The Met Office has described the swing between conditions as being "between weather systems", The Sun reported.
Atlantic winds are set to disrupt large swathes of northern England and southern Scotland. Regions such as the north east, north west and Northern Ireland will bear the brunt of the Atlantic blast bringing poor weather sweeping across the nation.
Areas of Scotland, including Central, Tayside and Fife, the Lothian Borders and Strathclyde - as well as the UK's south west - will also be badly affected by strong winds.
On Tuesday, low pressure will move in from the Atlantic, bringing cloud and rain. On Wednesday, further spells of rain will hit mostly central areas but remain brighter in the far north and south. By Thursday, rain will clear eastwards leaving a mixture of sunny spells and scattered showers.
The Met Office has described the conditions as "unusually windy for early July" and recorded gusts up to 67 mph recorded on Sunday.
On July 6
Fresh west to northwesterly winds prevail into Monday bringing showery rain, this most frequent over the northern half of Britain and Ireland. Some frequent bursts of rain in places with local thunder, whilst nearby escapes more often dry. Generally drier across the southern half of Britain, especially to the east, with good spells of sunshine. Cool in the north and west, only 14 to 16C here. Temperatures rise to highs of 21C in the southeast.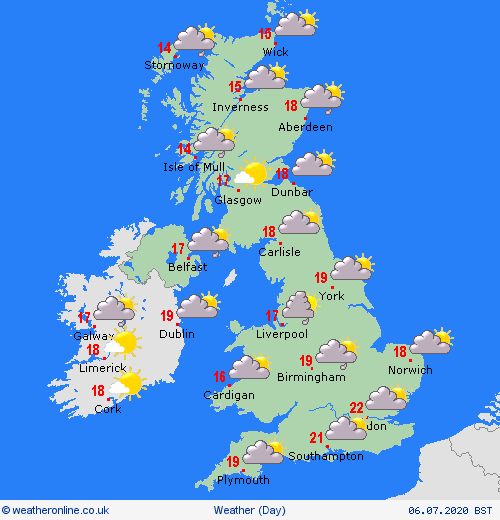 Photo: weatheronline.co.uk
Cloud builds over Ireland and Northern Ireland through Monday night with rain arriving over northern and central parts of the island later. A dry night for much of Britain, away from western Scotland, with the clearest skies to the east. Showery outbreaks of rain may affect western coastal regions of Scotland overnight. Overnight lows at 8 to 11C, mildest to the west.
On July 7
An area of low pressure, centred to the northwest of Ireland, brings a wet day to much of Ireland and Northern Ireland. The far southeast may stay dry until later in the day. Rain also spreads over northern England, southern Scotland and across north Wales too. This will be locally heavy. A few showers affect northern parts of Scotland but there will be spells of sunshine here too. Mostly dry and sunny across southern counties of England for much of the day but cloud builds into the evening. Highs at 13 to 22C.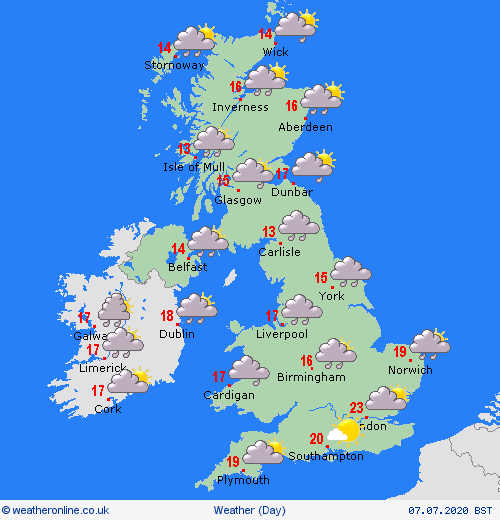 Photo: weatheronline.co.uk
On July 8
An area of low pressure clears to the east from the southern UK through Wednesday morning but trails fronts through southern parts of England, Wales and Ireland that bring patchy outbreaks of rain here for much of the day. A brighter day for much of Scotland, Northern Ireland, northern England and northern Ireland but with a scattering of showers affecting these areas at times. Highs at 15 to 22C.
Photo: weatheronline.co.uk
Europe's weather forecast
Through central Europe temperatures are forecast to fall slightly to the low and mid-20s with more rain and wind expected, BBC's weather reported.
Ms Willetts said: "It feels as if autumn has arrived in the north-west of Europe. "This weekend they have seen heavy rain, strong winds and the area of low pressure responsible will still be with us on Monday across Scandinavia. "A real tight squeeze between those isobars so strong winds through the Baltic".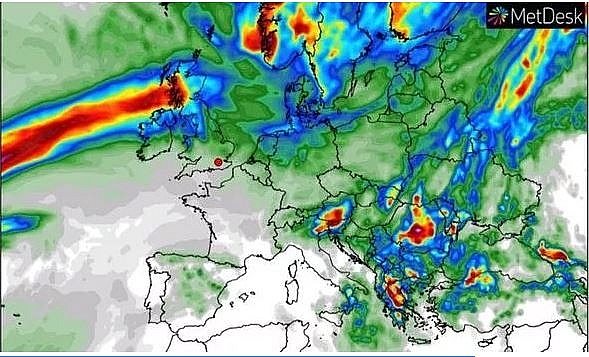 BBC Weather: Thunderstorm and flood warnings across Europe as heavy rain forecasted (Image: WXCHARTS)
The BBC Weather forecaster said chillier air behind this weather front will cause temperatures to drop.
She continued: "There is little chance we will be seeing higher temperatures after how it has been in Scandinavia. "The rain will be adding to the risk of flooding because of the snowmelt continuing." This wall of rain from Scandinavia is forecast to spread southeastwards throughout Europe in the new week.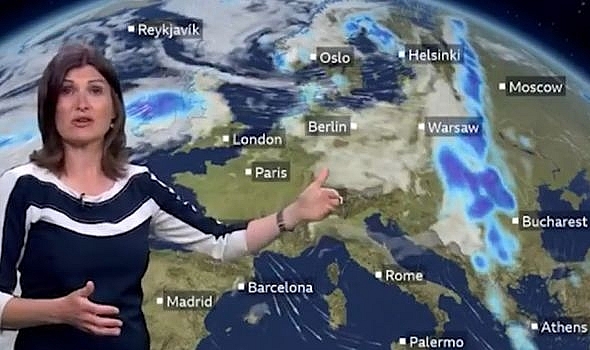 BBC Weather: BBC Weather forecaster Helen Willetts said the weather will feel more like autumn for some areas in Europe. (Image: BBC)
Ms Willetts continued: "That weather front will push into the hot air which we have further east.
"This will trigger some intense storms so there will be warnings out for the likes of Greece and the Balkans. "This weather will continue as we go further east through the week."South eastern parts of Europe will still see hot temperatures at the beginning of the week, most notably Turkey.
On July 7
Another dry, sunny and hot day for much of Spain and Portugal - again, with a slight chance of showers for the far north of Spain. Bright conditions extend across the Mediterannean to Italy where isolated thundery showers may develop over southern areas later. Thundery showers also a risk for western Greece later while eastern Greece and Turkey see the continuation of hot, dry and sunny conditions.
Photo: weatheronline.co.uk
Early outbreaks of rain for southeastern France and the Low Countries are pushed east by building high pressure over the Bay of Biscay. This brings increasingly dry and fine conditions to western Europe through Monday. Showery outbreaks of rain over northwest and southern Germany also fade. Heavy showers could develop over the Swiss and Austrian Alps later after a fine and dry start to the day while a weak front brings cloudy conditions and light rain to parts of Poland and the Czech Republic.
Wet and windy for Denmark and southern parts of Norway and Sweden into Monday with frequent showery outbreaks of rain. A band of heavy rain spreads north over southern Finland followed by frequent showers while a band of light rain clears east from the Baltic States leaving a dry and fine end to the day here.
On July 8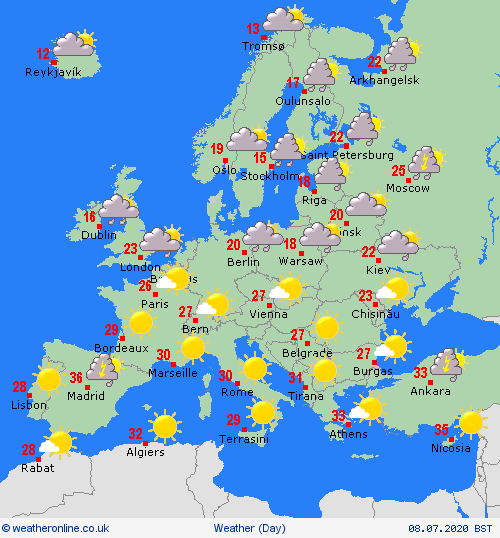 Photo: weatheronline.co.uk
Ruby Lee