UK and Europe weather forecast latest, August 10: Thunderstorms to battle UK after heatwave
Met Office forecasts that the UK will be battled by thunderstorms following scorching as high temperatures also cover across Europe.
UK's weather forecast
The Met Office has warned next week the UK will be lashed by torrential rain, hail and thunderstorms. The Met Office forecaster said: "We'll hold on to heatwave conditions across the southeast over the next few days."
"A mixture of sunny spells but increasingly widespread heavy, thundery showers.
"But, for tonight, a low cloud will move in from the east, across many central and eastern parts of the UK."
"Elsewhere, some clear periods but notice one or two showers down towards the south and the east."
"And a muggy night here, fresher towards the northwest."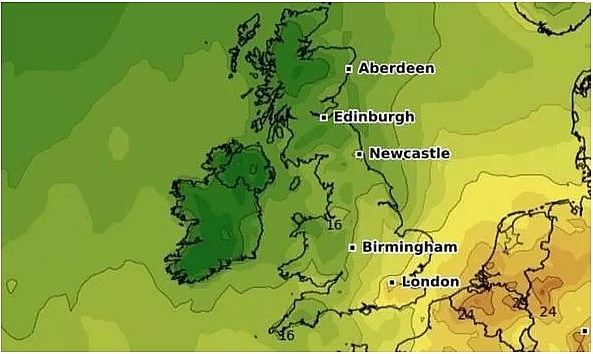 Severe storm warning: Thunderstorms to batter UK following three-day scorcher (Image: WXCHARTS)
Sunday, however, will remain hot across many regions but low clouds will begin to move in from the east.
The forecaster said: "As we go into Sunday, low cloud will burn back toward North Sea coasts, leaving lots of fine weather, plenty of sunshine, but a scattering of locally, thundery showers across parts of England and Wales, reaching southern Scotland by the evening.
"A very warm, if not hot, day in the southeast, at 35 or 36C. Near 20C in Glasgow and Belfast.
"As we head through Sunday evening, showers will start to break out more widely - some of them quite heavy and thundery in nature."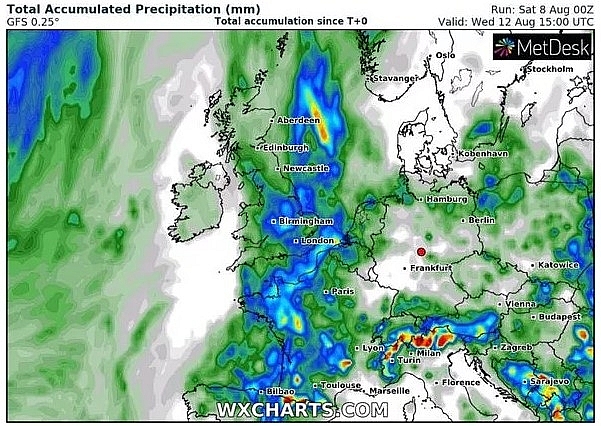 The Met Office has warned next week the UK will be lashed by torrential rain, hail and thunderstorms (Image: WXCHARTS)
The official weather warning will take effect midnight on Monday, August 10, and will last until 11.59pm on Wednesday, August 12.
The exact location and timing of the thunderstorms could not be specified.
But the weather warning remains in place for all three days, as members of the public are advised some areas could be flooded rapidly.
Some buildings could also endure damages from floodwater, lightning strikes, hail or strong winds.
Additionally, public transport could experience delays or cancellations due to the weather conditions.
The storms may also lead to road closures or difficult driving conditions.
Sunday will remain hot across many regions but low clouds will begin to move in from the east (Image: WXCHARTS)
The weather warning reads: "Areas of thunderstorms are likely to develop over parts of the UK or nearby continent during the middle of next week, and will generally track north or north-westwards, potentially affecting all parts of the UK at some points during this period."
"Whilst the most intense thunderstorms, in some instances associated with large hail, will most probably be those triggered by the high temperatures of the day over England and Wales, other areas of storms producing heavy rainfall and frequent lightning could reach further north across Scotland and Northern Ireland."
"These could occur at any time of the day."
"Where the storms occur, rainfall totals of 30 to 40mm could fall in an hour, with some locations potentially receiving 60 to 80mm in three hours, although these will be fairly isolated."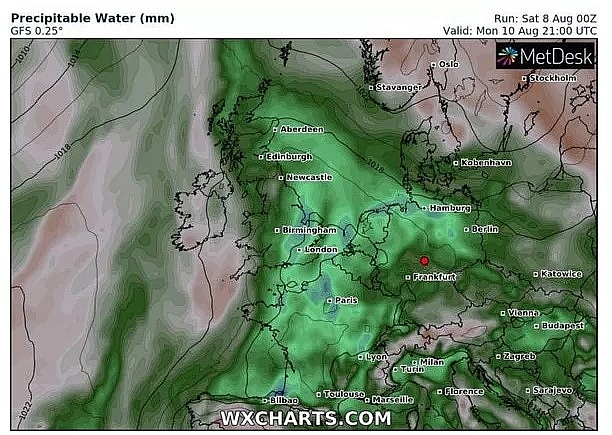 Public transport could experience delays or cancellations due to the weather conditions (Image: WXCHARTS)
The Met Office's Deputy Chief Meteorologist Dan Harris added that the weather will be turning colder next week following a heatwave over the weekend.
He said: "Whilst the extreme heat is likely to gradually decline through next week, we are also expecting the risk of thunderstorms to increase, with the potential for downpours of up to 80mm in just a few hours."
"On any particular day, however, a lot of places will miss these altogether."
"We've issued a broad thunderstorm warning for Monday and Tuesday for all parts of the UK, since although the ingredients are there, it's just too early to pinpoint the details of exactly where and when thunderstorms will occur."
On August 10
With low pressure now over England it will be a largely cloudy day for many across the UK and Ireland. Sunshine does look to creep in over western Ireland, southwest England and southern Wales by the end of the day, although the west in general will see scattered showers about.
Currently, there will be mostly dry conditions across much of southern England but outbreaks of heavy rain, possibly thundery, look to spread northwards across central and northern England and Scotland. Highs will range from 19C in the north and 31C in the far southeast.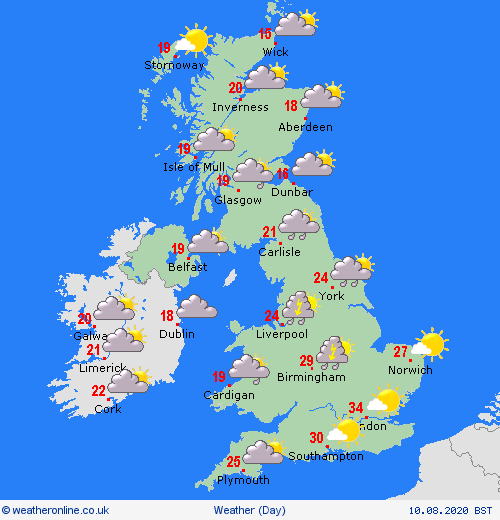 Photo: weatheronline.co.uk.
Europe's weather forecast
BBC WEATHER meteorologist Alina Jenkins has warned two red warnings have been issued across Europe.
Ms Jenkins stated there are red warnings across France and Belgium for the high temperature forecast for Sunday. The BBC Weather Europe meteorologist added that the wildfire risk across Portugal remained high.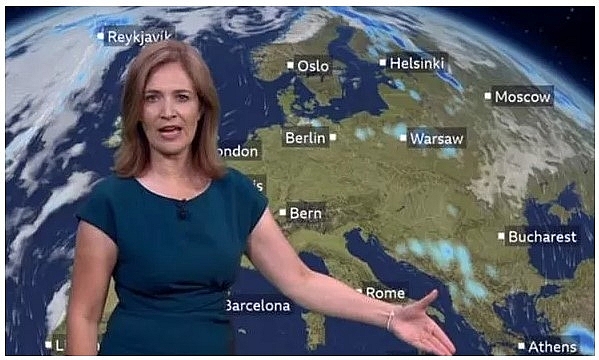 Alina Jenkins warned that the wildfire risk across Portugal remained high (Image: BBC)
Ms Jenkins said: "The main focus is on the heat across the continent. This will begin to trigger thunderstorms over the coming days. Thunderstorms are still in place across the Balkans as we head through Sunday."
"There will be a couple of heavy showers through parts of Greece and eastern areas of Turkey as well. There will be some developing through France on Sunday."
She added: "Meanwhile the wildfire risk across Portugal remains high."
"We have got a red warning for the high temperatures across France and Belgium. Some intense heat by day, very muggy by night."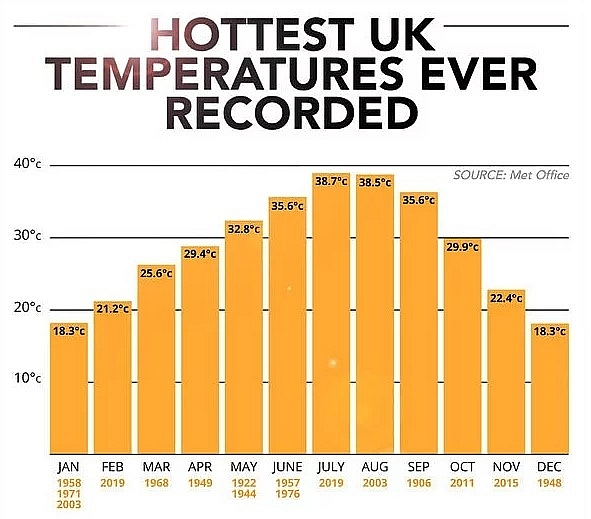 The highest recorded UK temperatures ever (Image: EXPRESS)
Earlier this week the BBC Weather forecaster explained how low pressure combined with the hot weather could spark intense thunderstorms.
Ms Jenkins said: "Really as we start to look into next week, we are still holding on to some fairly high temperatures, it is going to be feeling warm for many of us, and also we have an area of low pressure in the Bay of Biscay."
"This combination of low pressure and above-average temperatures is a good recipe for thunderstorms."
"Such as their nature, they are going to be hit and miss."
"But, there is a signal that some of these thunderstorms could bring some significant amounts of rain in just a short amount of time."
"That is something to keep an eye on through the early part of next week."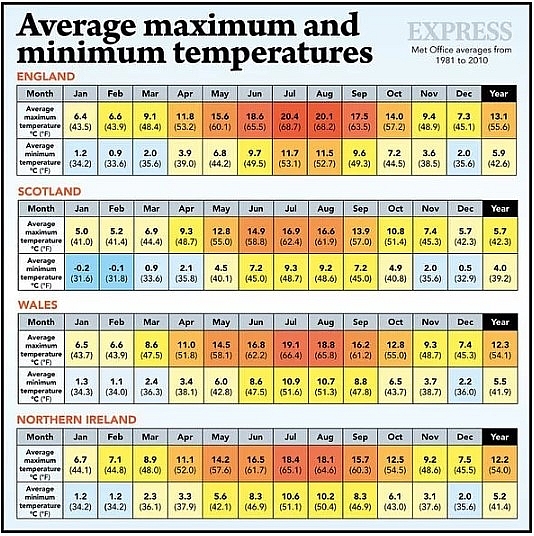 The average temperature across Britain throughout the year (Image: EXPRESS)
Deputy Chief Meteorologist, Chris Bulmer, said of the oncoming thunderstorms: "The hot airmass will remain over much of England and Wales until early next week, so we'll continue to see maximum temperatures in the low to mid-30s Celsius as the heatwaves continues.
"It looks like the heatwave could break on Tuesday and Wednesday as the risk of thunderstorms increases for many areas, although at the moment it's a bit too early to say for certain, so our advice is to keep up to date with Met Office forecasts day-by-day."
On August 10
Cloud and rain in the far north of Spain first thing will soon clear to allow for a largely dry and fine day ahead although with some thundery showers developing in the east and northeast later on. Dry and fine across Portugal.
There is the risk of some scattered thundery showers across the Balearic Islands as well as southern Italy and Siciliy. Corsica and Sardinia should remain dry and fine throughout. Plenty of dry weather over Greece but with a few passing showers. Some showery rain across eastern Turkey but drier further west.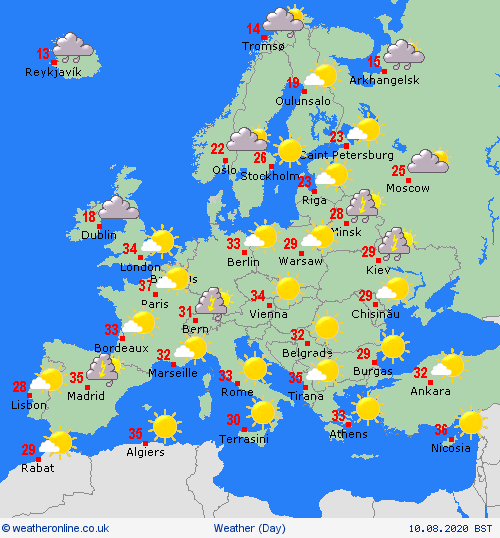 Photo: weatheronline.co.uk.
A rather cloudy day on Monday for France and the Low Countries as a trough sits over France. Germany too will see some showery rain, mainly to confined to the north allowing for central and southern regions to be largely dry. Outbreaks of rain across the Alps and some scattered showers through Italy but also sunny spells here. Eastern Europe too will see outbreaks of rain about but also sunny spells.
High pressure becomes more established ove Scandinavia allowing for largely dry, fine and sunny conditions across many places. However, the far southern tip of Sweden could see some heavy showers develop. Eastern Finland too will see mostly dry weather although cloudier skies and some rain expected in the north and far east. Mostly dry but breezy over Denmark. Largely dry and fine conditions through the Baltic States.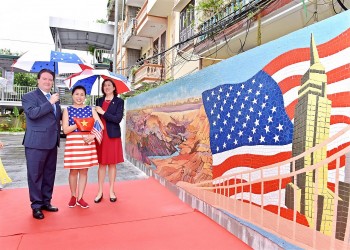 Multimedia
A ceramic mosaic mural named "Vietnam - US friendship" depicting the natural and cultural heritages of the two countries, was just revealed in Hanoi