UK and Europe weather forecast, today July 9: Blistering heatwave sweeps across the UK
UK and Europe weather forecast, today July 9: After a tropical plume blasts, the UK will bear massive heatwave by the end of the week as temperatures soar. Meanwhile, Europe may experience fine in the central and southern areas, but showers and rain in the north.
UK's weather forecast today July 9
High pressure will sweep into the UK this week, bringing temperatures of 30C in London by Monday, Net Weather has said. The latest forecast on Weather Outlook stated: "Through Friday and the weekend high pressure is expected to build northeastwards across the UK, express.co.uk reported.
"It brings increasingly settled conditions, although some showers are likely early on. After a cool start it becomes warmer."
Meanwhile, Paul Michaelwaite predicted July to be hit with a scorching weekend after struggling to start with much heat.
He said: "Summer is really struggling to get into gear at the moment, with more unsettled and cooler than average weather on the way this week.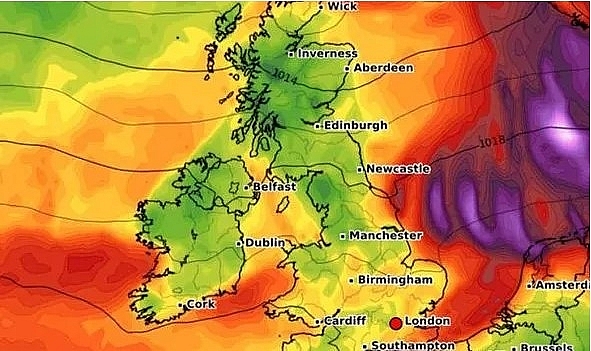 UK hot weather forecast: High pressure will swamp the UK (Image: WX CHARTS)
"But, it at least does look like high pressure will build across the country for a time this weekend.
"As we head towards the end of the week, high pressure will be starting to ridge towards the British Isles from the southwest, so the showers on Friday will become increasingly limited to the north and east.
"The high continues to build as we move into the weekend though, setting itself up over the UK by Sunday to bring a settled and warm end for all - with highs by this stage heading up towards the mid-twenties in places."
He warned this week will be hit with rain and winds due to a fresh band of low pressure.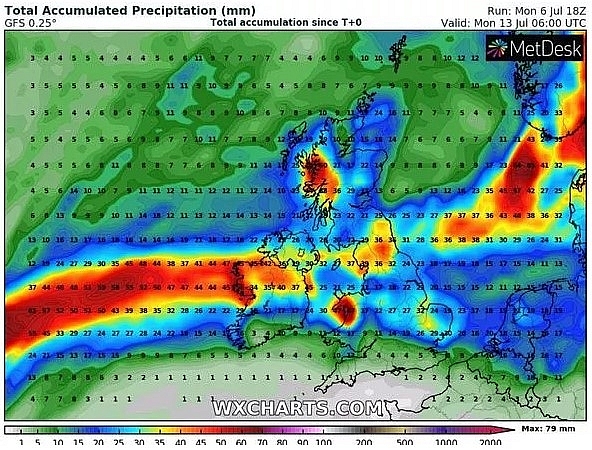 UK hot weather forecast: Temperatures will hit 30C next week (Image: WX CHARTS)
On Sunday July 19, red-hot weather maps show temperatures hitting highs of 30C in London, remaining no lower than 5C below that across the Midlands, southeast and southwest, BBC weather's reported.
The North of England and parts of Wales will bask in 22C heat, while the mercury could hit highs of 21C in Scotland.
These scorching temperatures will continue over the following 24 hours, with highs of 31C in the capital the day after and only a few degrees lower in several surrounding areas.
Millions of people across the North of England and Wales will continue to enjoy temperatures of 22C, with the mercury falling slightly lower in Scotland and Northern Ireland, with highs of 19C, the charts claim.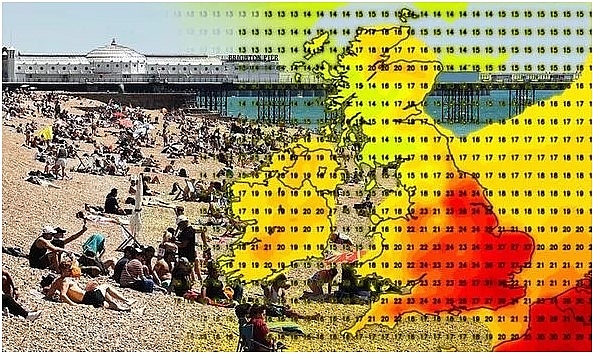 UK weather forecast: Britain is set to be hit by a scorching heatwave later this month (Image: GETTY / NETWEATHER)
Temperatures will begin to fall slightly the following week, but parts of the southeast will still enjoy temperatures of 25C, with several surrounding areas still above 20C.
The charts show conditions are likely to remain hot from Sunday 12 July, all the way through to Wednesday July 22.
The Met Office's long range forecast for July 11-20 says much of the UK looks "dry with bright or sunny spells".
Temperatures will be "rather cool to average" with spells of rain a threat to northern parts of the country.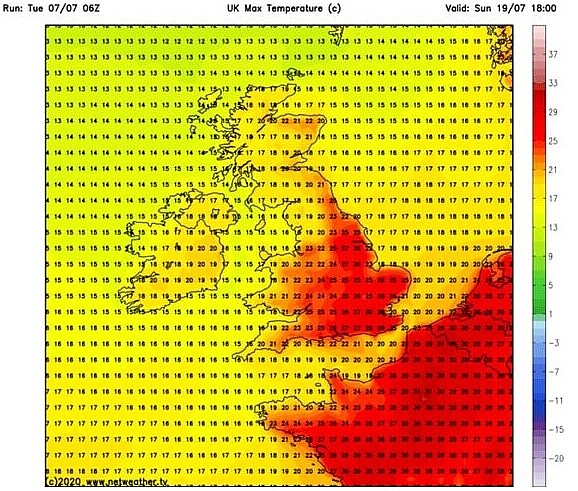 UK weather forecast: Large parts of the country will bask in scorching temperatures (Image: NETWEATHER)
But the Met Office adds: "Further south however, there should be more in the way of dry weather, though even here, there is still the possibility of some showers, or longer spells of rain.
"Temperatures are likely to be either around or on the warmer side of average, with the warmest conditions likely in the southeast."
For the period July 21 until August 4, the Met Office says "although confidence remains low throughout this period, the preferred scenario favours a more settled regime".
Commenting on the period between July 13-19, Netweather said: "A transition to more changeable weather is expected this week, with the jet stream gradually moving further south and the ridges from the Azores High moving further away from the British Isles.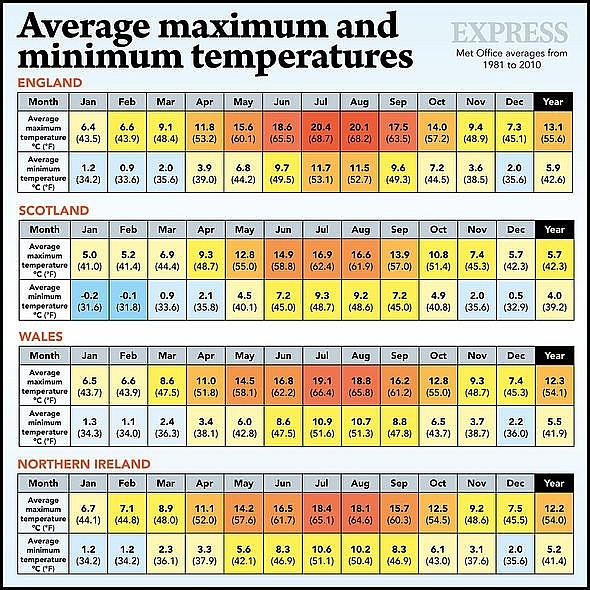 Average maximum and minimum temperatures (Image: EXPRESS)
"The hottest spell of the forecast period is expected to be at the beginning of this week, when temperatures have potential to exceed 30C especially in the southeast. "There is potential for a thundery breakdown, but confidence in this is low."
Looking ahead to the period, the BBC Weather's long-range forecast says: "Interludes of high pressure are expected in between the low pressures, bringing some drier, calmer days too.
"High pressure will likely hold greater influence over the southern half of the UK, and this should largely keep fronts at bay, allowing for more dry, calm days across England and Wales.
"The south is also where there is the greatest chance of seeing temperatures trend slightly above the seasonal normal."
Outlook for Thursday to Saturday
Cloudy with rain in the south Thursday, sunshine and showers in the north. Showers in the north and east Friday, fine and dry elsewhere. Mostly dry with sunny periods Saturday, metoffice.gov.uk reported.
Europe's weather forecast today July 9
Showers in eastern and northern Spain, some heavy. Drier for Portugal and the south of Spain. The Balearics will be fine with sunshine here. Staying fine and sunny for Corsica and Sardinia as well as Italy. Greece and Turkey with have some sunny spells, although heavy showers in northern Turkey, weatheronline.co.uk reported.
Fine for France with plenty of sunshine. A few showers affecting the Low Countries with some showery rian in northern Germany too. The south of Germany should be fair with plenty of sunshine. More rain and cloud in northern Poland, but fair to the south. Austria and Hungary as well as Switzerland will be dry with sunshine here.
Denmark should be fair with lots of sunshine. More sunshine in the far south of Sweden and Norway. Showers in the Baltic States and Finland, these heavy, thundery and prolonged in some places. More sunshine in northern Sweden. Showers across western parts of Norway.
On July 9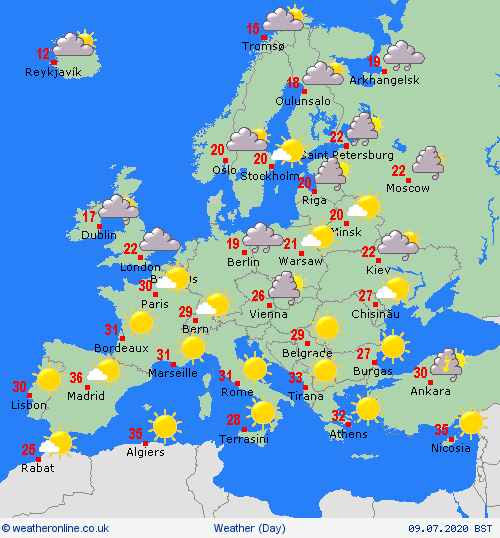 Photo: weatheronline.co.uk
On July 10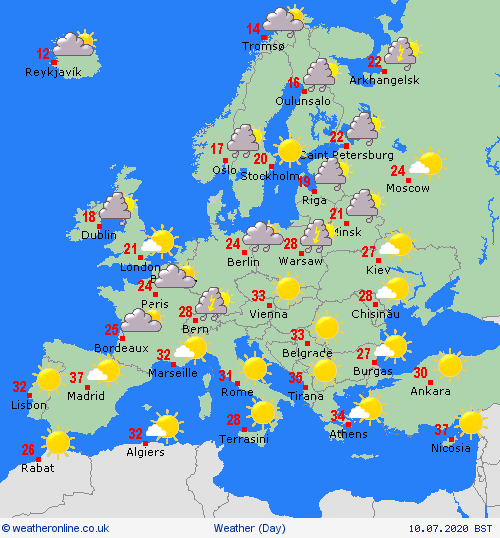 Photo: weatheronline.co.uk
On July 11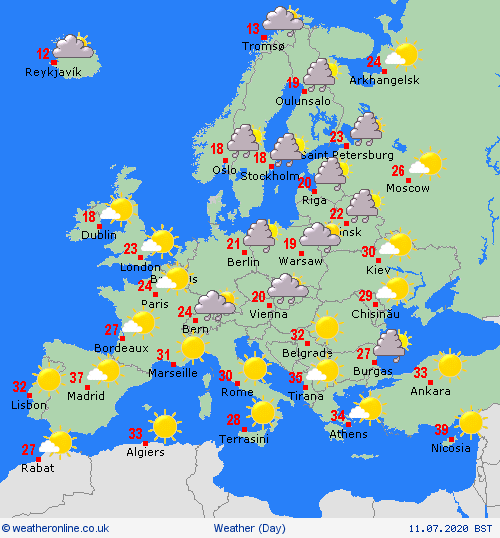 Photo: weatheronline.co.uk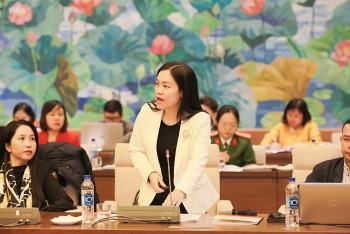 Friendship
Doan Thu Huyen, Vietnam Country Director for Campaign for Tobacco-Free Kids, made the statement at the "Child Downing Prevention" seminar.