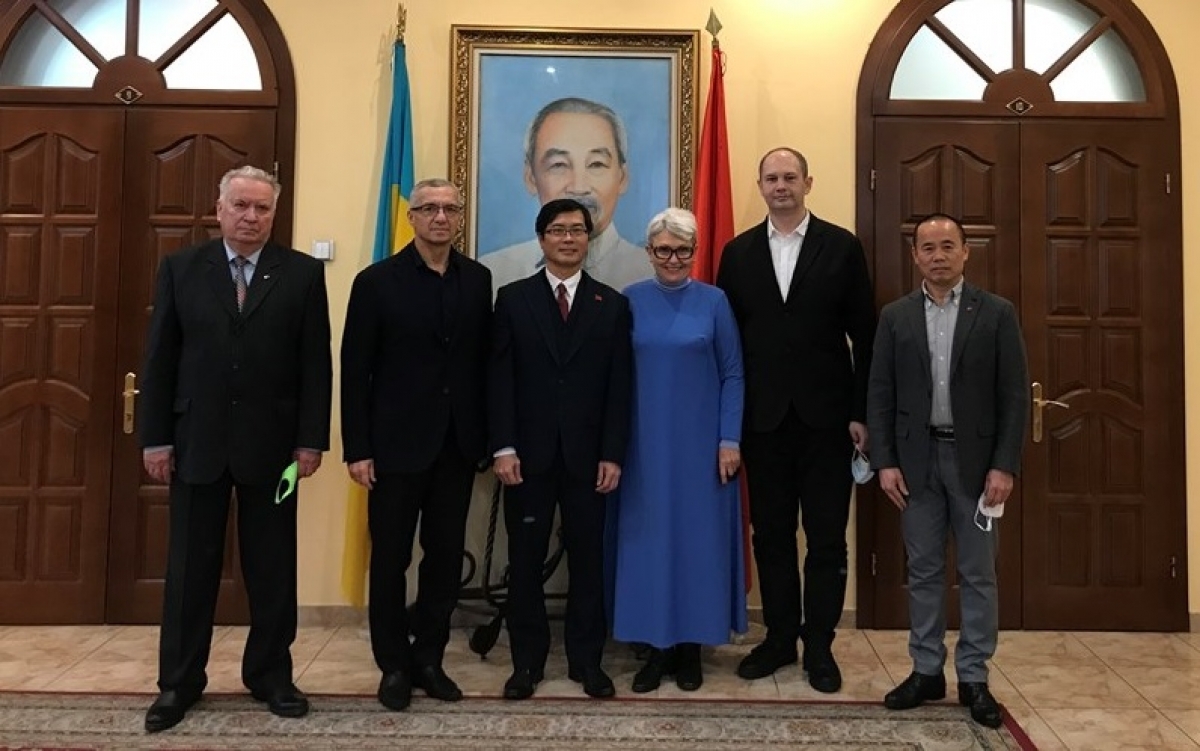 At the meeting. Source: Vietnamese Embassy
Speaking at a meeting with leaders of the association on December 21, Vietnamese Ambassador to Ukraine Nguyen Hong Thach spoke highly of the Friendship Association which, he said, gathered Ukrainians who are most dedicated to fostering the relationship between the two nations.
He asked the association to help introduce the image of Vietnamese landscapes and people, develop Vietnam-Ukraine economic and trade ties, and create favourable conditions for Vietnamese expatriates in Ukraine, particularly the business community, in overcoming COVID-19-related difficulties.
The diplomat suggested the leaders look for activities to diverse the association's operation in propelling the traditional friendship and win-win cooperation in all aspects between Vietnam and Ukraine.
Thach voiced his hope the UVFA to enhance its connection role and support the embassy in consolidating and promoting the bilateral solidarity, friendship, and cooperation between the two countries and their people.
UVFA President Oleksandr Vitaliyovich Shlapak thanked the ambassador for meeting leaders of the association right after his tenure began.
Appreciating the embassy's engagement in the UVFA's activities, he vowed to further collaborate with the embassy and the ambassador in organising practical events to consolidate the Vietnam – Ukraine comprehensive partnership and cooperation.
UVFA President also proposed the embassy, in coordination with relevant agencies of Vietnam, consider conferring a friendship order upon the Kyiv National University of Construction and Architecture on the occasion of its 90th founding anniversary in honour of the establishment's significant contributions to the bilateral relations since the 1960s.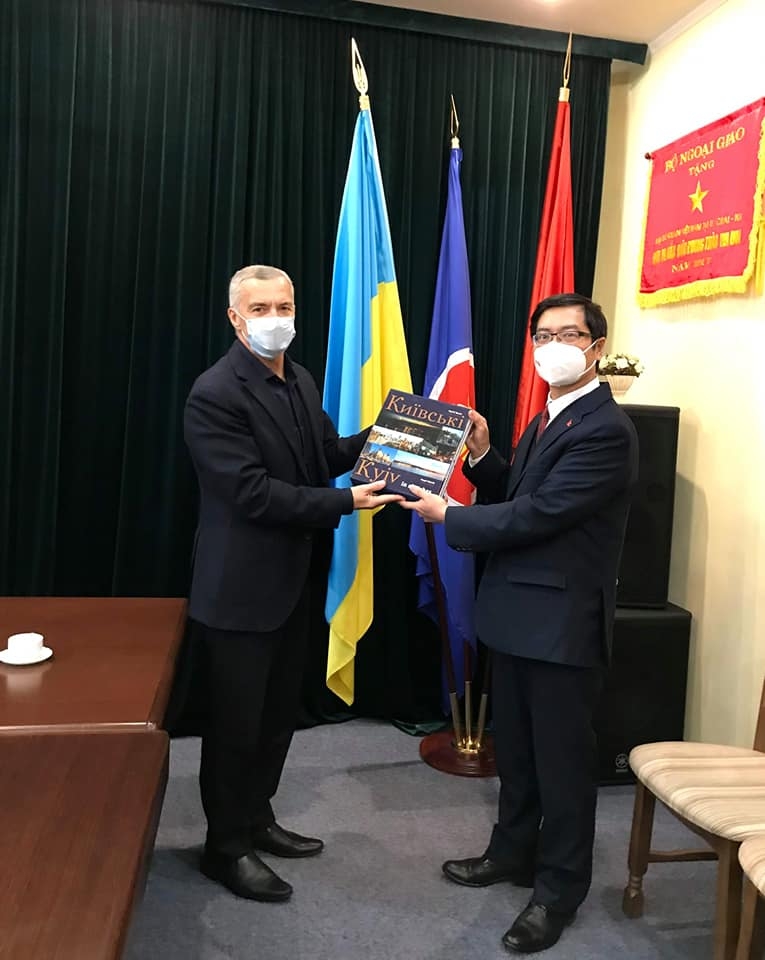 Vietnamese Ambassador to Ukraine Nguyen Hong Thach and UVFA President Oleksandr Vitaliyovich Shlapak. Source: Vietnamese Embassy
Earlier, Vietnamese Ambassador Thach had a meeting with representatives of Vietnamese enterprises in Ukraine on December 22.
The companies included Mareven Food, Svetprint, Fito Pharma, and other small-and medium-sized enterprises operating in the fields of trade, restaurant, and IT.
Congratulating the firms on their achievements in the host nation, Thach said they are the "locomotive" in pushing the Vietnam – Ukraine relationship in economy and trade thanks to their deep understanding of both markets and desire to connect them.
Suggesting the businesses study new ways to expand the economic and trade ties, the diplomat pledged the embassy's continued assistance to them in tackling their obstacles during the development process.
Representatives of the participating companies took the occasion to extensively discuss fields where the two countries might step up cooperation in the future, particularly tourism and hi-tech.
They also expressed their wish to fuel the growth of these areas right after the pandemic are put under control./.
Hannah Nguyen