Unique 'self-aware' shop of Muong ethnic people
The so-called self-aware shops, where there are no sellers, buyers choose the product themselves then place money in the basket, is a special cultural pattern of Muong ethnic people.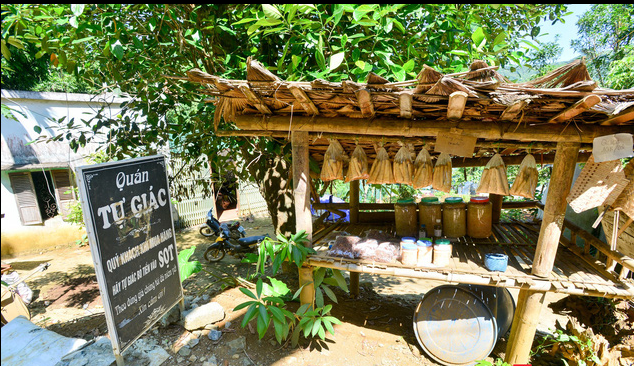 (Photo: To Quoc)
Those self-aware shops first appeared in Da Bia village, Tien Phong Commune, Da Bac district, Hoa Binh province some 20 years ago, serving as a trading venue among local households.
Residents would bring their home-grown produces (fruits, vegetables) or poultry (chickens, ducks) to the shops and take their money back at the end of the day. The special things about the self-aware shop were, customers would set prices for each product themselves and put money in the small money basket.
The model, however, was brought back into operation three years ago after a long halting period to meet local residents' daily demand. It has gained large attention from visitors since Da Bia village became popular among tourists.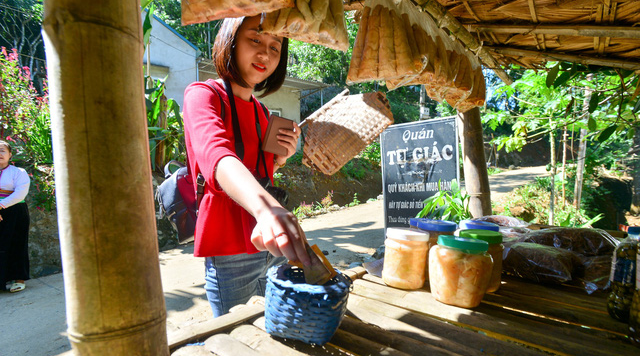 One customer putting the money into a small basket (Photo: To Quoc)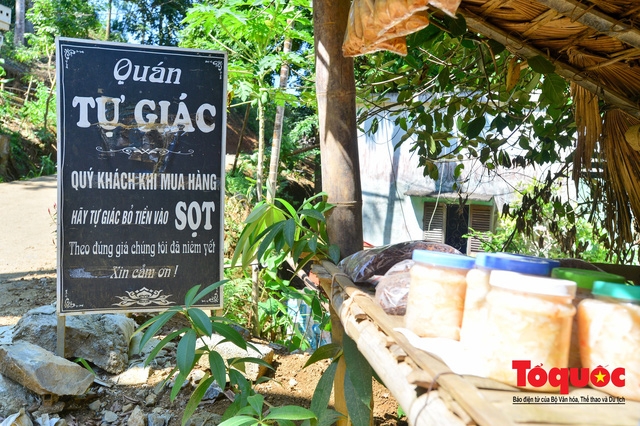 (Photo: To Quoc)
The bamboo-structure frame and thatched roof shops appear as easy-to-spot roadside huts with products on sale including bamboo shoots, pickled bamboo, handmade bamboo fans, potatoes, and guavas.
Each product now has a hand-written price tag and is reasonably-priced, ranging from only VND 10,000 (US $ 0.43) to VND 50,000 (US $ 2.17). The most expensive item is a jar of pickled bamboo shoots at VND100,000 (US $43).
As reported by Nhan Dan, there are four self-aware shops in Da Bia village, which mainly sell home-grown, fresh produce, or homemade items such as baskets and paper fans.
(Photo: To Quoc)
At the end of the day, buyers come to collect their money. As the products belong to different buyers, they must check which of their products have sold and collect the exact amount of money. The trading brings a little joy for both buyers and sellers who are neighbors in the village. The self-aware shops also represent mutual trust and respect among locals.
"The self-aware shop is one of the unique cultural features of Muong ethnic people, which is restored after a long lost time", Dinh Thi Trang, a local at Da Bia village told Nhan Dan.
Trang's mother is among the people who rebuilt the self-aware shop model.
"I can feel that local people are very happy since the model is restored as, you know, it helps them consume the products and bring joys, awareness and mutual respects among villagers at the same time", she said, adding that the special self-service model is highly favored by Vietnamese and foreign visitors.
Most tourists are excited and surprised at the model, some even suggest that shop contributors to expand the product range by selling brocade products, traditional cakes and decorative items of Muong ethnic group.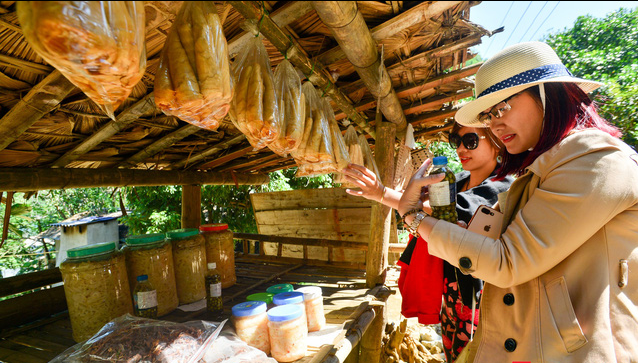 (Photo: To Quoc)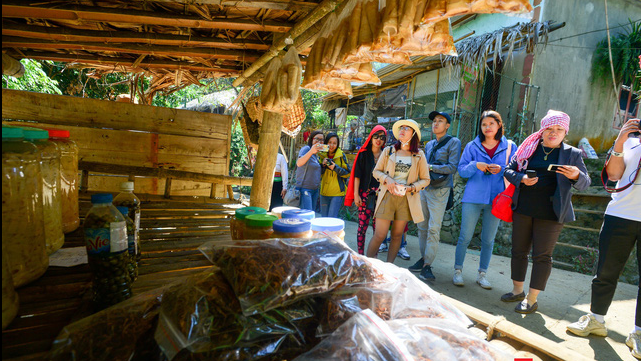 (Photo: To Quoc)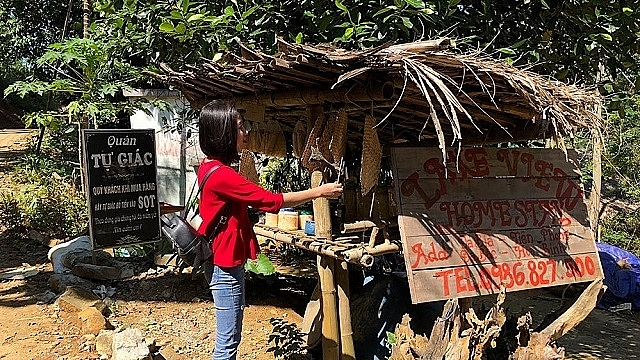 (Photo: Nhan Dan)
Agricultural farming and fishings are the main livelihoods of many Da Bia people. Local households in recent years have engaged in developing community-based tourism, contributing to promote the village among visitors.
Community-based tourism projects have turned Da Ba into a hotspot on Hoa Binh Province's tourist map. Visitors to Da Bia can admire the bucolic beauty of a mountainous village, explore the unique culture of the Muong ethnic group, and shop at stores without sellers.
Rights of ethnic minority people promoted

The National Assembly Standing Committee has introduced its national target program of socio economic development in ethnic minority and mountainous areas for the next decade. This ...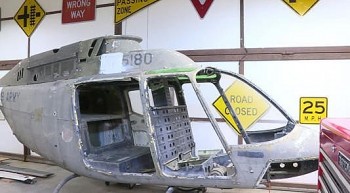 World
A piece of military history related to Vietnam is coming to life with a special project in a small Barton County townm in the US