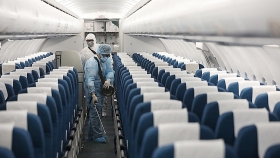 Disinfecting on Vietnamairline's flights for disease prevention in the beginning of February (Photoed: Ngoc Thanh/ VNE)
March 10, Ministry of Health announced one more patient in Vietnam tested positive for coronavirus, raising Vietnamese covid-19 total infection to 32 cases.
The patient is female, 24 years old, Vietnamese nationality and living in London, England.
on February 27 evening, she met and went out with the case 17 N.H.N to a party in London together in a group of friends.
She is being kept in quanrantine now in Cu Chi filed hospital and experienced some symptoms such as 38,2 C fever, dry cough and little shortness of breath.
So, Vietnam has recorded totally 32 cases of Covid-19 infection until now, 16 amongst completely recovered.
Tarah Nguyen
thoidai.com.vn