Japan voices concerns over China's establishment of districts on Paracel and Spratly islands
Japanese Foreign Minister Toshimitsu Motegi on April 21 voiced concerns over China's establishment of districts to administer the Paracel and Spratly islands in the South China Sea, which Vietnam calls East Sea.
Minister for Foreign Affairs of Japan Toshimitsu Motegi. Photo: AFP
According to Japan's Kyodo News, Motegi lodged a protest against China's sending of government ships into Japanese territorial waters near the Senkaku Islands.
Chinese ships have intruded in waters near the Japanese-controlled islets seven times this year, most recently last Friday when four coast guard vessels sailed through the area for about 90 minutes before leaving. China calls the islets Diaoyu and claims them as its own.
Motegi raised the issue during an evening phone call with his Chinese counterpart Wang Yi, as well as voiced concerns over China's establishment of districts to administer the Paracel and Spratly islands in the South China (East) Sea.
"We condemn all acts that raise tensions" in the area, Motegi told a press conference.
The Chinese Ministry of Civil Affairs on April 18 announced that the State Council of China has recently approved the establishment of the Xisha and Nansha districts under Sansha city, Hainan province. The Xisha administration will be based in Woody Island, of the Paracel while the Nansha administration will be placed in the Fiery Cross Reef of the Spratly.
After China announced the establishment of what it calls the "Xisha" and "Nansha" districts in Vietnam's Hoang Sa (Paracel) and Truong Sa (Spratly) Islands on April 18, the spokesperson of Vietnam's Foreign Ministry Le Thi Thu Hang said: "Vietnam has strongly affirmed many times that it has sufficient historical evidence and legal foundation to assert its sovereignty over the Hoang Sa and Truong Sa archipelagos."
Vietnam strongly protests the establishment of the so-called "Sansha city" and related acts as they seriously violated Vietnam's sovereignty, she said.
Absolute control
Maritime expert Prof. Jay Batongbacal said China's creation of new districts is an attempt to demonstrate that it has absolute control of the disputed waters.
"Absence of protests on the part of the other countries, especially those directly affected, will be seen and portrayed as acquiescence and acceptance or recognition of the exercise of such control as valid," he told Inquirer.net on April 20.
It will be a recognition of China's sovereignty in the area, and the validity of its claims despite their being obviously excessive, illegal and unsupported by law or facts, he said.
Retired Senior Associate Justice Antonio Carpio, who played a crucial role in securing the Philippines' historic victory against China at the Permanent Court of Arbitration, urged the Philippine government to object to China's creation of new districts.
Former Foreign Affairs Secretary Albert del Rosario said this move only goes to show that "China has been relentless in exploiting the COVID-19 pandemic as it continues to pursue its illegal and expansive claims in the South China Sea to the prejudice of Filipinos, ASEAN states and the international community as a whole."
Like Carpio and Batongbacal, he also called on the Philippine government to protest China's recent actions, the way it recently did over the sinking of a Vietnamese fishing boat in early April./.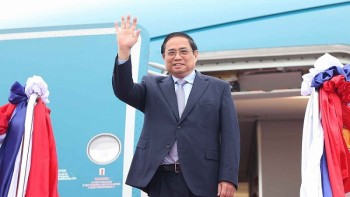 National
Vietnam News Today (Feb. 6): PM Chinh to pay official visits to Singapore, Brunei; Vietnam attends ASEAN+3 Tourism Ministers Meeting; Exports in 2023 and high demands from new generation FTAs; Digital technology to spearhead Vietnam's drive for Industry 4.0.