US NGOs donates learning supplies to children in flood-damaged province
In order to promptly support the education sector in the flood-hit Quang Binh province, The Library Project team visited three elementary schools to provide learning supplies to help rebuilt children's education paths in the flood-hit areas.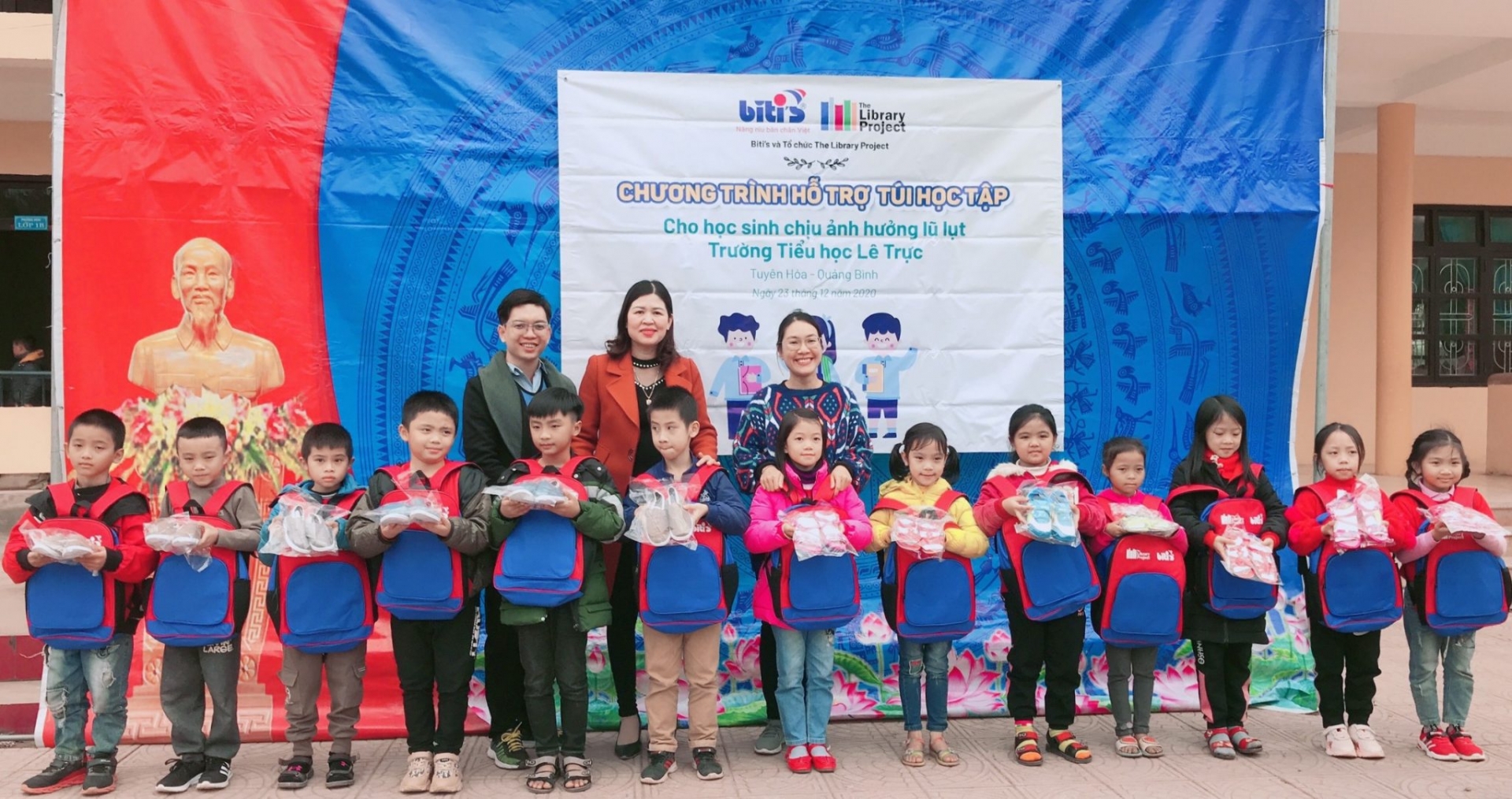 TLP Program Coordinator (on the left) along with Le Truc's Principal (in the middle) and representative from Biti's (on the right) posed for a group picture with the students. Source: TLP
In early October 2020, the Central region of Vietnam was devastated by torrential downpours and flooding. This catastrophic natural disaster has caused significant damage in many provinces, such as Ha Tinh, Quang Binh, Quang Tri, and Thua Thien Hue. Residents in these areas were either trapped in their flooded houses for days or they had to relocate to a safer shelter. Children in these households were also unable to attend schools and their school supplies were also severely damaged.
Especially in Quang Minh A Elementary school (Ba Don district), the roofs on five classrooms were blown away by the heavy wind. In Thanh Thuy's school (Tuyen Hoa district), the floodwater covered the entire ground floor.
With the permission of the Provincial People's Committee, the Union of Friendship Organizations of Quang Binh province has supported The Library Project (TLP/USA) to organize a trip to donate Emergency Children's Literacy Bags to elementary school's students affected by natural disasters in Quang Binh province.
Biti also supported more than 500 bags for two schools: Thanh Thuy and Le Truc. At Thanh Thuy School, 431 students received TLP's Literacy Bags. They each got a brand new pair of shoes sponsored by Biti's as well.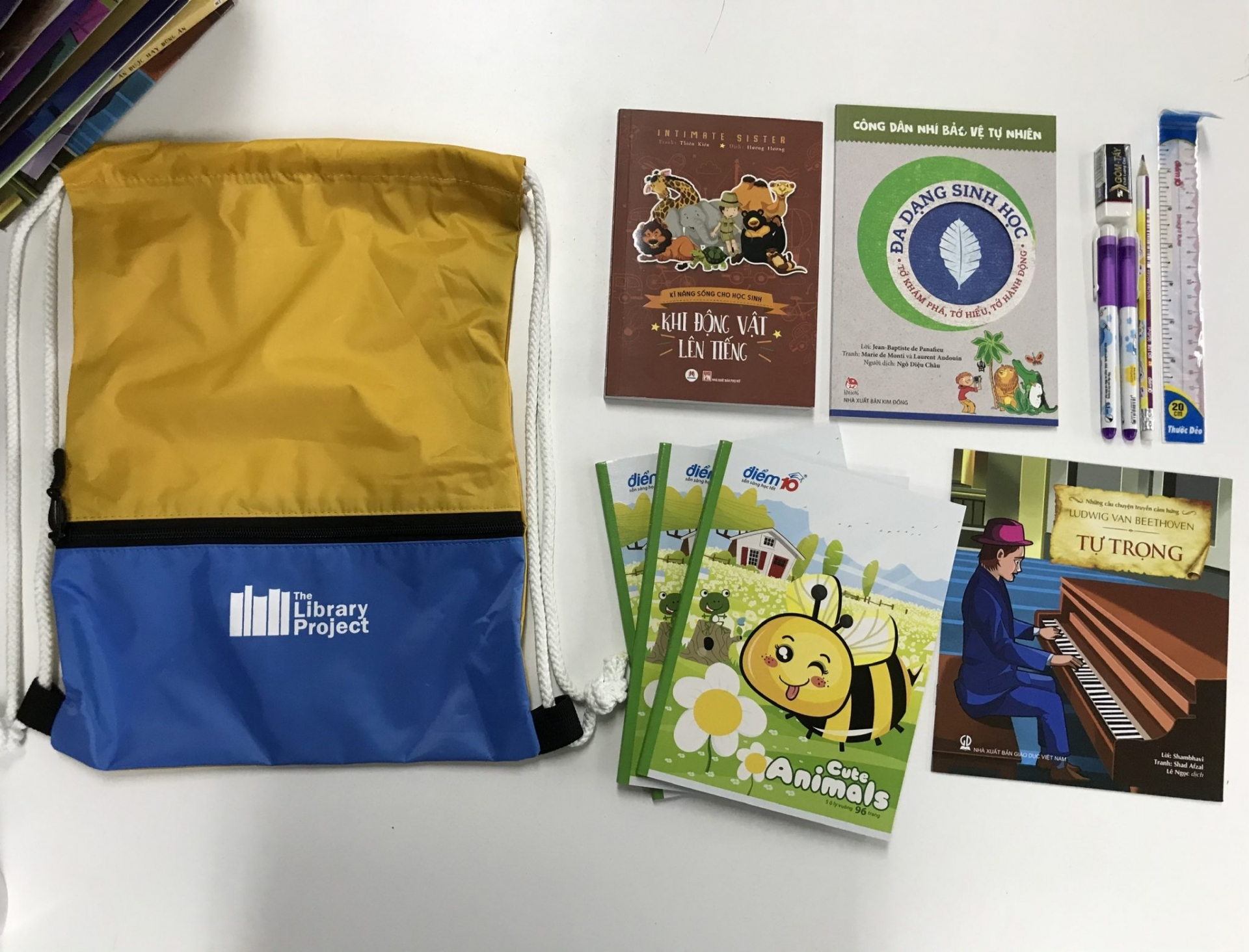 A sample bag with 3 storybooks and essential schools' stationery. Source: TLP
More specifically, they have handed over 975 bags worth about VND 228 million (USD 9,900), each bag includes storybooks, notebooks, pens, pencils, erasers, and rulers; along with 548 pairs of Bitis shoes worth about VND 180 million (USD 7,799).
The gifts with the total value of VND 408 million (USD 17.700) have been given to 427 students of Quang Minh A Primary School, Quang Minh commune, Ba Don town; 431 students of Thanh Thuy Primary School and 117 students of Le Truc Primary School, Tien Hoa commune, Tuyen Hoa district.
The gifts really have a great meaning to support the students with books, learning tools and shoes to encourage them to study after difficulties caused by natural disasters./.
The 1,000th person rescued from slavery

In December of 2005, the Blue Dragon Children's Foundation rescued a child from human trafficking for the first time. This week, fifteen years later, the ...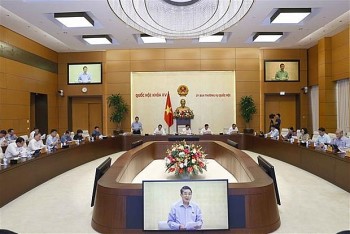 National
The National Assembly (NA) Standing Committee examined the draft revised Law on Protection of Consumer Rights on August 15 as part of its monthly session.