USD 27,050 raised for Vietnamese-Cambodians living on Tonle Sap water
The Vietnamese Embassy in Cambodia and the Vietnam Business Club in Cambodia (VBCC) just raised USD 27,050 and two tonnes of rice to support the Vietnamese-Cambodians living on Tonle Sap water who are forced to relocate to land this month.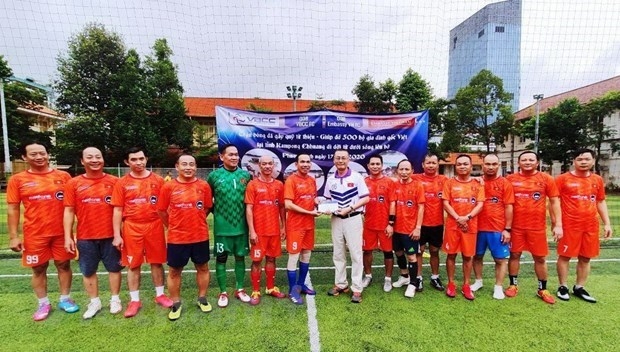 At the event. Photo: VNA
According to Kampong Chhnang provincial authorities, about 500 households with 1,471 people living on boats on Tonle Sap, Kampong Chhnang city, will be subject to relocation.
Most of them are the poor without stable jobs while fisheries resources are increasingly limited.
In the immediate future, they will be provided with food and clean water in resettlement areas, and support in changing jobs.
Industrial-agricultural plant growing projects by the Vietnam Rubber Group and the Truong Hai Agriculture JSC (THAGRICO) have generated jobs to the Vietnamese-Cambodians in the Tonle Sap area over the past five months.
Since June, THAGRICO hired over 500 Vietnamese-Cambodian workers and thousands of Cambodians in nearby provinces for its agriculture projects.
On Tonle Sap river. Photo: Khmer Times
The Vietnamese Cambodians are among more than 10,000 people living in floating houses on Tonle Sap Lake who must relocate under the Cambodia Government's plan to address environmental pollution in the lake caused by floating houses.
Since September 2018, Kampong Chhnang authorities have conducted relocation of floating households. The local administration has supported the community in health care and resettlement areas.
The Vietnamese-origin Cambodian community in Kampong Chhnang is facing a range of difficulties, especially during these time.
The Khmer-Vietnamese Association in Kampong Chhnang, the association has six chapters, with regular activities to popularize policies and laws of the host country among the community and advise them to send children to schools.
The association along with the State Committee for Overseas Vietnamese Affairs and Vietnamese embassy are constantly visiting and assisting Vietnamese Cambodians in their resettlement places./.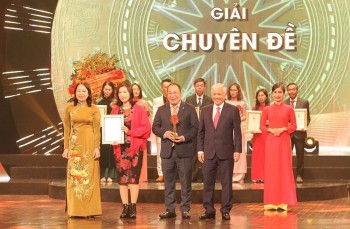 Overseas Vietnamese
VietnamTimes (Viet Nam Union of Friendship Organizations) is a reliable address for overseas Vietnamese to quickly and objectively update political, economic, cultural, and social news. The agency has created a helpful forum and connection between expatriates and the motherland.