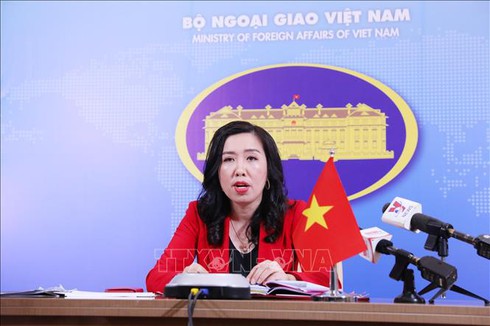 Foreign Ministry spokesperson Le Thi Thu Hang (Photo:VNA)
Replying to reporters' question about Vietnam's assistance to foreign representative agencies in repatriating these countries' citizens, Hang said due to the rapid and complex developments of the COVID-19 pandemic, many countries and territories have had to change regulations on exit, entry and transit while many airlines have had to cancel flights. Therefore, many foreigners in Vietnam have encountered difficulties in their travel and yet to be able to return to their home countries, she said.
Facing the situation, relevant agencies of Vietnam have been actively sharing information, closely coordinating and assisting other countries' representative agencies to carry out citizen protection measures, resolve difficulties and problems during their quarantine and stay in Vietnam, create favourable conditions for foreign nationals to leave Vietnam in line with the country's legal regulations, and ensure disease prevention, Hang noted.
Vietnam's efforts and goodwill have been highly valued by other nations' representative agencies and foreigners in the country, according to the spokesperson.
The Immigration Department on April 1 has issued guidelines on extension of temporary residence for foreigners who are unable to return home due to the outbreak of COVID-19.
Foreigners who entered Vietnam on visa waiver or tourist visas (including electronic visas) and who have their permission to stay expired but do not have any sponsoring entity and cannot exit Viet Nam due to objective reasons (quarantine or airlines stopping flights, destination or transit countries closing borders…), may have the Embassy or Consulate General sponsor their extension of temporary residence for maximum 30 days while awaiting departure, and submit their application at the Viet Nam Immigration Department.
Specifically, the application for extending temporary residence must include: Passport/ Other travel documents equivalent to a passport; Application form (form NA5 according to the Ministry of Public Security's Circular number 04/2015/TT-BCA dated January 05, 2015, stamped with the Embassy's or Consulate General's Seal); Documents proving temporary residence declaration and health declaration.
The Immigration Department will make determination within five working days from the day of receiving a valid and complete application as per the instructions above (in addition, a Diplomatic Note is required in case there is any additional request for special support).
Fees are paid in accordance with the regulations of the Ministry of Finance.
The Embassy or Consulate General has the responsibility for overseeing its nationals who are under the Embassy's sponsorship during their time in Vietnam and, upon request, coordinating with competent Vietnamese authorities to resolve matters regarding the citizen.
Implementation timeframe from March 30, 2020 to April 30, 2020.
Regarding individuals who entered Vietnam for business, work, labor, visiting relatives or other purposes, the Immigration Department respectfully requests that the Embassy or Consulate General direct the citizen to their sponsors (agencies, organizations or individuals) according to the Law on Entry, Exit, Transit and Residence of Foreigners in Vietnam.
Individuals who overstayed their temporary residence validity period for less than 10 days because of objective reasons and force majeure situations (with documentation evidence) can be considered for administrative penalty waivers./.
VNA