Vietnam Appoints Honorary Consul in India for First Time
A Indian man has become first ever Honorary Consul of Vietnam in India
Vietnamese Ambassador to India Pham Sanh Chau hands over the Decision to appoint Honorary Consul of Vietnam in Bangalore to Nama Subbiah Setty Srinivasa Murthy. Photo: Phan Thanh Tung
The Vietnamese Embassy in India recenlty held a ceremony to present the appointment, credentials and consular items to Nama Subbiah Setty Srinivasa Murthy, the newly appointed Honorary Consul of Vietnam in Bangalore (Karnataka state), reported TG&VN Sunday.
With this appointment, Murthy becomes the first ever Honorary Consul of Vietnam, for any state in India and only 19th the world over. His role will be to provide consular protection of the State's interests and lawful rights and interests of Vietnamese citizens in Bangalore. He will also be promoting Vietnamese investments, trade and tourism within Bangalore.
Speaking at the event, Ambassador of Vietnam to India Pham Sanh Chau said, "It is a momentous occasion, and shows that Vietnam is interested in taking its relations with India to a higher level. The appointment of an honorary consul is not easy and is a very tedious process. It is validated through various departments in Vietnam. Honorary Consul's are appointed by our Minister of Foreign Affairs for a period of three years."
With over five decades of experience, and a resident of Bangaluru, industrialist N S Srinavasa Murthy is the CEO of reputed Incense Stick Manufacturers, N K Subbiah Shetty & Sons. He is a Partner with Theatre Menaka Film Exhibitors, Director, The Mysore Vegetable Oil Products Ltd & Director Chandrakiran Securities, Pvt Ltd., Dealers in Stocks and Shares.
Murthy said, "Vietnam is gaining its prominence as an Asian power both in terms of Economic and business capacities. I am honoured to be the first Indian to receive the role as the Honorary Consul for Bengaluru and will do all within my power to take care of Vietnamese citizens in Bangalore and India in general."
He will also promote economic and trade investment between the region and Vietnam as well seek tourism opportunities for the country.
In addition, another important task is to promote economic, trade, cultural cooperation and people-to-people exchanges between Karnataka state and localities of Vietnam, the honorary consul said.
According to Sarkaritel, Murthy, born in 1950, holds a bachelor in Science from National College, Bengaluru. He has represented many institutions of repute as President, All India Agarbathi Manufacturers Association, Vice President, Karnataka State Agarbathi Manufacturers Association, Treasurer, Karnataka Arya Vysya Mahasabha, Treasurer, Karnataka State Cricket Association, M C Member, ASSOCHAM and President, Federation of Karnataka Chambers of Commerce & Industry (FKCCI), President, Rotary Club of Bangalore House of Friendship and Mysore Silk Cloth Merchants.
Delegates at the ceremony. Photo: Phan Thanh Tung
The Vietnamese Ambassador believes that, with his capacity, experience and deep affection for Vietnam, Murthy will complete the assigned tasks well, making excellent contributions to promoting economic, trade and cultural relations, not only between Karnataka and localities of Vietnam, but also between India and Vietnam generally.
Bangalore, also known as Bengaluru, is the capital of the state of Karnataka, with population of about 11 million, and the 5th most populous city in India.
Currently in Bangalore, there are Consulate Generals of eight countries (Switzerland, Germany, UK, France, Japan, Canada, Israel and the Netherlands) and Honorary Consulates of a further 25 countries.
Many Vietnamese engineers are working at multinational corporations in Bangalore, the city considered the "Silicon Valley" of India and Asia.
In the context of the ever-growing diplomatic and commercial relations between Vietnam and India, Bangalore is one of the cities with more and more commercial activities, with many issuses also arising.
Therefore, the appointment of Honorary Consul of Vietnam in this city has met the needs of protecting the legitimate interests of Vietnamese citizens and promoting economic and trade relations between the two countries.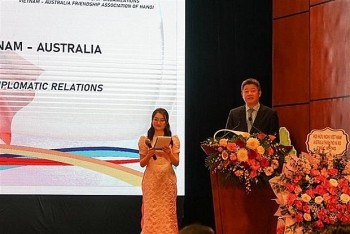 Friendship
A friendship exchange programme has been held recently in Hanoi to celebrate the 50th founding anniversary of the Vietnam-Australia diplomatic relations (February 26).