Vietnam aviation market among world's top 10 largest
After serving over one million passengers last week, Vietnam is now among the world's top ten aviation markets, according to the latest statistics released by OAG, a global travel data provider based in the UK.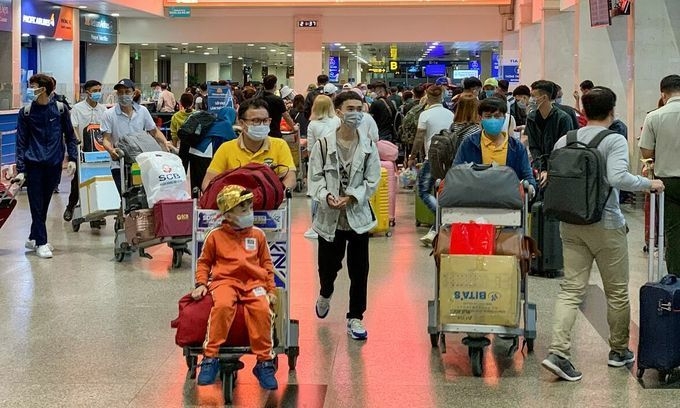 Passengers at Tan Son Nhat Airport, HCMC, on January 5, 2021 (Photo: VNE)
The Vietnamese aviation market recorded growth of 117,000 passengers over the latest week, reaching a total of 1,072,977 passengers per week, according to Vietnamnet.
China tops the list with more than 16 million passengers each week, followed by the United States with over 15 million passengers per week.
"The recent steady if not earth-shattering increases in global capacity are very welcome and reflect as much optimism rather than confidence in the recovery process through the next few months," OAG said.
"There remain far too many variables for anyone to be really confident about the shape of a recovery, but vaccine passports and other initiatives are all helping to build some momentum."
The figures compiled by the OAG indicate that despite witnessing positive growth in terms of passenger numbers, the size of the domestic aviation market declined by 31.4% due to the impact of novel coronavirus (COVID-19) pandemic.
Globally, the total passenger volume of airlines has endured an annual decrease of 35% and witnessed a fall of 44% compared to the same period from 2019 due to fallout from the COVID-19 pandemic.
With regard to passenger volume throughout Southeast Asia, the scale of the Vietnamese aviation market is second only to Indonesia, which served over two million passengers during the latest week.
Thailand ranked third in terms of passenger numbers in the latest week with 661,171 people boarding flights, a drop of 68.5% compared to the period before the COVID-19 pandemic.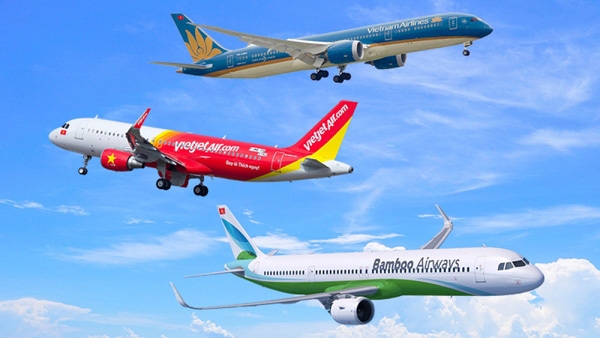 (Photo: Vietnamnet)
This comes after several aviation organizations ranked the Ho Chi Minh City-Hanoi route as the world's second-busiest flight path, just behind the Seoul-Jeju air route in the Republic of Korea.
Experts have suggested that Vietnam test "vaccine passports" on certain groups of entrants before adopting an official policy for the holders, as reported by VNE.
Three cases of COVID-19 were reported in the past 12 hours to 6 pm March 18 with two in the northern province of Hai Duong, and one imported case in the south-central province of Ninh Thuan, according to the Health Ministry. The two new patients in Hai Duong were F1 of previous cases, while the patient in Ninh Thuan returned from the Philippines.
On the morning of March 19, Vietnam has no new cases to report. As of 6 am on March 19, Vietnam had a total of 1601 COVID-19 cases due to domestic infections, of which the number of new cases since January 27 is 908 cases.
With the pandemic more or less contained, air travel demand has returned to normal, with many cities and provinces, including Hai Phong, Hanoi, Ho Chi Minh City, and Quang Ninh, allowing tourism services to resume.
Vietnam aviation industry suffers heavy toll by COVID-19 in 2020
The aviation industry has experienced a sharp decrease in passenger volume this year.
The impacts of Covid-19 and unfavorable weather conditions have sunk air passenger volume this year, according to the latest report from the Civil Aviation Administration of Vietnam (CAAV) on December 18.
According to the CAAV, Vietnamese airlines carried out around 340,000 flights in 2020, a decrease of more than 31.9% compared to 2019.
The volume of air passengers this year is estimated to reach only 66 million, 43.5% less than past year. In terms of freight tons, the total load reached only 1.3 million tons, 14.7% less.
Due to the pandemic and unfavorable weather, the work of ensuring aviation security faces a number of risks, the CAAV reported.
Since the fleet has been on the ground for a long time, ensuring sufficient spare parts for the maintenance of a large number of aircraft has been a challenge, affecting aircraft operations and the regular training of pilots.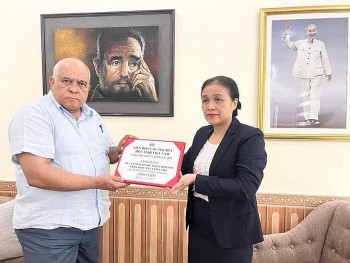 Focus
According to Cuba's News Agency Prensa Latina, on August 16, President of Vietnam Union of Friendship Organizations Nguyen Phuong Nga said that Vietnamese people will always stand by and support Cuba no matter what difficulties our friend is facing.