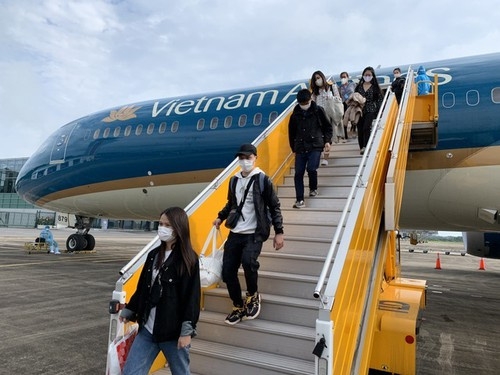 Illustrative image (Photo: Vnexpress)
According to VNA, over 200 Vietnamese citizens were brought home, including children, the ill, and those in an especially-disadvantaged situation.
After landing at Can Tho International Airport, all crew members and passengers underwent health checks and were placed under mandatory quarantine.
In compliance with the Prime Minister's directions, the Foreign Ministry will coordinate with the Ministries of Health, Transport, and National Defence as well as domestic airlines to arrange more flights to bring Vietnamese citizens in disadvantaged backgrounds home amid the COVID-19 pandemic based on the domestic epidemic situation and quarantine capacity.
Relevant Vietnamese agencies and the Embassy of Vietnam in Japan coordinated with Vietnam Airlines on April 22 to transport medical supplies presented by the Vietnamese Government and people to Japanese counterparts to fight COVID-19.
Nearly 300 Vietnamese citizens in Japan were also helped to return home, including pregnant women, the sick, and some whose work or studies in the host country have finished.
Singapore confirmed 897 new cases of COVID-19 as of noon on April 24, taking the national total to 12,075, CNA reported.
A total of 38 more cases of COVID-19 infection have been discharged from hospitals or community isolation facilities. In total, 956 have fully recovered from the infection in Singapore.
Twelve people have died from complications due to COVID-19 infection.
Singapore is more than two weeks into its "circuit breaker" period, a move by the Government to break the cycle of transmission of COVID-19. The period was initially scheduled to end on May 4, but was extended to June 1.
Vietnam, on same day, announced the discovery of an additional two new cases of COVID-19, thereby increasing the overall number of infections to 270, according to the Ministry of Health.
At present the nation has recorded no deaths caused by the COVID-19 and a total of 225 positive cases have given the all-clear after an additional patient who had tested positive for the novel coronavirus was discharged from Dong Nai lung hospital on April 24.
Moreover, a total of 68,890 people are currently in quarantine at hospitals, concentrated quarantine sites, at home, or their places of residence./.
Hannah Nguyen