Vietnam commercial flights resumption taken with high safety level
Commercial flights between Vietnam and 6 selected countries are to be resumed starting September 15, 22 with a high level of safety and stringent rules.
Vietnam commercial flights resumption taken with the highest safety level (Photo: VOV Online)
The decision was made by the Prime Minister and the National Steering Committee for COVID-19 Prevention and Control on September 15.
As reported by Nhan Dan, the 6 countries and territories include Japan, the Republic of Korea (RoK), China, Taiwan (China), Laos, and Cambodia.
During the ministry's regular press conference in Hanoi on September 17, Hang said passengers eligible to enter Vietnam include Vietnamese citizens, foreigners holding diplomatic and official passports, experts, investors, corporate executives, skilled workers and their relatives, foreign students, and relatives of Vietnamese citizens from abroad.
Vietnamese ministries and agencies have held working sessions with authorities abroad under the direction of the Prime Minister to ensure the highest safety level.
Accordingly, those entering Vietnam on commercial flights after transiting a third country must strictly follow medical quarantine regulations in the country.
At the conference, the spokesperson also stated that Vietnam, as a member of the Comprehensive and Progressive Agreement for Trans-Pacific Partnership (CPTPP), is willing to share information about and its experience in participating in the pact with the UK if the latter is interested.
She noted that as far as she knows, the UK had held some discussions with CPTPP members over recent time.
Hang stressed that the CPTPP is a high-quality free trade agreement with comprehensive commitments to promoting economic-trade cooperation among member countries and trade liberalization towards open and rules-based trade in the region.
She underlined that CPTPP member countries have adopted procedures for joining the pact, and economies interested in the pact should meet its high standards and follow admission process.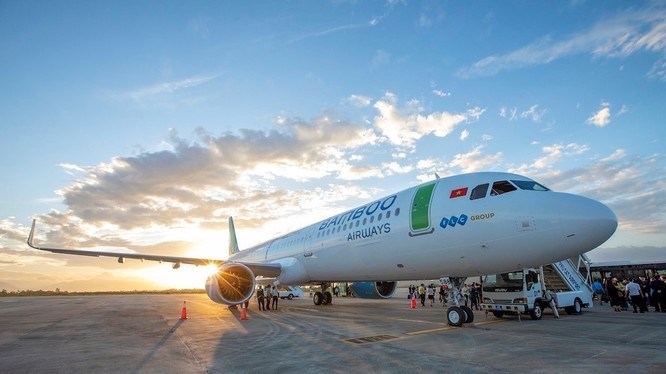 (Photo: Viet Explorer)
Earlier on September 16, the Ministry of Transport's representative said that the ministry has asked airlines to only sell international commercial flight tickets to passengers entering Vietnam with an entry visa and a specific place to stay.
Airlines will have to check passengers' body temperature before boarding aircraft, ask them to install an electronic medical notification application; at the same time, check their proof of nCoV negative (test time within 3 days).
The Government has agreed to the policy of allowing international commercial flights from September 15 to open. However, as per the MoT representative's explanation, after the policy approved, relevant ministries, localities and airlines need time to complete a pick-up plan for the confirmed time to implement specific flights.