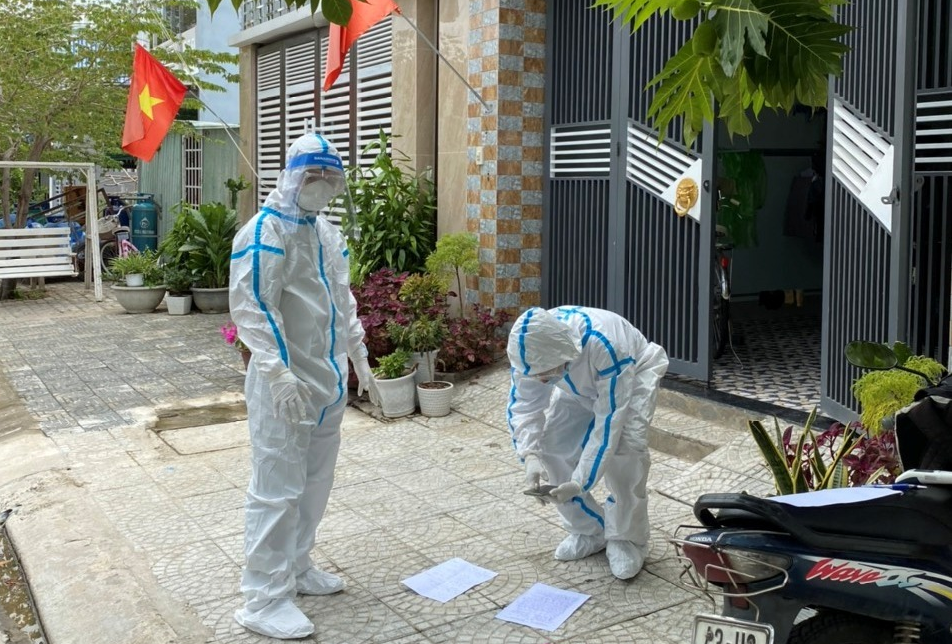 Da Nang University of Medical and Pharmaceutical Engineering organized a training course to prepare a force to support pandemic prevention and control (Photo: Vietnamnet)
Vietnam confirmed 7th Covid-19 related death
Patient no. 426, a 62-year-old female, in, Da Nang was announced to be the 7th death relating to Covid-19 in Vietnam. She had a 10-year history of chronic kidney failure and was treated at the Department of Renal Medicine at Da Nang Hospital since July 18. Her causes of death were identified as end-stage chronic renal failure, septic shock, multiple organ failure, and Covid-19 infection.
MSc. Dr. Nguyen Trung Cap, Deputy Director of the Central Hospital for Tropical Diseases, said that the mortality rate of Covid-19 patients currently does not reflect public health or virulence of the virus. Dr. Cap emphasized, "extremely, unfortunately", this pandemic break mostly happened in 3 groups of patients.
The first group included patients with chronic renal failure and hemodialysis for many years; the second group are patients in oncology and the third group are those who need resuscitation. These are the groups at risk of death even without Covid-19 infection. "Their infection with SARS-CoV-2 virus is the last straw, leading to an unusually high death rate," said Dr. Grant to Vietnamnet.
10 new cases detected
The 10 cases recorded this morning are all related to Da Nang Hospital, including 7 cases in Da Nang and 3 cases in Quang Nam.
Thus, as of the morning of August 4, Vietnam has recorded 652 cases of Covid-19. Since July 25, there have been 205 new cases related to Da Nang.
Vietnam has successfully treated 374 patients. Vietnam has had 6 cases of deaths relating to Covid-19, including patients: 428, 437, 499, 475, 524, and 429. These cases are all elderly patients with background disease. The Ministry of Health said that 13 other Covid-19 patients were also in serious condition (10 had to be treated with ECMO and mechanical ventilation; 3 had to use oxygen methods).
Facing the mentioned emergency situation, on the afternoon of August 3, the Ministry of Health decided to continue to send leading experts on the fields of health and medicine to Central Tropical Diseases Hospital to support Hue and Da Nang in order to minimize the risk of death.
The total number of quarantined people in the whole country is 133,279, of which 1,258 people are concentrated in hospitals, 20,427 in concentration facilities, 111,594 people are self-isolated.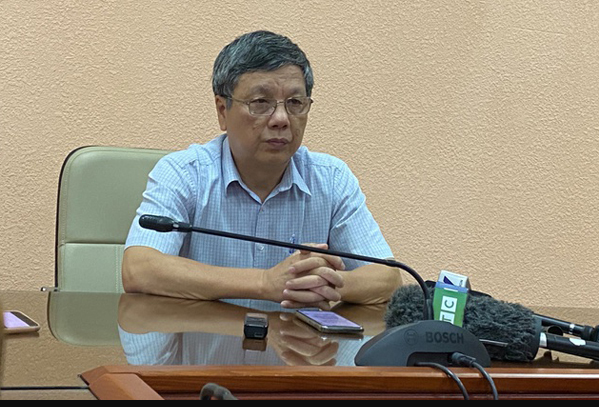 Prof. Nguyen Gia Binh, Chairman of the Vietnam Association for Emergency Recuperation, Head of the Covid-19 Patient Consultation Group (Photo: Vietnamnet)
Vietnam announced the latest Covid-19 treatment regimen
The Ministry of Health has just published the latest Covid-19 diagnostic and treatment guide. This is the 4th revision since Vietnam recorded the first case of Covid-19.
Professor Nguyen Van Kinh, President of the Vietnam Infectious Association said that the new strain of virus found in patients in Da Nang belongs to D614G (branch G), which is causing disease in Africa and Bangladesh.
Prof. Nguyen Gia Binh, President of the Vietnam Association of Emergency Resuscitation, said that in the 4th updated regimen, Vietnam will examine and classify Covid-19 patients into 5 levels according to clinical symptoms.
Accordingly, all mild cases will be treated at regular departments, clinics, district health centers, severe cases treated in emergency rooms of departments, or hospital intensive care. Serious cases require intensive resuscitation treatment, mechanical ventilation intervention, ECMO.
Unlike previous versions, the latest regimen requires Covid-19 patients to have 3 consecutive negative tests, each at least 24 hours apart to be eligible for discharge ( Previous versions only required testing 2 times).
According to Prof. Kinh, testing 3 times will eliminate the possibilities of re-positive tested cases.
Hundreds of medical students participated in tracking down Covid-19
In the past days, in the context of Covid-19 pandemic re-outbreaking in Da Nang, Da Nang University of Medical Technology and Pharmacy quickly organized a training course to supplement human resources for tracing of people in close contact with COVID-19 patients.
MSc. Nguyen Thai Nghia, the Permanent member of the Steering Committee for Covid-19 Prevention and Control, Da Nang University of Medical Technology and Pharmacy, said that about 30 lecturers and 400 students of the college were involved in the first training session. This will be the support force for Da Nang authorities in tracking down close contacts of Covid-19 patients, in order to promptly isolate and prevent the deadly pandemic from spreading in the community.
Nghia told Vietnamnet that this is the chance for medical students to express their responsibility to the community and society.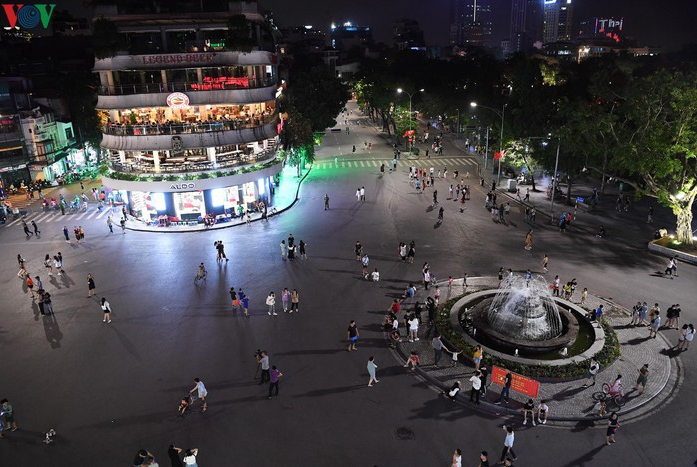 Hoan Kiem Lake Walking Street to halt operation for a second time to protect Covid-19 (Photo: VOV)
Hoan Kiem Lake Walking Street to halt operation for a second time to protect Covid-19
In August 3, the Hanoi People's Committee issued a Notice of the Steering Committee for the prevention and control of Covid-19 Hanoi.
According to VOV, the city continues to uphold the guiding viewpoint "to quickly detect, promptly isolate and immediately take samples".
The City Steering Committee assigns the People's Committees of districts to continue the review, statistics, testing, quarantine in accordance with regulations, publicize information about cases. The People's Committee of Hoan Kiem District will organize propaganda on Walking Street so that people can strictly follow protection and prevention methods. At the same time, the Hanoi government requested a temporary halt to organize festivals and crowded activities in the Walking Street area.
Valerie Mai