Vietnam Covid-19 Updates (Dec. 9): Caseload Continues to Rise With Over 14,500 Infections
Over 55.5 million people in Vietnam have now been fully inoculated, while more than 73.8 million people have received at least one dose of Covid-19 vaccine.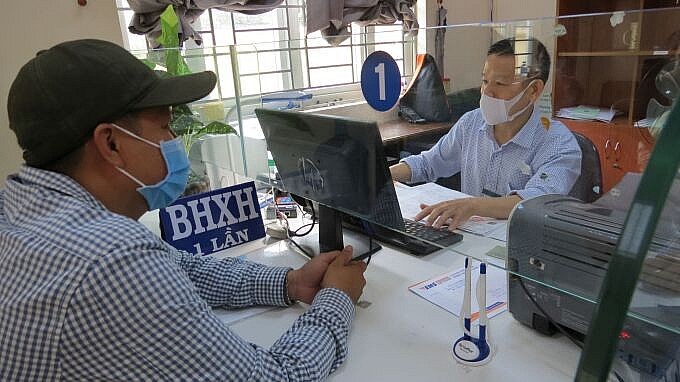 Photo: VN Express
Daily Covid-19 caseload continues to rise with over 14,500 new infections
Vietnam recorded 14,599 infections of Covid-19, including four imported cases, in 59 localities during 24 hours from 4 pm December 7 to 4 pm December 8, according to the Ministry of Health.
Ho Chi Minh City continued to record the highest number of infections with 1,475, followed by Tay Ninh with 874 and Soc Trang with 781.
According to the Ministry of Health's report, 7,506 patients nationwide are in serious conditions, with 778 requiring invasive ventilation and 16 on life support (ECMO).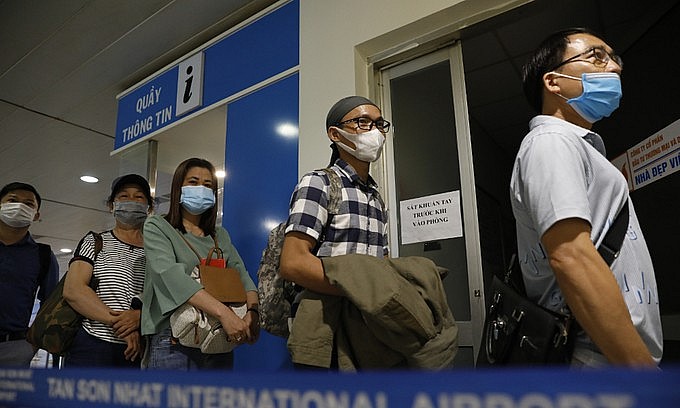 Photo: VN Express
No centralized quarantine for vaccinated travelers: Deputy PM
Fully vaccinated travelers can isolate themselves at home or accommodation of their choice for a specific period, Deputy PM Vu Duc Dam said Wednesday. The Ministry of Health needs to issue new guidelines on quarantine to reflect this change no later than Dec. 15, Dam said at a meeting Wednesday. This would remove the current need for arrivals to be quarantined in designated facilities. Only those who are not vaccinated need to be kept in centralized facilities and be inoculated there, he said.
In the latest wave that hit Vietnam in late April, more than 1.35 million cases have been reported and 1.03 million of them have recovered. So far 55.5 million people have been fully vaccinated. Dam said the Transport Ministry and aviation authorities need to work on the expedited resumption of international flights.
An official of the Civil Aviation Authority of Vietnam said at the meeting that they have connected with the "vaccine passport" system of other countries to ensure that all those who book tickets for Vietnam are fully vaccinated. Those who are not vaccinated can only purchase tickets after they have registered to stay at a quarantine facility in Vietnam. But several ministers expressed concerns about the ability of the country to contain the pandemic, especially as the Omicron variant is spreading.
The health ministry has since August required fully vaccinated passengers who are negative after a PCR test to be quarantined in a designated facility for seven days and to self-monitor their health for the next seven days. The same regulation applies to those who have recovered from the disease for six months or less.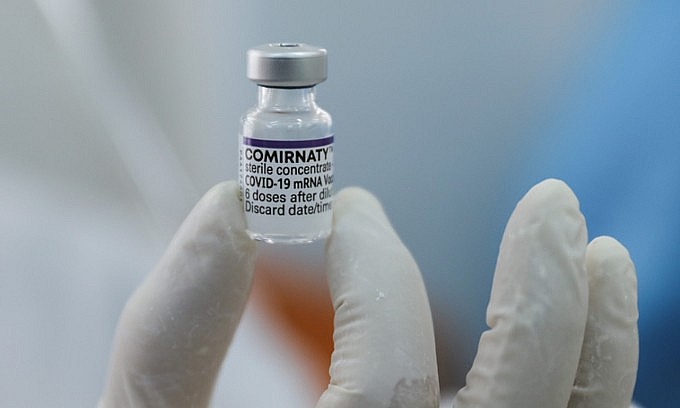 Photo: VN Express
Vietnam loses fourth child after Pfizer vaccine injection
A 15-year-old boy in the northern province of Son La has become the fourth child in Vietnam to die after receiving the Pfizer Covid-19 vaccine. The boy, a resident of Thuan Chau District, received the first vaccine dose on Dec. 4 and did not show any unusual symptoms 60 minutes after the injection. Two days later, however, he felt dizzy and nauseous. He was taken to the district hospital before being transferred to the Son La General Hospital where he died Tuesday. The teenager is the fourth child in Vietnam to die after a Covid-19 vaccine shot.
Last month, a 12-year-old boy in the southern province of Binh Phuoc, a 16-year-old boy in the northern province of Bac Giang, and a ninth-grade girl in Hanoi died after being inoculated with the Pfizer vaccine. The Health Ministry has declared the cause of the three deaths as "overreaction to the vaccine," and not linked to the quality of the vaccine or the vaccination process, according to VN Express
Vietnam is in the process of vaccinating nine million children aged 12-17. The vaccine in use is produced by Pfizer. As of December 6, 5.3 million doses have been administered to this age group, of which over 936,200 children have received two doses. The health ministry says it has recorded around 0.3 percent of the vaccinated children showing common vaccination symptoms such as fever, pain at the injection spot, muscle pain, headache, and tiredness.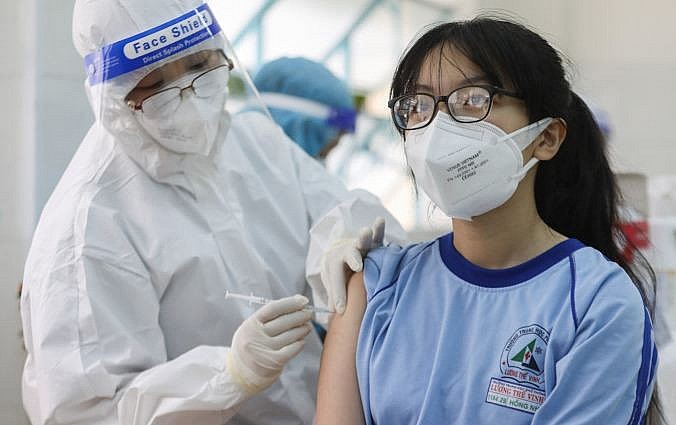 Photo: VN Express
HCM City to inject third Covid-19 vaccine jab from December 10
Ho Chi Minh City will administer additional and booster shots of the vaccine to its residents from December 10, according to the municipal Steering Committee for Covid-19 Prevention and Control. The steering committee issued a document guiding the inoculation on December 8. Accordingly, additional shots will be first provided for adults (from 18 years old) who have been fully inoculated with the last jab at least 28 days earlier and are immunocompromised. Priority will be given to those aged over 50.
Meanwhile, the city will administer the booster shots to people aged above 18 who are fully vaccinated or receive the additional shot for at least six months. The priority will be given to people aged over 50, those suffering from underlying health issues, people who require long-term care at health facilities, and medical workers, especially those directly involved in collecting samples for Covid-19 testing and treating patients.
Vaccines used for additional and repeat injections must be approved by the Ministry of Health. As of December 5, over 7.92 million people in Ho Chi Minh City had been vaccinated, with nearly 6.82 million of them receiving the full two jabs.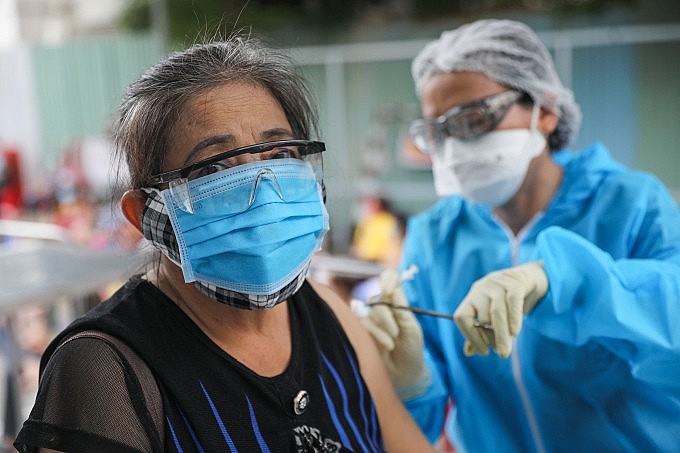 Photo: VN Express
Vietnam seeking consultation on vaccination for children aged 5-11
Vietnam is seeking consultation from relevant agencies on vaccination for children aged 5-11 against Covid-19, Deputy Minister of Health Do Xuan Tuyen said on December 8. The Health Ministry is holding negotiations with vaccine manufacturers and suppliers to secure vaccines for children of the age group.
Since the emergence of Covid-19, Vietnam has taken the initiative in seeking different sources of vaccines, he added. Tuyen affirmed that the country now has sufficient vaccines to inoculate people of age 18 and above and children aged 12-17, and booster shots for adults, VNA reported.
A report of the national vaccination program shows that about 97 percent of people aged 18 and above nationwide have received their first jab and 70 percent fully vaccinated. In addition, about 5 million children aged 12 to 17 have received Covid-19 shots. As of December 7, Vietnam had administered more than 128.67 million doses of Covid-19 vaccine. Over 55.01 million people have received two shots.
As of December 2, at least 27 countries and territories have recorded Omicron cases. However, Vietnam is yet to record the latest strain, although the risk of infection remains high, the Health Ministry said. The national caseload reached 1,352,122.
Over 55.5 million people in Vietnam have now been fully inoculated, while more than 73.8 million people have received at least one dose of vaccine.
The country's Covid-19 death toll now stands at 26,930, or 2% of total cases.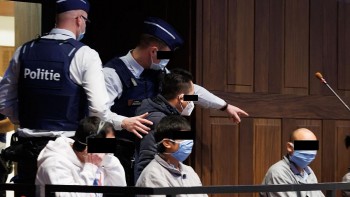 Overseas Vietnamese
Belgian court sentenced smuggler organization over 39 Vietnamese victims found dead in sealed lorry container in Essex.